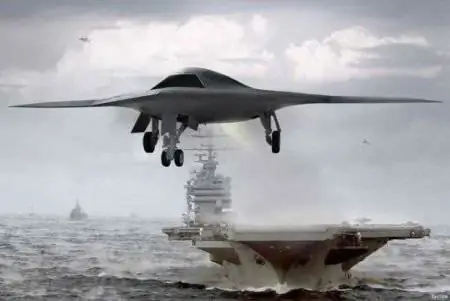 In America, the development of a multifunctional UAV the size of a fighter is in full swing.
DARPA, a well-known advanced development agency, is sponsoring a new program for the creation of J-UCAS multipurpose attack UAVs.
The Joint Unmanned Combat Air Systems program aims to develop a UAV, whose list of tasks includes: reconnaissance of the terrain, observation and provision of the troops with complete and most recent information about the location of enemy troops; suppression of its anti-aircraft bases, carrying out electronic attacks, "targeted" destruction of the enemy. Also, the UAV must independently refuel in the air.
Basic requirements of the program:
Combat radius: 1300 nautical miles (2400 km)
Combat load: 4500 pounds (2 tons)
Program participants:
Boeing X-45A
It made its first flight in 2002. 2 UAVs were built for flight tests.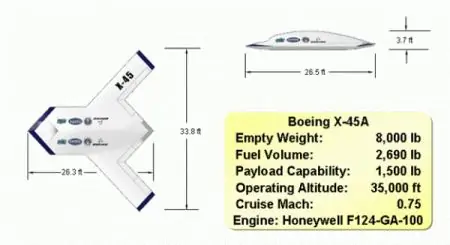 Empty weight: 3600 kg
Fuel capacity: 1200 kg
Payload: 680 kg
Cruising speed: 0.75M
Flight altitude: 9000 m
Northrop Grumman X-47A
First flight 2003 1 copy was built. The development is overseen by the US Navy. The UAV will develop taking into account the possibility of taking off from the deck of the aircraft carrier.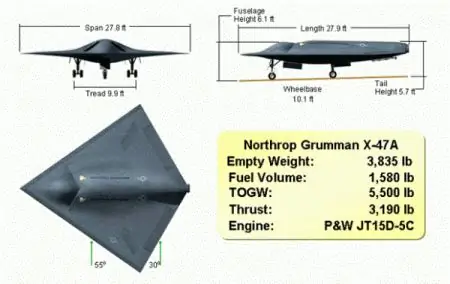 Boeing X-45C
Created in conjunction with the US Navy. The largest of the developed ones. It has a take-off weight of about 16 tons.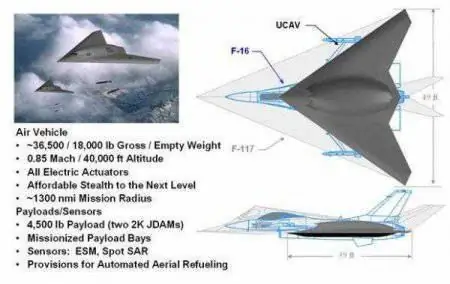 Northrop Grumman X-47B
"Large" UAV created by Northrop Grumman as a strike deck UAV. Should have a weight of 19 tons and at the same time have 2 tons of payload with a flight range (without refueling) 6000 km (!)