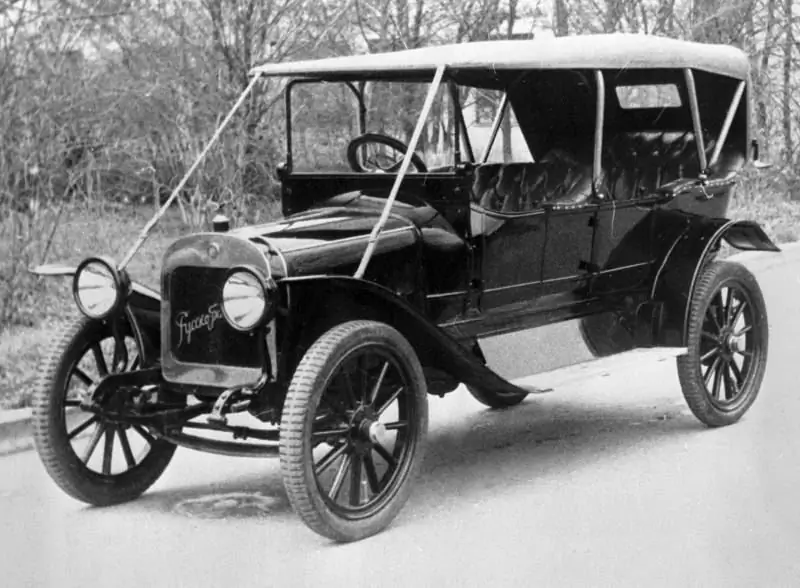 "At some point, I learned that much of what I thought was ours was actually not quite …"
Commentary on VO: Avior (Sergey)
An imitating country. Somehow, not very long ago, an article about the decisive achievements of technical thought in the USSR appeared on VO again. That, they say, we are all ourselves, with our own labors and with our own heads … And, of course, the fact that this is so - obviously, no one has yet learned to attach someone else's head to someone else's body. And - yes, this is exactly how they have been writing for many years. And in the media, and in literature for children and adults. Only over time did people learn - and even then not everything - that in fact many of the USSR's achievements in the field of technology were actually borrowed, or even outright theft. And again, we immediately notice that there is nothing wrong with that. If you can buy a good thing instead of doing a bad thing yourself, buy it! If you can borrow something someone else's for your own good - borrow! Finally, if something is not sold to you, but there is an opportunity to get it "on the left" - get it, because the interests of your country and your people are a hundred times higher than any piece of paper called a "document". Here, of course, the consequences should be taken into account, but, as they say, if there is a need to kill a hundred people, and if this can be done in all respects with impunity, then … why not do this? "" - said the old pirate Flint, and his boatswain Billy Bones repeated, and both checked this statement in practice … So once again - there is nothing wrong with "borrowing" the technical achievements of other countries. It is as natural as buying yourself a fashionable dress and just a little sew it on the figure!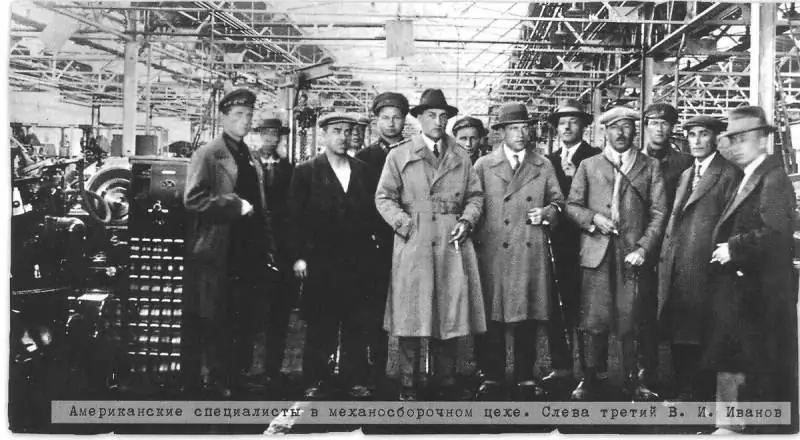 It is unnatural and very bad when they make a secret out of this, assuring the townsfolk that "all this is ours." That is, in fact, engaging in their deception … And since the victims of such deception are still alive and well, they should undoubtedly be enlightened about what was ours and what … "not quite." Of course, it is physically impossible to write even in a few articles about everything that the USSR borrowed from the West and then attributed to the creativity of the "popular masses". This would require an abyss of labor, and would not be of fundamental importance at all. So we will only go through the "tops", because this will be quite enough to quite clearly show - this is "we bought", but this is "certainly ours".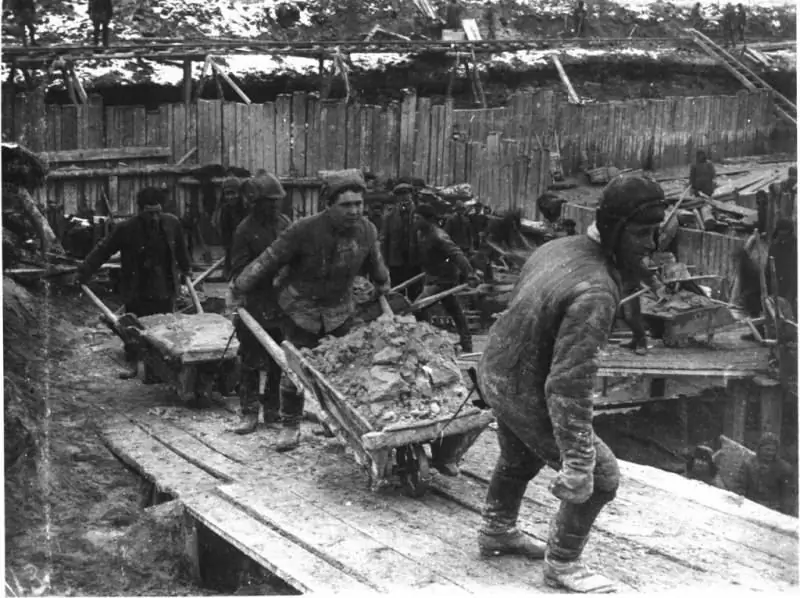 Well, we'll start our story with … transport, with which in the USSR in the first years of Soviet power, of course, it was very bad. And it's bad because it was bad with us even before 1917. Almost the entire vehicle fleet consisted of foreign cars, and our domestic Russo-Balt cars could be counted on one hand, like, by the way, the famous Ilya Muromets aircraft, created by our designer, but flying on imported aircraft engines. So all this "transport" we will "put out of brackets" and we will assume that we got from RI … "shish and a little", that is, practically nothing. There were no factories for the production of modern cars, no competent designers, there were no cars themselves! Well, at those factories that the new government inherited from the "accursed tsarism", as before, they were engaged in handicraft and tried to copy samples of foreign technology.
All this was ended by collaboration with Albert Kahn, who showed the Soviets how to work in a modern way. For example, the Stalingrad Tractor Plant was designed, manufactured, delivered by sea to the USSR and assembled by the Americans in just six months. Well, in just three years of cooperation, the Albert Kahn bureau in Moscow has designed and built exactly 521 objects, which simply won't be enough to list. We only note that tractor and tank factories, machine-tool factories and rolling mills, automobile, aviation, aluminum and chemical factories, weaving factories, enterprises of "related goods" such as dishes, canned food, clothing, and the production of ball bearings in the USSR and was set up from scratch. The construction of the "Kansk" factories covered the entire Soviet Union: they were built in Moscow, Nizhny Novgorod, Stalingrad, Chelyabinsk, Kharkov, Dnepropetrovsk, Novosibirsk, Magnitogorsk, Kuznetsk, Nizhny Tagil and Sormovo. Note that this was not only the quantity, but also the quality of a different order. Indeed, before that, there was no single standard for the construction of facilities in the USSR. Everything that was done was situational and completely haphazard. Neither energy nor space was saved by the builders, and the state received profit not due to the scientific organization of labor, but through excessive intensification of labor.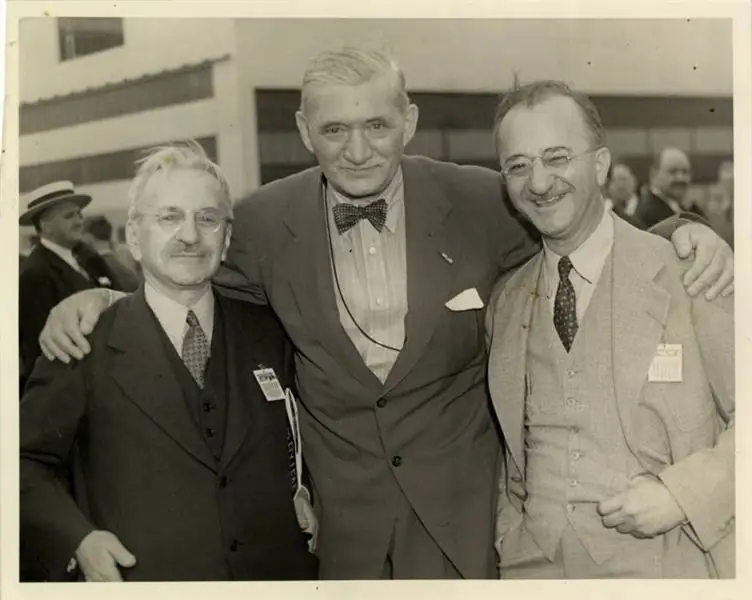 It is important that thousands of Soviet engineers have passed through Kahn's organization, who in practice learned to "work in the American way." Well, then the contract with him was terminated. Expensive! But the main thing is that cooperation in the field of industrialization of the USSR began to be hushed up in every possible way, and all successes were associated with "" and "" and "". And - yes, and the role was, and the creativity of the masses no one denies. But the basis of the technical base in the country was by no means words, but real achievements of scientific and technological progress in the United States! And it was precisely at the Kahn factories that the same 24 thousand Soviet tanks were built until June 22, 1941, which took the blow of 5 thousand German vehicles … On 1941-01-01, the Red Army Air Force had 26 392 aircraft in its composition, including 14 628 combat and 11 438 educational. And only the USSR with such an industry could afford to lose 21,200 aircraft by December 31, 1941, and the combat losses of this number amounted to … 9233 aircraft. However, all this has so far only concerned the production base. But what about transport? And with transport: we will start the story about it with … motorcycles!
Again, we didn't have our own motorcycles during the 1920s. There were experimental developments (Soyuz, Izh-1, Izh-2, Izh-3, Izh-4, Izh-5), but they could not start their production. It was only in September 1930 that things got off the ground. But by the end of the 30s, four factories in the USSR had already begun to produce them. These were motorcycles of brands L, Izh, TIZ and PMZ, and KhMZ, ML did something. Well, the very first Soviet motorcycle was assembled in Leningrad in 1931. It was the L-300, featured in the films Timur and His Team (1940) and Hearts of Four (1941).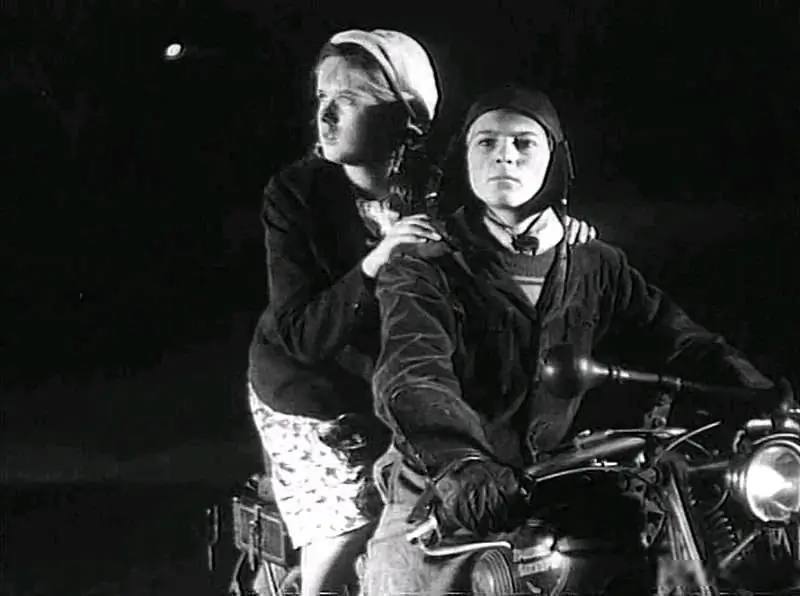 The German motorcycle DKW Luxus 300 of the 1929 model was taken as a basis. Well, the Soviet model was accordingly simplified: the speedometer, the electric "bibikalka" and the brake light were removed. At first, production was slow, but from 1930 to 1939, 18,985 units were produced. Even the population of the L-300 was sold for 3360 pre-war rubles. It was replaced by the L-8 motorcycle - more powerful, high-speed and, as it were, already "completely ours". However, they were released a little and it did not go on sale.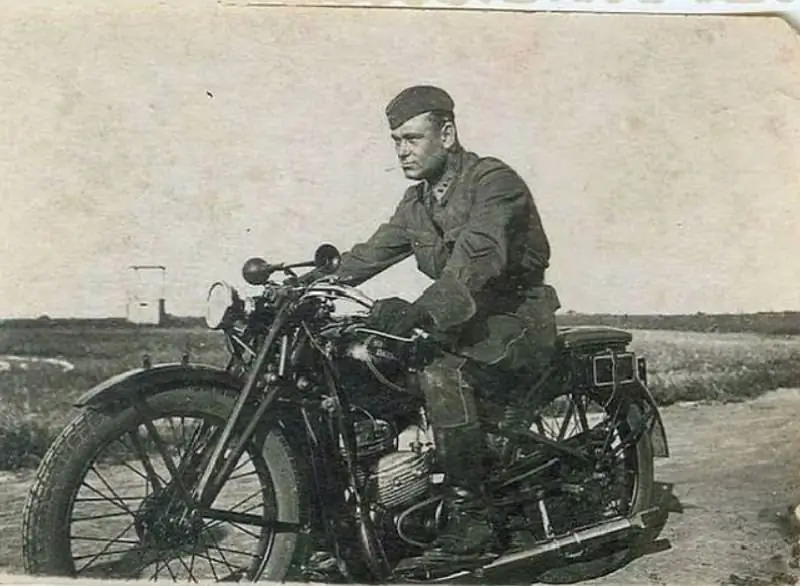 In 1941, the production of motorcycles in Leningrad was discontinued and was no longer resumed.
The motorcycle of the Izh-7 brand began to be produced in 1934 on the basis of the L-300, but simplifying it even more. In fact, it was the Izhevsk twin of the L-300 (lost the trunk, mud flaps). A total of 5779 units were produced.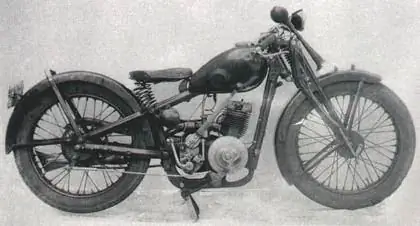 Izh-8 (1938-1940) became the next clone of the DKW Luxus 300. It still did not have a speedometer, but at least there was a brake light, a trunk and a more powerful headlight, as well as an electric signal. They were released 5600 pieces. Then came the turn of the Izh-9, of which about 6200 were produced before the war. Well, after that the production was resumed: the equipment of the DKW plant was removed from Germany and the production of the DKW NZ-350 model began. They did not bother with pre-war developments.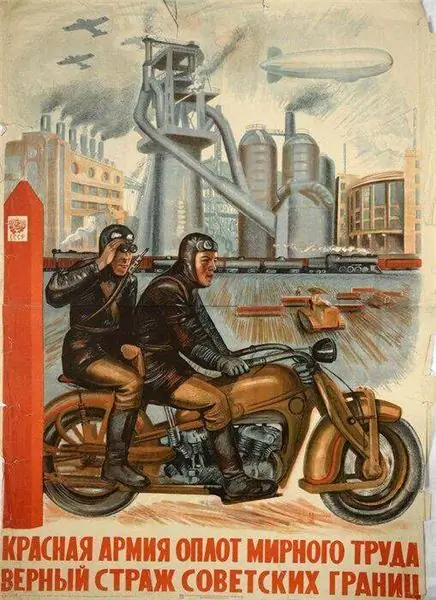 In 1935, the Podolsk Mechanical Plant began to produce PMZ-A-750. It is on it that Maryana rides in the movie "Tractor Drivers" (1939). Moreover, the frame was made in the image of BMW, and the engine was copied from the V-shaped 750 cc motorcycle engine of the American company Harley-Davidson. Finally, a speedometer appeared on a Soviet motorcycle. A total of 4636 units were produced. Good construction was noted, but … poor build quality.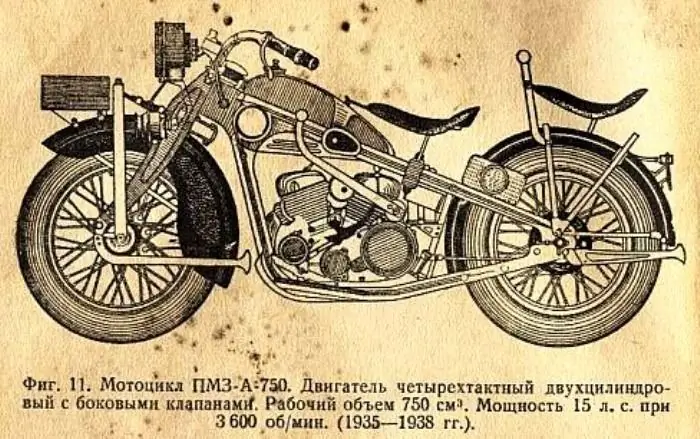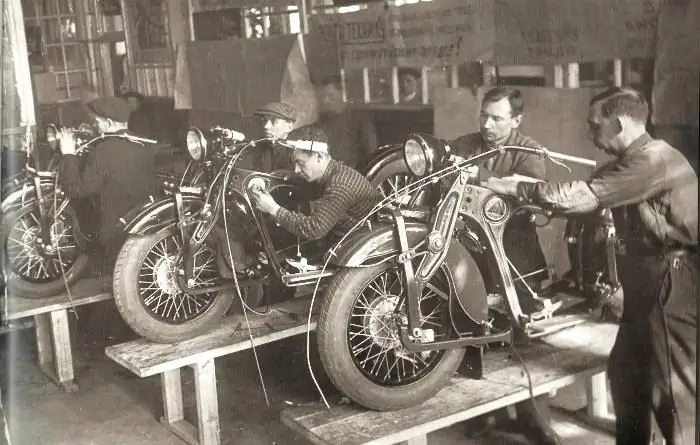 The Taganrog Tool Factory also decided to make motorcycles. Its only production model was the TIZ-AM600, produced from 1935 to 1943. He also had a foreign ancestor, and an English one, the BSA-600 motorcycle. The motorcycle was with a sidecar, but "on the wrong side." And when it was transferred to the "necessary" one, it turned out that the kickstarter was between the motorcycle and the sidecar, which resulted in bruises on the legs of those who used it. In the army, a machine gun was put on the steering wheel of the TIZ.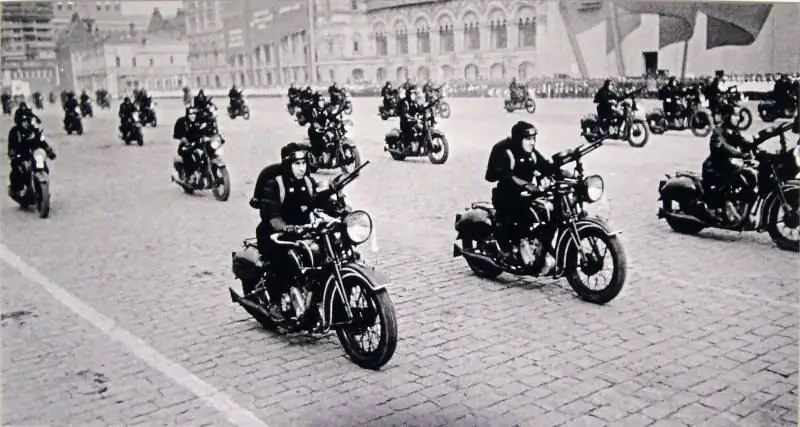 The first "people's" motorcycle in the USSR exclusively for personal use was to be produced in Serpukhov. It was a lightweight and seemingly all-round domestic motorcycle, and also without a speedometer, with a capacity of 3 hp. and a speed of 68 km / h. But its production did not go well, so the ML-3 did not become "popular". Although it was no worse than the German DKW RT125, which appeared in 1939. That is, it must be understood in such a way that our designers have finally learned? May be. Although there were practically no conditions for its production: in Serpukhov, the plant was hastily set up in the premises of a former almshouse. There were not enough machines, but production needed to be increased. The plans recorded: 3,000 units in 1940 and 15,000 (!) In 1941. However, in reality they were able to produce only 120 pieces in Serpukhov and another 18 pieces in Podolsk, and in 1941 their production was interrupted by the war. In 1946, the Moscow Motorcycle Plant began production of a light motorcycle M-1A, very similar to the pre-war ML-3. But after the war, the designs of the 30s as a whole were not reanimated in general, but they began to make new machines already on the equipment received at the expense of German reparations.
"Albert Kahn has been a great service to us in the design of a large number of factories and has helped us adapt to the American industrial construction experience. Soviet engineers and architects will always and with great warmth remember the name of Albert Kahn, a talented American engineer and architect."