Any order most often gives rise to its rejection and, as a result, a subconscious unwillingness to execute it. But PR acts on a person in such a way that he begins to consider someone else's will as his own, and accordingly he acts. There are so many examples of such PR that it is not even easy to list all of them. There are many of them in history, and often so many that the history of mankind itself may well be called the history of the same PR. Now let's see, on the basis of what we base our knowledge of the past? On the one hand, these are artifacts, on the other, these are written sources. After the novel by J. Orwell, it became fashionable to question both, but there is not much sense in this. It is simply impossible to forge hundreds of thousands of finds, no budget will be enough for this, just as counterfeiting hundreds of thousands of manuscripts is also physically impossible. Although yes, there are fake manuscripts and fake artifacts. But there are very few of them. It's like a grain of sand compared to a mountain. Another thing is interesting, how objectively the events are presented in the same chronicles? However, for a PR man, and not for a historian, there is no point in guessing about this. If experts in the field of history recognize certain historical documents as authentic, then so be it. And if so be it, then … the facts set forth in them may well be interpreted as certain phenomena from the field of PR.
Here, for example, is the well-known story with the choice of faith by Prince Vladimir. "The Tale of Bygone Years" sets out in detail how it passed, and why exactly our prince settled on the Greek faith.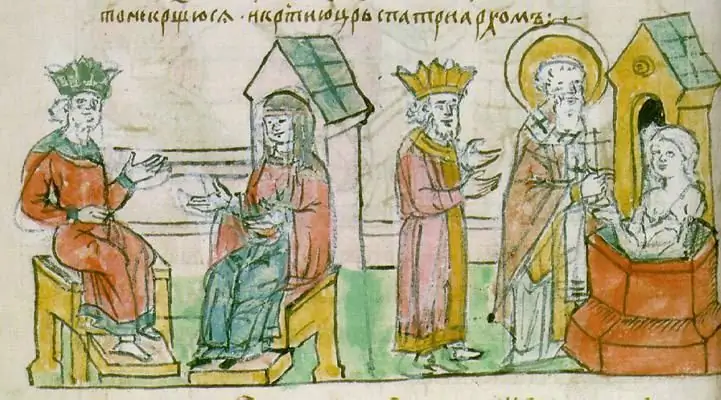 Baptism of Princess Olga in Constantinople. Miniature from the Radziwill Chronicle.
It is known that before believing, Prince Vladimir tried to strengthen the pagan faith, for which he made human sacrifices, and he himself was a voluptuary and a polygamist, and did dishonor against girls, and did many other obscene things, but then he pondered, realized the benefits of monotheism and arranged "choice of faiths ", which is described in sufficient detail in" Tale … ". But first of all, he sent to look out for all his boyars, and this is what they told him after returning from the Greeks: "And we came to the Greek land, and led us where they serve their God, and did not know whether we were in heaven or on earth: for there is no such spectacle and such beauty on earth, and we do not know how to talk about it - we only know that God is there with people, their service is better than in other countries. We cannot forget that beauty, for every person, if he tastes sweet, will not take bitter afterwards; so we can not already be here in paganism "- the Tale of Bygone Years conveys to us the words of his messengers. That is, the cunning Greeks, in fact, organized for the boyars of Prince Vladimir the most real "presentation" of their doctrine - this is what PR people call it today, and even with singing and music - that is, they arranged everything that we teach students today at universities!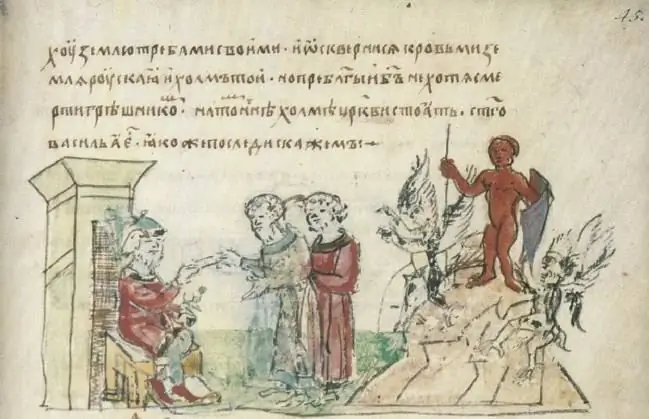 Vladimir planted Dobrynya in Novgorod, and that Dobrynya immediately put an idol over Volkhov. And on the same page it is reported about Vladimir's "love for women" - 300 wives in Vyshgorod, 300 - in Belgorod, 200 in the village of Berestovoy, and also corrupted wives … And this is also PR - "here, they say, what a sinner was, and … corrected! " An interesting image of an idol. Obviously, his draftsman had no idea what the idols of the ancient Slavs looked like (after all, he worked in the 15th century), and therefore painted something like an ancient Greek statue! Miniature from the Radziwill Chronicle.
The Muslim Bulgars came to Prince Vladimir and offered him faith in Allah: "the Bulgarians of the Mohammedan faith came, and they said to him:"You, prince, are wise and clever, but you don't know the law, believe in our law and bow to Mohammed". And Vladimir asked them: "What is your faith?", And the answer was given to him: "We believe in God, and Mohammed teaches us this way: wives. Mohammed gives each of seventy beautiful wives, and chooses one of them the most beautiful, and assigns to her the beauty of all; she will be his wife … Vladimir listened to all this, because he himself loved wives and all fornication, but he did not like circumcision, abstinence from pork meat and from drinking. He said: "Russia is fun to drink, we cannot be without it." Simply put, their presentation was "in words", and, of course, it did not make a sufficient impression on him! And he was also told by a certain philosopher (it is clear that he was a Greek) that "having washed, they pour this water into their mouth, smear it on their beard and commemorate Mohammed. Likewise, their wives do the same filth, and even more …". "Hearing about this, Vladimir spat on the ground and said:"This business is unclean". Well, how can you believe in it after this?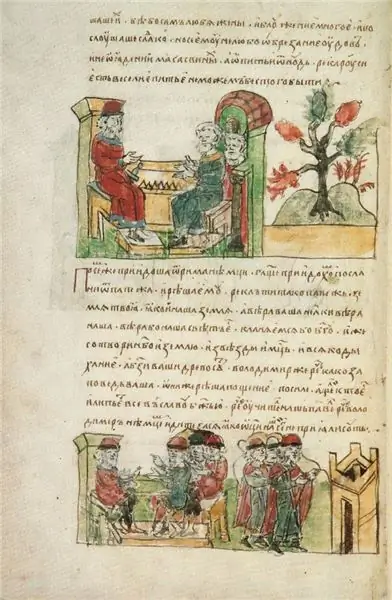 The Bulgars came to Vladimir and began to seduce him with fornication in the next world and the prince listened to them to his heart's content. But … he also loved to drink, and therefore refused their faith! Then the Jews came … They began to exhort … And the prince to them: "Where is your land?" There is not! And with us this is: whose land is faith! And drove away! And then the Catholics - but they were "sent" too. For "our fathers did not accept it." Not the smartest, but the strongest argument in terms of PR. Accept us as we are. " Miniature from the Radziwill Chronicle.
Well, and the Greeks showed so much "trickery" that prince Vladimir, who seduced the youths with the glitter of golden robes and sweet-voiced singing, with a well-thought-out PR-action, chose their faith. Was he stupid enough to be seduced by that alone? No, he was not that stupid, but in his own way he was very smart. He chose the faith of a state that would not, under any guise, begin to fight with his principality. Well, the Greeks did not have any interests in the north.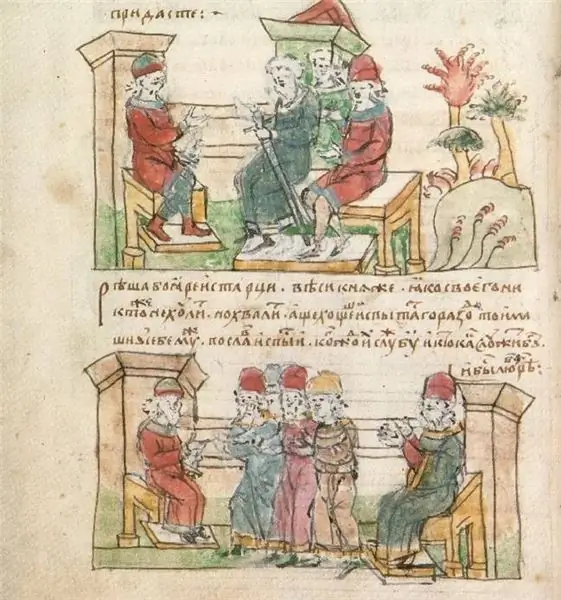 Vladimir called his boyars, told about the offers made to him. And those to him: "Nobody scolds his own! Send the faithful people to look out for everything! Miniature from the Radziwill Chronicle.
As a result, everything turned out in such a way that both the West and the East, which at that time were already sources of enormous power, turned out to be, as it were, "pushed aside" from Ancient Russia (or Russia pushed away from them!). And Byzantium, on the contrary, approached us culturally, but in the military it was not dangerous for us. And we can say that the prince acted similarly to the hero of Graham Greene's novel "The Quiet American", who also chose the "third force" for himself and his goals as a counterweight in the political games in Vietnam. Another thing is that he was not able to think through the consequences of his decision in the future. Meanwhile, if he had made a different choice, our country and the whole world would also have a completely different story today! And we would all be completely different people, with a completely different culture, mentality and economy. That is, the "choice of faiths," as we see it today, was a point of bifurcation of exceptional significance and consequences. And if the prince had made a different choice, he would have changed the fate of the whole world, and not only his own principality, but later the entire Russian State.
What would happen if "would …" are not said in history. Yes! But … here we have already got acquainted with such a science as cliometry, which involves the creation of realistically possible models and helps to calculate the consequences of "forks" in history. So what would have happened if Prince Vladimir had chosen a different faith?
To begin with, he could have chosen the Muslim faith, especially since the Muslim Bulgarians came to him first. That is, Islam would become the religion of the Slavs, and the territory of Russia up to the western borders would become the outskirts of the Muslim world, and … the outskirts are the border, which in one way or another they usually always try to strengthen. Not only the Arabic language would come to us from the East, but also Arabic poetry and medicine, we would build beautiful mosques, no worse than those that now adorn Bukhara and Samarkand, stone bridges would be thrown over the rivers, and a comfortable caravan would be built for merchants -sheds. Because it's something, but they knew how to trade in the East, and they loved it! And all this would appear in our country very soon, and today we can only guess to what heights this eastern culture would have developed on our talented Russian land.
Well, in the event of any military conflicts, Muslim states of the whole world would support us, which means that in wars with Christian states, we could always have a strong rear. Would this Western Christianity itself have survived? Indeed, in the campaign of the Turks to Vienna in 1683, we would have been at one with them, our galleys, together with the galleys of the Ottomans, would have fought in the Battle of Lepanto, and who knows, this military aid would not have brought impressive victories to the green banner of the Prophet ?! That is, it could very well be that the whole of Western Europe would then become Muslim, and the unfortunate Christians were forced to flee on ships to the territory of the United States and Canada.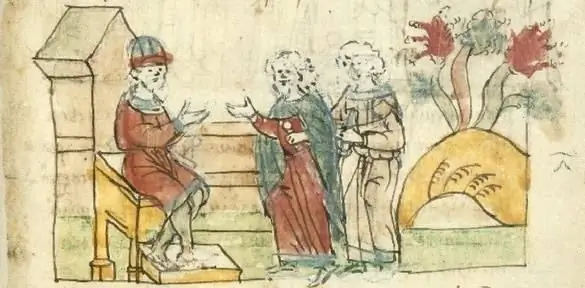 Boyars are visiting the Greeks and they accept them from the heart!
If we adopted Christianity according to the Western model, the situation would have turned to the other side, but exactly the opposite. It would no longer be Poland or Lithuania, but our Rus, that would have turned into an outpost of Christian Western civilization. All knights from all over Western Europe would come to us for adventure and wealth, and in Russia feudal lords would live in stone castles, and monks in stone monasteries instead of old wooden ones. In this case, the crusades in order to reduce the number of landless knights there would have been sent not to Palestine, but in order to bring the Mordovians and Burtases into the bosom of the church, and "like them", and then "for a stone" - that is Ural mountains.
Moreover, since there was a "Little Ice Age" in Europe at that time, their goal would have been not only faith, but also valuable furs, since the Europeans no longer had enough of their own furs. Yes, we would be the border in this case, but what is the border? Such, for example, what was Spain, which received help from various European states for the wars with the Moors. And in Poland in 1241 knights came to fight the Mongols in the battle of Legnica. And then we would have a Western mentality, sooner or later, but the Reformation would have begun, and where, as before, a market economy would have been formed purely according to Weber on a Western model. And everything would not be the same as in the 17th century, when one-third of Russians begged for alms from two-thirds of the remaining population, who fed all these parasites, instead of applying "bloody laws" to them, as was done in Protestant England. In this case, the cultural and political alliance of Western civilization would embrace the entire northern hemisphere and become isolated in the United States. The result would be a civilization with approximately the same level of development, one religion and one policy. A very strong economy would then develop on this territory … and today we would have a classic bipolar world: an economically developed North and a backward South, without "incomprehensible" inclusions in the face of Russia, which gravitates to both the West and the East at the same time, however, in fact business, there is not the West, but not the East!
Of course, Vladimir could not have known that someday Byzantium would fall. But she, nevertheless, fell, and who are our allies by faith today? Greece is a bankrupt country, Serbs, Bulgarians - that is, just a few small Balkan peoples, and even Ethiopia in Africa and … that's all! And what is the benefit to us from their "alliance"? Dwarf countries, in most cases, are just specks on the map! But it was said: if you have a strong enemy - make him a friend and then you will have a strong friend. But a weak friend is always half your enemy, and he cheats on you at the very moment when you yourself least expect it.
Of course, we cannot know if these two alternative "choice of faiths" would have been better in all respects. There are too many variables to consider. But logic says that such a course of events, in comparison with the realized version, is much more probable.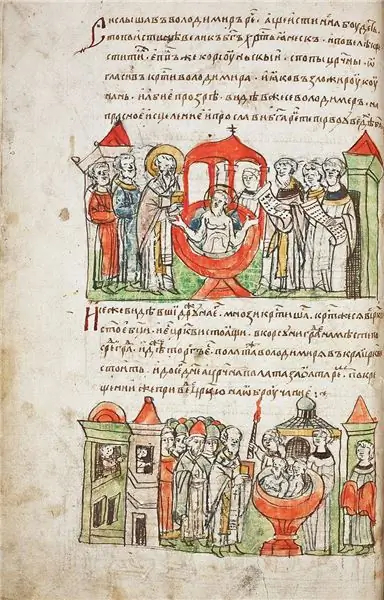 The baptism of Vladimir and his entire squad. Miniature from the Radziwill Chronicle.
However, just today, at this stage of historical development, just the circumstances of the baptism of Rus known to us, it seems, one should only rejoice. Yes, we still have those "brothers in faith" today, but today, in the face of increased pressure on the West from the Muslim East, we have all the conditions to become … truly the third Rome, the support and symbol of the Christian religion of the whole world, the keeper of its ancient commandments and traditions. In fact … "the second China", which just as carefully keeps the commandments of its Confucius. What is needed for this? Again, just good PR. They say, only here you will find … what the soul needs, peace among brothers in faith (so what, they say, that you are Catholics, but we are Orthodox - all the same, Christians!), And our Muslims are not at all like yours, not aggressive, but friendly and we are all citizens of a great country. To submit this "there" as it should, in a "beautiful wrapper", as the Greeks gave us their faith in due time, and … their people, together with their knowledge and capital, will run from there to us! The chance that it will be so is very real today. Another thing is whether we will use it or not?
P. S. The full text of the Radziwill Chronicle can be found in the PSRL. 1989. v. 38. In addition, today it is digitized and in this form is on the Internet along with its wonderful miniatures. "The Tale of Bygone Years" (according to the Laurentian list of 1377). Part VII (987 - 1015) is also on the Internet: