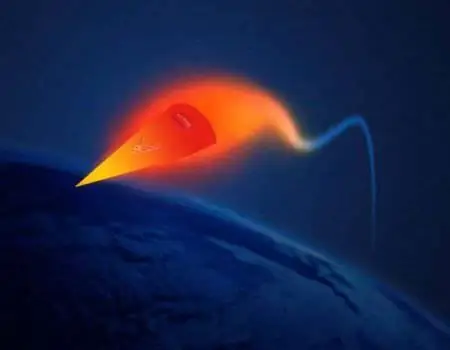 The Pentagon plans to conduct on Tuesday the first test flight of a device capable of exceeding the speed of sound 20 times
Joanna Jones, a spokesman for the Defense Advanced Research Projects Agency (DARPA), told reporters on Monday that the hypersonic unmanned vehicle, dubbed HTV-2, was developed by Lockheed Martin as part of the FALCON program.
Its goal is to provide the Pentagon with a weapon that could "deliver swift and accurate non-nuclear strikes against any target on the planet in response to threats to the national security of the United States," Jones said. HTV should be an alternative system to ICBMs equipped with nuclear warheads, a DARPA spokesman added.
The drone will be launched from Vandenberg Air Force Base, California, aboard the Minotaur launch vehicle, Jones said. In the upper layers of the atmosphere, the separation of the apparatus from the rocket should take place. Then it will begin its descent, hovering over the Pacific Ocean in the direction of the Marshall Islands at a speed of about 21 thousand km / h. The HTV-2 is expected to reach its intended target north of Kwajalein Atoll, 4,100 nautical miles away, in less than 30 minutes.
"The materials used will be tested, including the heat-shielding coating, as well as technological solutions, autonomous hypersonic guidance and control systems of the device, aerodynamic qualities," Jones said.
According to other representatives of the Ministry of Defense, testing HTV-2 will simultaneously test the ability of missile defense radars to detect and track hypersonic objects at a considerable distance, ITAR-TASS reports.