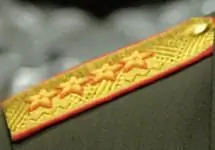 The Russian Ministry of Defense is already openly talking about the upcoming resignations of the highest command personnel of the Armed Forces. Press services, as usual, deny everything. However, no one can refute the fact of the three-month absence of one of the key figures in the military department - the Deputy Minister of Defense of the Russian Federation for financial and economic work. This casts doubt on the Prime Minister's promises to increase military pensions.
- So far it is difficult to speak even about the promised increase of 6.5% from April 1 of this year. And it makes no sense to think for 2012 at all. The military budget does not include funds for this. Three months have passed since Chistova left. There is no new candidate. And without him, such issues simply cannot be resolved, this is a huge job,"says a source in the office of the absent Deputy Defense Minister for financial and economic work.
Recall that on November 8, Deputy Defense Minister for financial and economic work Vera Chistova went to work in the Moscow government. The Minister of Defense has recently repeatedly made an offer to officials of various levels in the Ministry of Finance and the Ministry of Economic Development. However, everyone refused a significant post.
Chistova's departure is clearly not the last. In the military department, officers speak louder and louder not only about new resignations on the eve of the elections, but also about appointments. For example, in the building on Znamenka, information about the appearance of a new deputy Serdyukov, called upon to "correctly" track the soldiers 'and officers' expressions of will, is being discussed more and more actively.
- It will be a landmark civilian and a member of United Russia. Of course, this is due to the upcoming parliamentary and presidential elections. The negative attitude of the officers is great, it is directed against the minister, his assistants and the ruling party, which is carrying out reforms without regard for human costs, "a high-ranking military source in the Russian Defense Ministry told AN.
In resignation same "send": Chief of the General Staff General of the Army Nikolai Makarov; Deputy Defense Minister, who is also responsible for the rear of the Armed Forces, Colonel-General Dmitry Bulgakov; the Commander-in-Chief of the Air Force of the Russian Federation, Colonel-General Alexander Zelin; Commander-in-Chief of the Navy, Admiral Vladimir Vysotsky; Commander of the Space Forces, Lieutenant General Oleg Ostapenko. Some of the newly appointed commanders of military districts are expected to be dismissed and relocated.
An AN source clarified that these dismissals "are not related to personal conflicts between the minister and the generals. The course for the rejuvenation of the command staff simply continues.