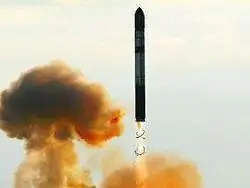 The development of an updated version of the heavy ballistic missile RS-20 Voevoda (Satan in NATO classification) contradicts disarmament logic, is environmentally unsafe and does not correspond to the current modernization policy, warns the designer of Bulava and Topol-M solid-propellant missiles.
Artur Usenkov, general director of the Rosobschemash corporation, spoke about the developments that have been underway since last year on a new type of heavy liquid-fuel rocket.
According to him, the new missile, which may appear in eight years, will be capable of overcoming any existing and future missile defense (ABM) systems.
Like Satan, the new missile, as yet untitled, will carry a multiple warhead of ten nuclear warheads.
Technological gap and environmental harm
The general designer of the competitor of "Rosobschemash" - the Moscow Institute of Heat Engineering (MIT) - Yuri Solomonov urges you not to rush and limit yourself to sketch work, "and then look at the specific situation."
According to the designer of the Bulava, which has not yet been adopted for service, the efforts spent on development will not only not reduce the technological gap with other countries, but will make the gap irreplaceable.
Solomonov, who voluntarily resigned from his post as head of MIT after several unsuccessful Bulava launches last year, also believes that the development of a new type of heavy missile contradicts disarmament logic and harms the environment.
Heavy missiles use "toxic components", which, in his opinion, "is unacceptable in missile systems of the 21st century."
"Flight tests of the complexes, which, in fact, are toxic substances and will pollute the environment, are akin to misanthropy," Solomonov said.
Psychological weapon
Experts note the psychological significance of such weapons, but they doubt whether there will be enough resources to create a new missile.
"The issue of a heavy strategic missile is very difficult. On the one hand, such missiles have exhausted themselves. Today there is no need to have 10 warheads with a capacity of one megaton each. There is no financial, military or economic sense in creating such missiles. However, on the other hand, the presence of such missiles has a psychological significance. They seriously warn a potential aggressor of the destructiveness of a retaliatory strike, "Viktor Litovkin.
According to the expert, if the United States refuses to ratify the START treaty and an arms race begins, heavy missiles will be able to play a deterrent role, but will never be used.
"There is, of course, Solomonov's interest as a developer of solid-propellant missiles. we are talking about military tasks, not the fight against the civilian population, the destruction of cities, etc. In Solomonov's position there is a desire to escape competitors, but, on the other hand, a sound, reasonable approach, "the expert believes.