The text below is a loose retelling of some of the paragraphs of the article "Military Pallets, Boxes and Containers" from www.thinkdefence.co.uk and is devoted to the primary elements of military logistics used in the British army.
Part 1
The supply chain of modern armies is an incredibly complex structure, consisting of many nodes. Any handling of goods in these nodes increases the time and cost of delivery, requires additional workers, premises and equipment. Loose and liquid cargo, if possible, should be packed and constituted a cargo unit. In addition, military logistics differs from civilian logistics in that it requires more flexibility and is an "imprecise" science. Thus, in the future, a wider use of technical means and the development of automated supply systems are expected. One of the steps along this path was two simple but very significant inventions - the pallet and the container.
Pallets
The drive to reduce shipping costs led to the introduction of corrugated cardboard boxes in the 1870s to replace conventional wooden crates. After spreading the experience of loading a stack of boxes with a forklift, in 1924 the first patent was obtained for a wooden pallet structure. In Russian, the word "pallet" unambiguously corresponds to this definition, but it is also possible to use the borrowed word "pallet", which more often refers to a pallet with loads.
During World War II, US Navy officer Norman Cahner proposed his 4-sided pallet design, which greatly improved the forklift-pallet-strapping capabilities.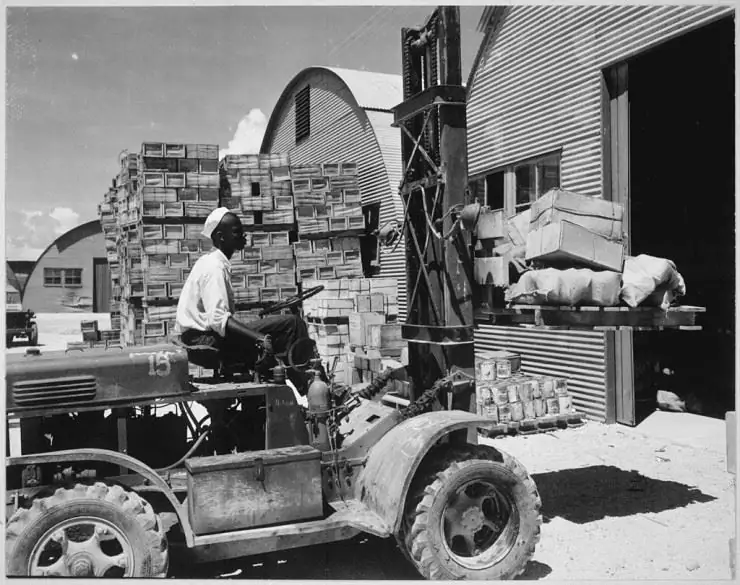 Seaman 1st class M. D. McShore operating a forklift truck, Guam, June 8, 1945.
With the development of the use of pallets, it became inevitable to develop standards for their size, design, carrying capacity and other functions. The general type of so-called Euro pallets was adopted in 1961. The following dimensions and designations are defined:
EUR, EUR 1 - 800mm x 1200mm, ISO1 compliant
EUR 2 - 1200mm x 1000mm, ISO2 compliant
EUR 3 - 1000mm x 1200mm, EUR 6 - 800mm x 600mm, ISO0.
ISO pallet standards are defined by ISO Technical Committee TC51.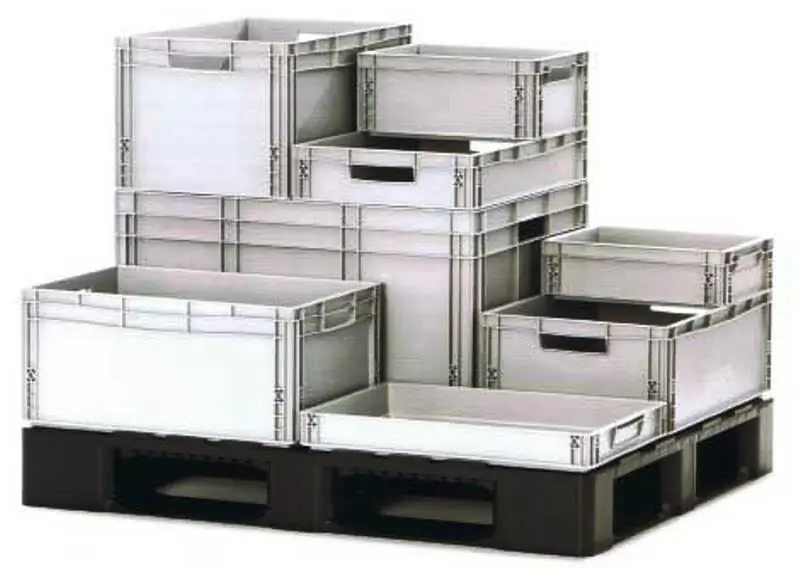 Crates and boxes designed to be compatible with EUR pallets.
In the military field, the dimensions of the package are described by the NATO standard STANAG 2828. The British army most often for the transport of military equipment uses wooden pallets with a size of 1000mmx1200mm with a carrying capacity of 1814kg or pallets with a reduced carrying capacity of 1000kg. In fact, the size and capacity of pallets for different types of equipment, ammunition, fuel and lubricants may vary. The main requirement is the ability to use a forklift. The requirements for packaging, transportation and storage of a specific type of equipment are determined by the Load Passport (ULS - The Unit Load Specification). If the supplier works with the UK Department of Defense, the packaging is ULS certified.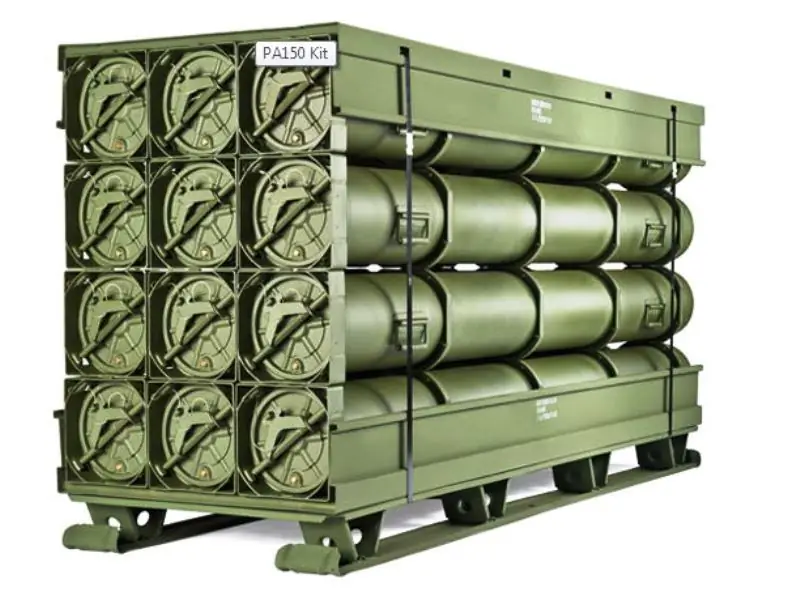 Hellfire missile packaging
For additional fastening of cargo on pallets, nets and lathing, metal and plastic ties are used. Shrink wrap has become common. NATO standards allow the use of other types of pallets, such as cell pallets, boxes, etc. Euro cubes (IBC) for liquid and bulk cargo.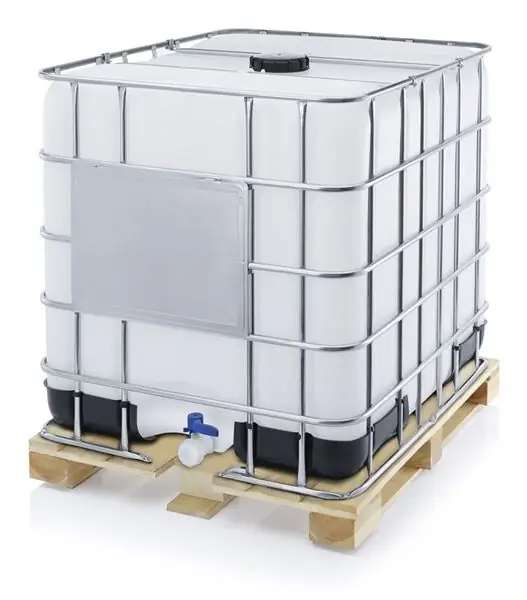 There is one important requirement for different options for packaging cargo on pallets - the possibility of using mechanization of loading and unloading operations.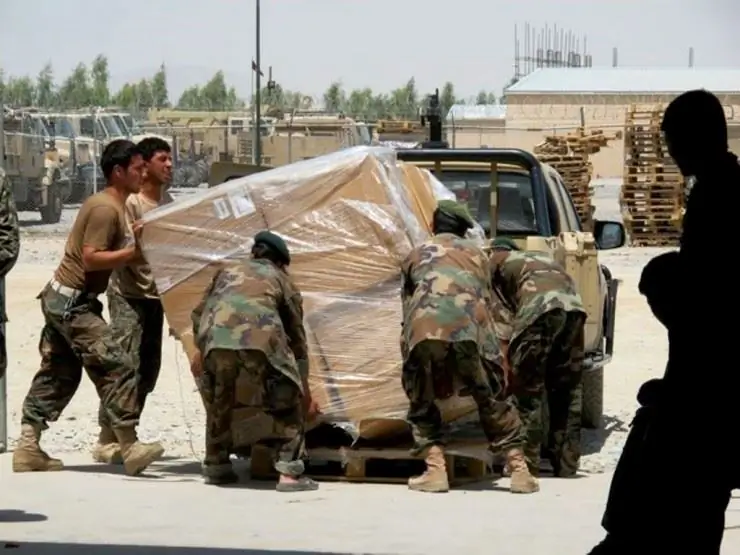 In the early 1970s, for the needs of the Royal Transport Corps (RCT), the first trucks with an installed crane truck (or, as we call them, "thieves") and various forklifts were developed. Among the loaders, the Eager Beaver, an airborne wheeled tractor with a lifting capacity of 4,000 pounds, took a special place.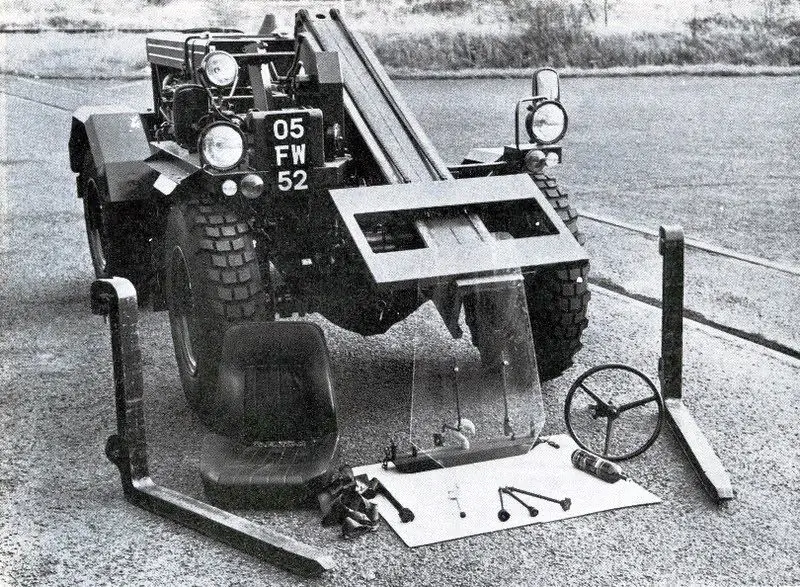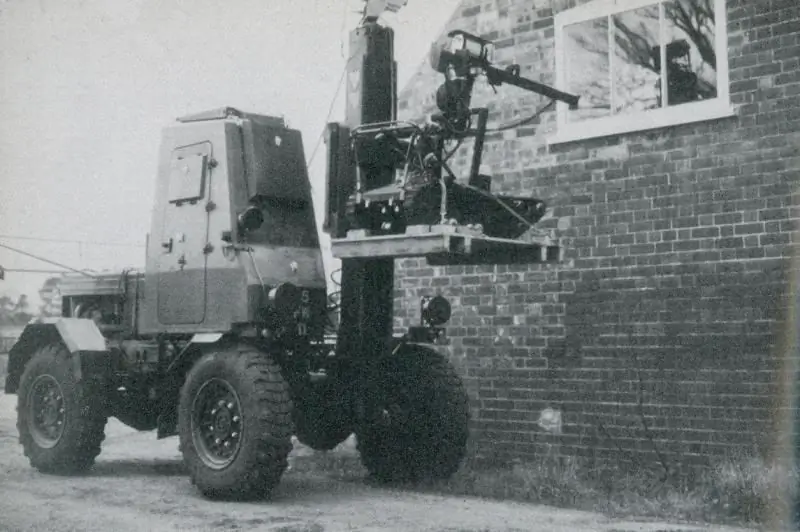 Eager Beaver Mk2 with an armored cabin and a sapper robot in Northern Ireland.
Eager Beaver loaders played a prominent role in supporting the operations of the British army during the Falklands War of 1982 and were gradually replaced by more advanced telescopic boom designs.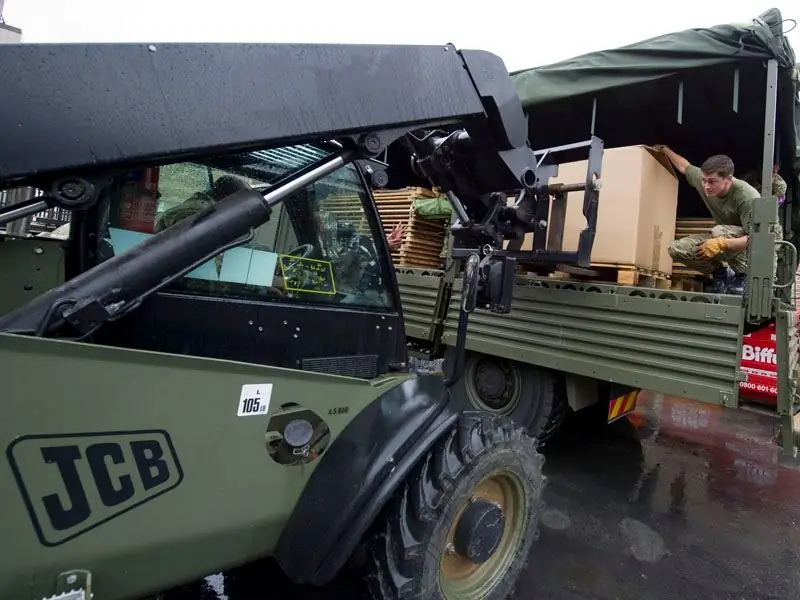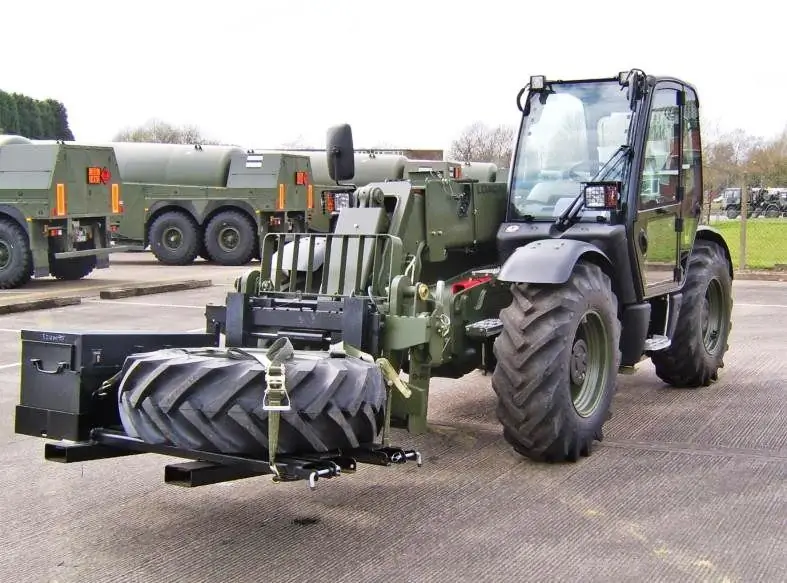 JCB Corporation (by the initials of the founder Joseph Cyril Bamford) produces two types of loaders for the transport body: JCB 524 / 5-50 (2400kg) and JCB 541-70 (4000kg).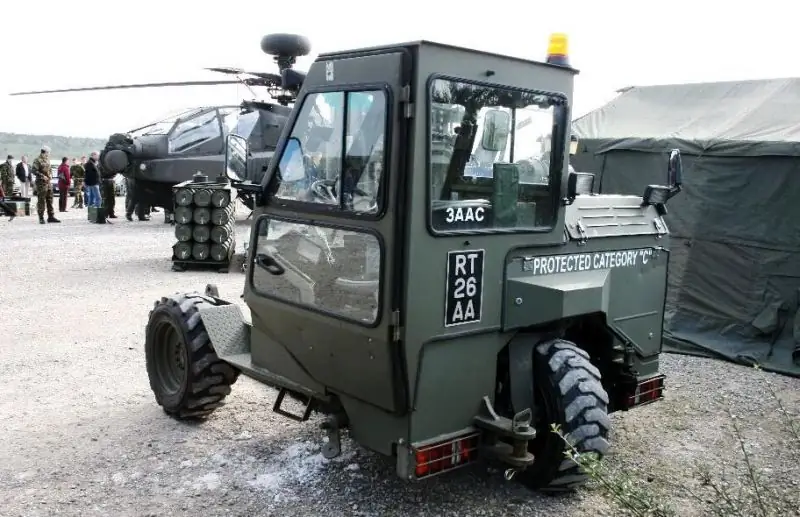 Air Force used Moffett loaders before switching to JCB products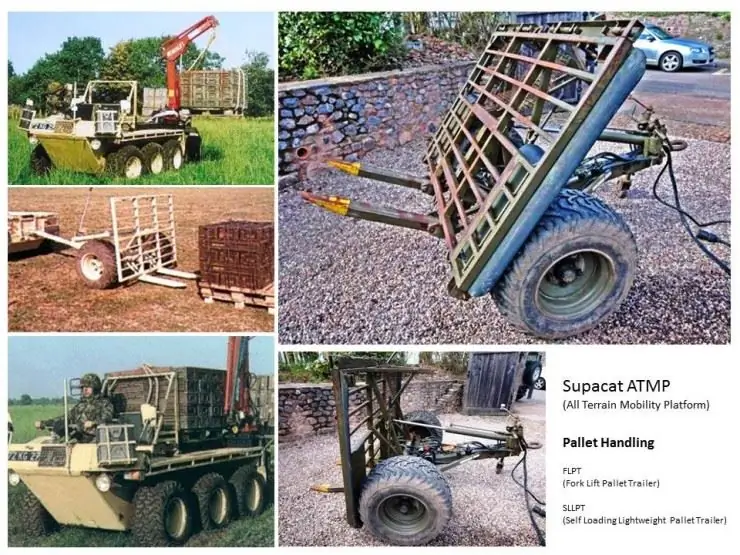 Supacat ATMP Rough Terrain Platform and FLPT Loader Trailer
The use of pallets allows the use of a huge range of civilian means of mechanization during loading and unloading operations - forklifts, hand and electric hydraulic carts, platforms and elevators.
Modifications and variations on the pallet theme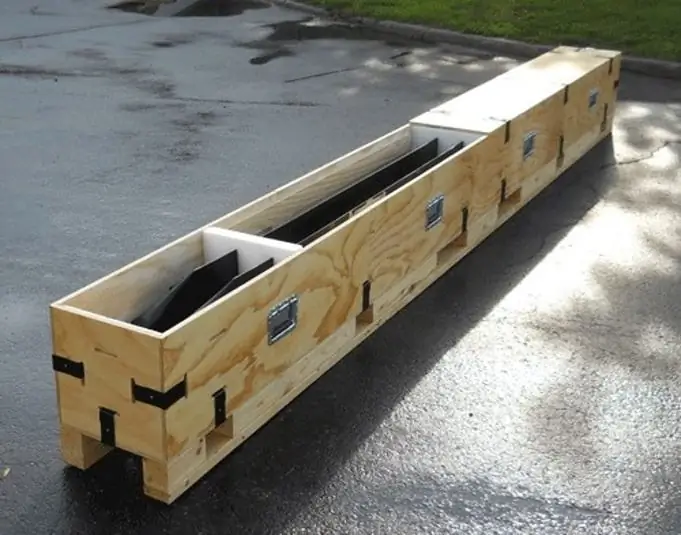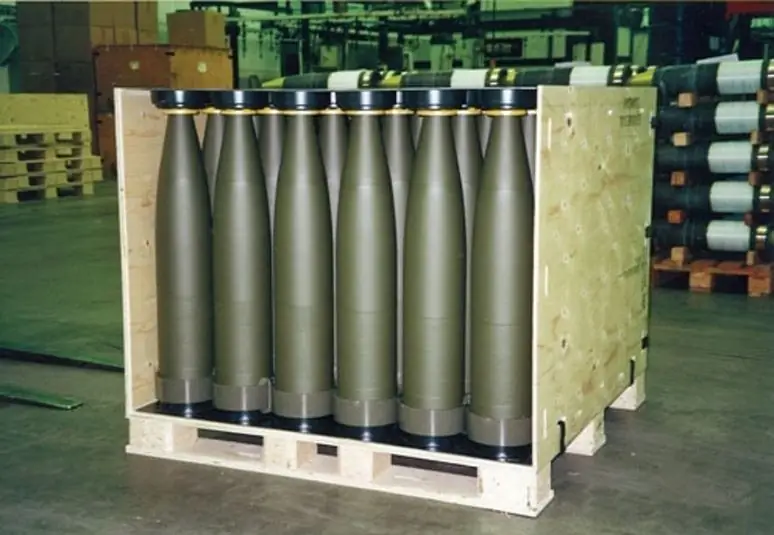 Helicopter blades in packaging from CLIP-LOK - pallets combined with plywood partitions and metal clamps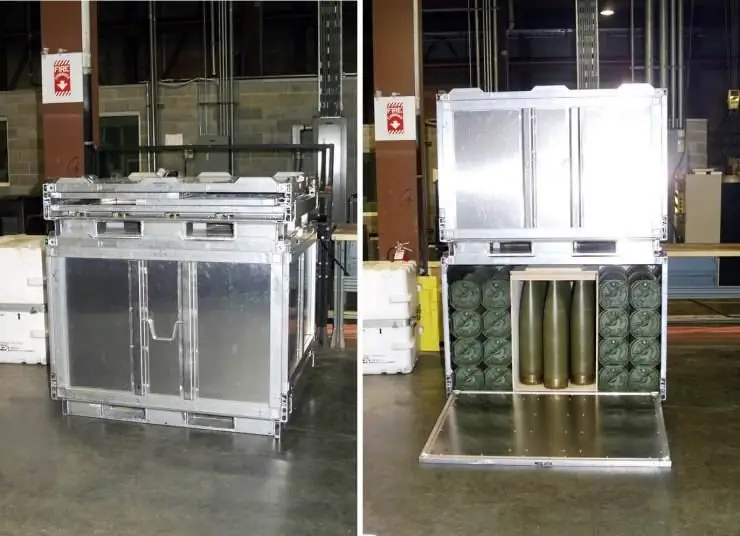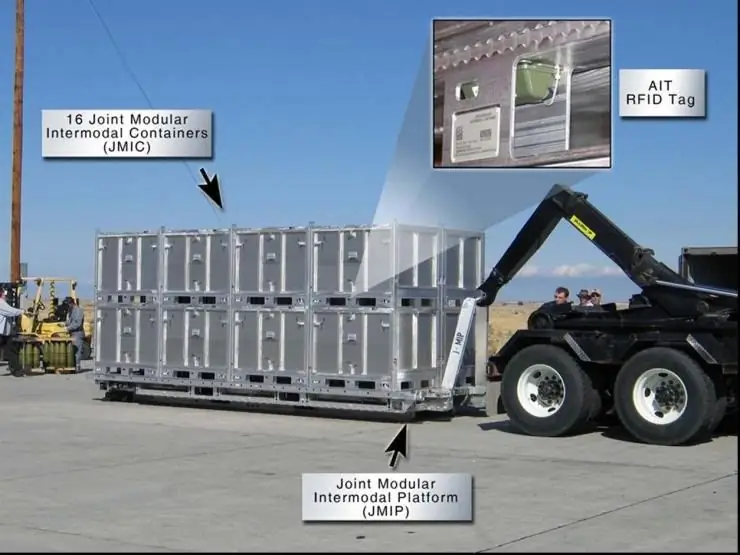 A promising development of the US Department of Standardization Department of Standardization is a combination of intermodal pallet containers and platforms.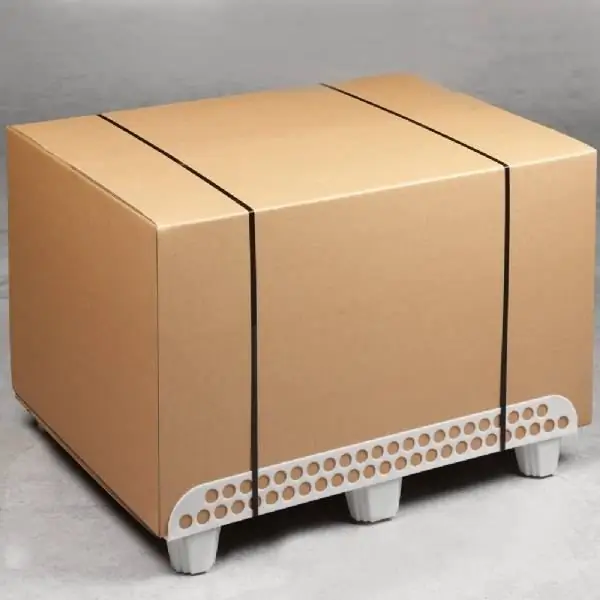 Optiledge is a solution from IKEA. A simple polypropylene stand allows you to turn any suitable box into a pallet.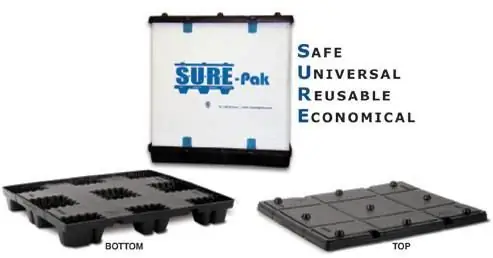 SURE-Pak, folding pallets are actively used by the US troops in Afghanistan.