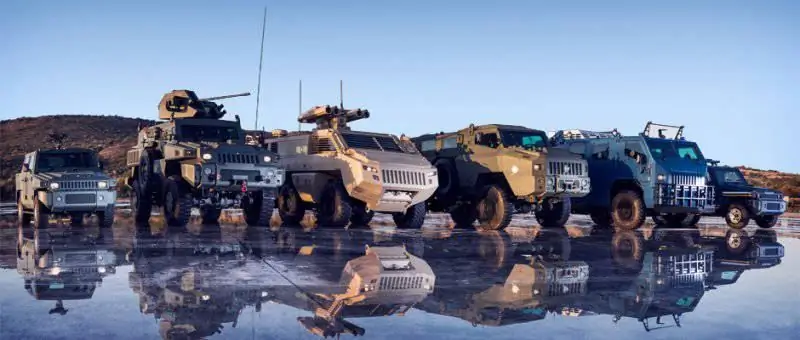 Paramount Group armored vehicles
South African Paramount Group has recently begun promoting its own line of armored vehicles to the global market and has already won a number of major export contracts.
This lineup currently consists of the Matador and Marauder (Mine Protected Vehicles - MPV) and the Maverick (Internal Security Vehicle - ISV). The newest example in this line is the Mbombe, an innovative 6x6 armored fighting vehicle that uses advanced modern materials.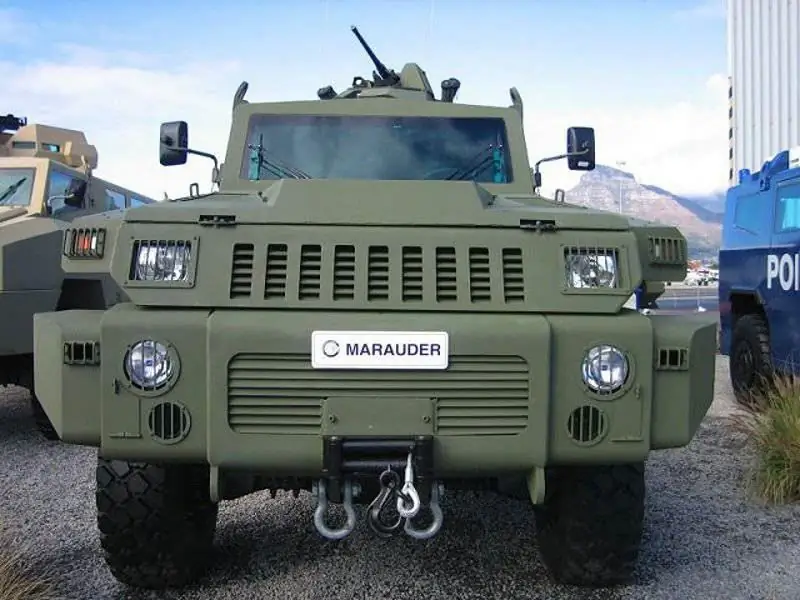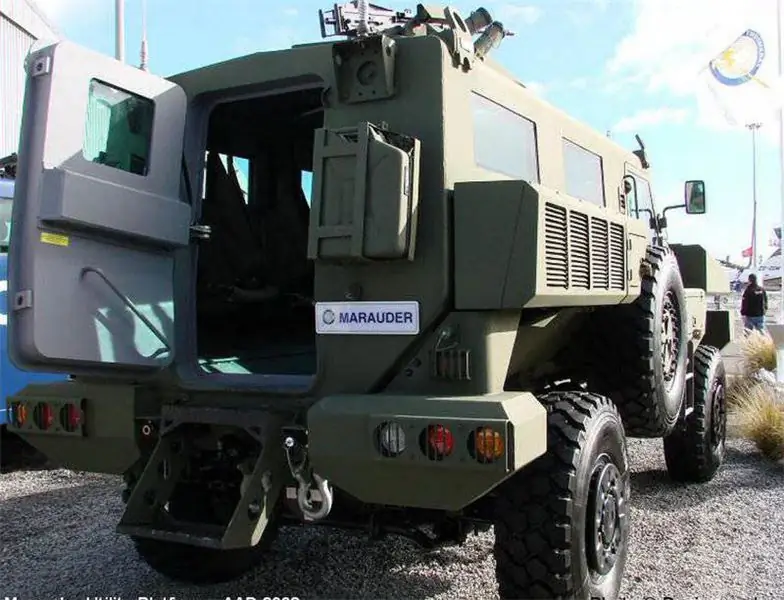 Marauder MPV
Matador, Marauder and Maverick all have the same unique double monocoque (load-bearing) welded body, the same diesel power unit, power train and suspension, the only difference in the entire propulsion system is the wheelbase.
The Paramount Innovation Center in Midrand, South Africa has a full range of armored vehicles; it is also developing, integrating and improving these machines to maintain their performance in the future.
Due to ongoing hostilities and security operations, customer needs often change with very short notice times, but the Paramount Group has a proven track record of adapting to these changes in a timely manner.
The Paramount Group has a well-established extensive undercarriage and blast testing facility in South Africa, and uses it in its entirety to test its machines under harsh conditions to meet the highest international standards.
The undercarriage testing capacity includes not only advanced mobility and reliability testing capabilities, but also climate testing facilities to ensure machine performance under a wide variety of environmental conditions, anywhere in the world.
These factory tests are complemented by extensive customer tests in Africa, Asia and the Middle East. Information about the results of these tests is sent back to the company for implementation in existing and future developments.
Training, procurement and lifetime maintenance costs are significantly reduced for the purchaser by using common subsystems in a single product line.
The Paramount Group armored vehicle family has significant flexibility to adapt to specific customer operational requirements.
These include key areas such as levels of protection; combat modules; means of communication; air conditioning system; situational awareness; and special equipment.
With an extensive dealer network, the Paramount Group can supply combat modules, communications and other systems in a highly competitive environment.
Paramount Group can supply customers with a wide range of machinery and equipment, as well as remanufacture and modernize their existing machines. The product line includes not only armored vehicles, but also unarmored vehicles, combat support vehicles, ambulances, fire and evacuation vehicles, police vehicles and a number of other models.
The Paramount Group can select innovative finance packages to enable customers to buy machines from a South African production line or, as part of a technology transfer, manufacture them themselves in their own facilities.
Training kits for vehicle crews and mechanics can also be supplied by the Paramount Group. Initially, training is conducted in South Africa, but as an option, additional training can be conducted in the buyer's country on an ongoing basis.
In addition to supplying machines, Paramount Group can also provide life-long integrated logistics to ensure that you have the maximum number of machines ready for use at any time.
Paramount Group can not only supply a complete turnkey solution for the entire armored vehicle family, but also provide turnkey solutions for air and sea applications, law enforcement, interior troops and peacekeeping contingents.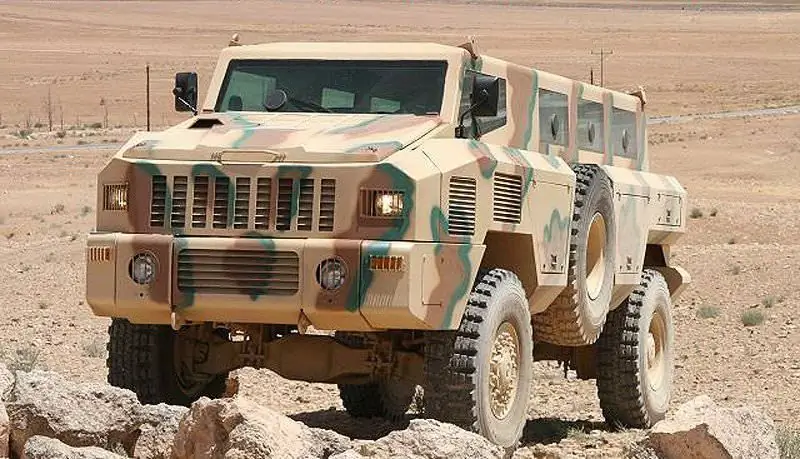 Matador overcomes a rocky gutter during sea trials in the Middle East
Matador and Marauder MPV offer high levels of protection
Each of the core members of the design team at the Paramount Group has over thirty years of experience in the design, development and manufacture of armored combat vehicles (AFVs).
In order to meet the global needs for MPV mine-protected vehicles capable of performing a wide range of combat missions, the South African company Paramount Group has developed the Matador and Marauder vehicles with excellent levels of protection and mobility.
The Matador and Marauder MPV have a traditional V-shaped monocoque (load-bearing) body welded from steel, but unlike their competitors, ballistic protection is provided by double spaced armor.
The prototypes were built in 2007 and have since passed an extended series of proof tests in South Africa and extreme climatic tests in Asia, the Middle East and Africa.
In accordance with the plan, the schedule included not only sea and life tests, endurance and survivability tests, but also a series of mine explosive tests in order to verify compliance with the declared levels of mine protection. The high levels of protection Matador and Marauder MPV have been certified by an independent R&D center under the supervision of Armscor.
The V-shaped hull of the Matador MPV can withstand the detonation of three anti-tank mines (21 kg of TNT) under any wheel or two anti-tank mines (14 kg of TNT) under the hull.
Recent explosive tests using three 7 kg anti-tank mines showed that the current Matador MPV hull was not damaged. The explosion damaged only the rear axle, rear wheel and propeller shaft.
This damage was completely repaired within an hour by a trained repair team using standard tools and equipment.
The slightly more compact body of the Marauder MPV is a flat-angle V-shaped body that has a slightly lower level of mine protection (14 kg of TNT under any wheel and 8 kg under the body), but at the same time has a larger internal body width compared to the Matador.
Additional kits for protection against firearms and IEDs have been developed and tested, they can be quickly installed on vehicles.
The Matador and Marauder MPV are the only 15 tonne armored vehicles in the world with STANAG 4569 Level 3 ballistic protection, which can be upgraded to STANAG 4569 Level 4 with modular add-on kits.
The engine compartment has a STANAG 4569 Level 1 protection level, if necessary, upgrade kits can be installed to increase the protection levels.
Improved protection against the widespread Russian RPG-7 anti-tank grenades can also be provided by installing lattice / rack armor that covers the outer hull.
An alternative to countering RPG-7 attacks is the installation of active protection systems that disable the approaching anti-tank cumulative warhead before it reaches the target.
Other survivability options for Paramount Group MPV vehicles include the installation of reactive armor kits or even protection kits.
Matador and Marauder MPV have the same layout with a protected diesel power unit in front, the rest of the space is occupied by the cockpit and troop compartment.
External cargo containers are fixed in the lower part of the hull on both sides, they are designed in such a way that they are dropped in the event of a vehicle being blown up by a mine or an IED.
Bulletproof glass installed to increase circular situational awareness; if required by the customer, the side windows will have embrasures for firing.
Easy access is provided through the rear doors, which are quickly opened by the driver or one of the soldiers in the aft compartment. Two additional side doors on the Marauder serve to facilitate the entry and exit of the driver and commander.
The troopers sit on the sides facing each other in individual mine-action seats with a full set of seat belts. When needed, the seats can be easily folded down to load ammunition or additional equipment.
Both machines are available in left-hand drive and right-hand drive configurations to meet local requirements, with power steering as standard. The spare wheel is usually attached to the outside of the housing.
Weapon modules are usually mounted on the roof in front and have a machine gun and cannon in a wide variety of turrets and turrets, including remotely controlled weapon stations.
Another combat module can be installed on the roof of the assault squad for firing in the rear arc for suppression. Smoke grenade launchers can also be installed if required.
Paramount MPVs use off-the-shelf commercial subsystems such as diesel engine, transmission, axles and transfer case. This, and the fact that these subsystems are common to the entire product line, reduces the cost of a lifetime.
These can be diesel engines from MAN, Mercedes-Benz or Cummins combined with automatic transmissions from ZF, Allison or even in some cases with a manual transmission.
The choice of power unit will depend on the end user and which contractor has the best dealership network in the country.
When a MAN power unit is installed, each vehicle is assigned a unique identification number that is linked to the MAN organizational structure, which can be found in every MAN dealership established.
This feature allows servicing and replacing machines anywhere in the world without the need for the buyer to organize their own independent supply chain.
The system of protection against weapons of mass destruction, air conditioning and auxiliary power units (APU) can either be integrated into drop containers on each side, or be installed on the roof.
The larger Matador MPV has a crew of two (commander and driver) plus up to 12 paratroopers in individual seats. It has a total weight of 15-18 tons, of which up to 6 tons of payload. With its larger wheelbase, the Matador has more seating space than the more compact Marauder.
A typical Matador MPV has a 221 kW Cummins diesel engine mated to an Allison SP3000 six-speed automatic transmission and Axletech transfer case and axles.
The Marauder MPV has a crew of two and takes on board up to 10 people. It features the same powertrain options as the Matador, offering significant benefits to the user in training and life-long service.
A wide range of optional equipment can be installed on Matador and Marauder MPV machines, including a centralized wheel inflation system, anti-puncture inserts, ABS, an anti-weapons system, an auxiliary power unit, additional fuel tanks, an 8-ton winch, various combat modules, a variety of additional armor kits and various communication systems.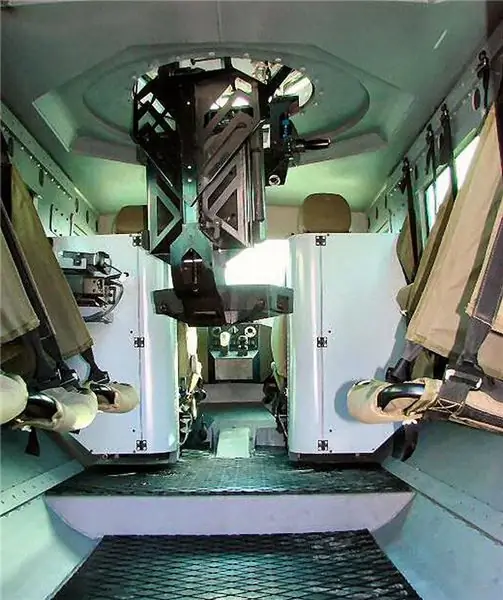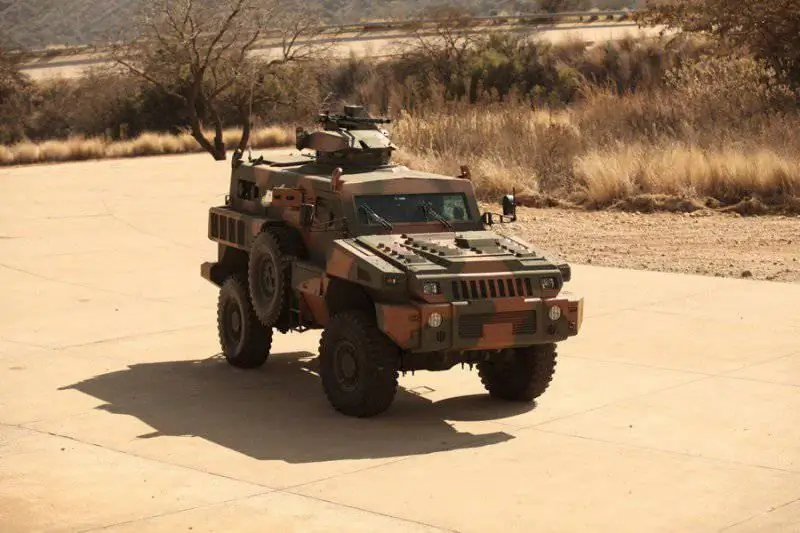 In addition to the two crew members, the Marauder carries eight paratroopers seated in individual energy-absorbing seats. The Marauder MPV has the same power unit and transmission as the Matador, but slightly more compact.
Family of machines offered
The main feature of these MPVs is that they can be quickly adapted for various combat missions without the need for extensive modifications.
Manufactured variants of the Matador and Marauder MPV include: ambulance, command post, engineering, logistics, missile launcher, mortar launcher and evacuation variant. There is also good potential for the Marauder 6x6, its larger internal volume is suitable for creating a sanitary version or weapons transporter.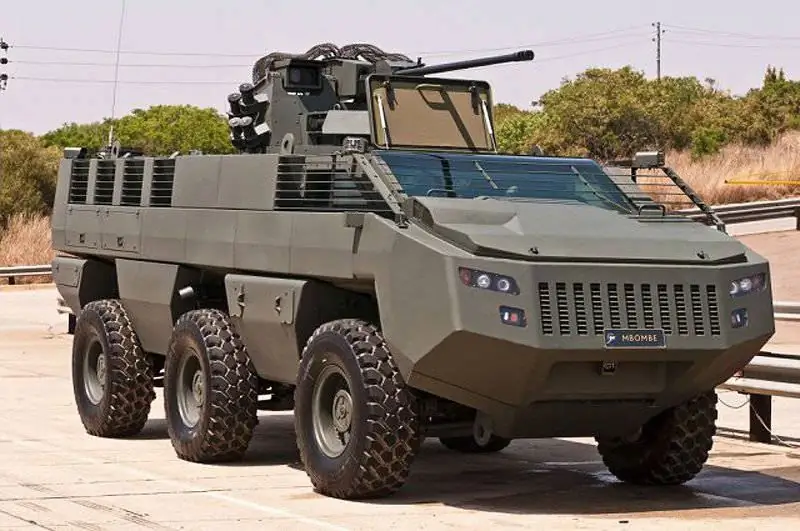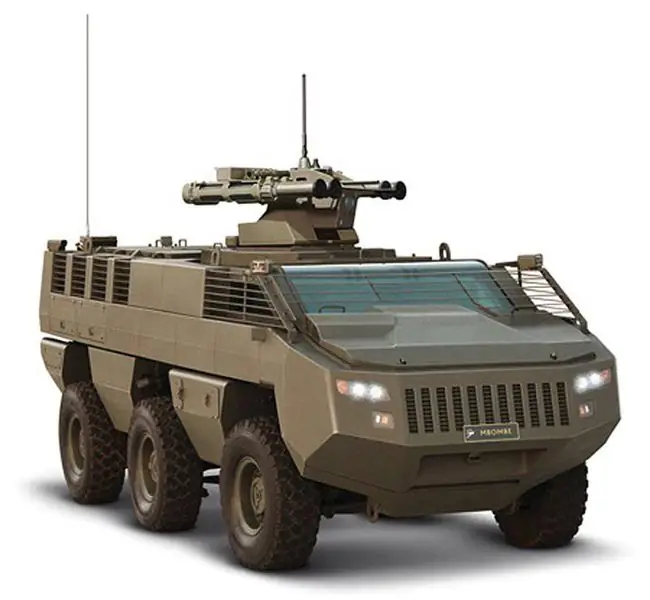 The Mbombe AFV is the latest addition to the growing line of armored vehicles marketed by the Paramount Group.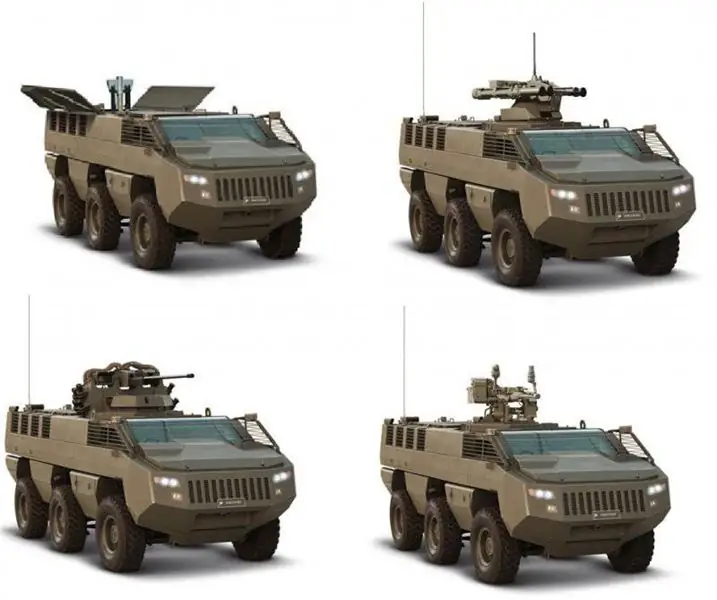 Various combat modules can be installed on the Mbombe machine, including a 30-mm mounted weapon mount
BMV Mbombe
The Mbombe has a standard STANAG Level 4 protection against shock ammunition, STANAG Level IV mine protection, protection against RPGs and IEDs.
The Mbombe armored vehicle with a 30-mm external combat module was shown at the AAD 2010 exhibition in South Africa and is the latest model of the Paramount Group.
Mbombe is a mine-protected, highly mobile armored combat vehicle that can easily adapt to a wide variety of combat missions.
The machine uses innovative designs and technologies to reduce overall height while maintaining very high levels of explosion protection, which is why Paramount machines are renowned throughout the world.
The Mbombe is a 6x6 vehicle capable of transporting significant loads over all types of terrain without losing mobility. The three axles provide excellent all-terrain performance and make it an extremely flexible platform that can be modified to meet the rigorous demands of military operations anywhere in the world. Depending on the task being performed, Mbombe can be configured as a simple armored personnel carrier or a highly efficient armored combat vehicle with a large-caliber machine gun or automatic cannon.
In these configurations, it is suitable for use in conventional warfare, non-traditional warfare, and counterinsurgency operations. At the request of the customer, it can also be equipped with night / day vision equipment to increase viewing ranges and target acquisition.
The design has an optimal spatial arrangement of the axle / wheel, the driver and commander sit immediately behind the front axle. The hull of the vehicle provides enough space for a gunner and eight fully equipped infantrymen, but it can also be converted to a command post, ambulance or any other option. This ensures maximum uniformity and lowers the total cost of buying, owning, and operating the Mbombe in any army. Mbombe has superior blast protection along with exceptional levels of protection against kinetic attacks. The low silhouette makes it difficult to target the enemy, and the armored hull provides protection against ballistic attacks superior to STANAG 4569 Level 4.
The Mbombe armored fighting vehicle is designed with protection corresponding to level 4 of the STANAG 4569 standard, and can withstand detonation on anti-tank mines under the hull or any wheel. The energy absorbing seats are designed to avoid injury to the crew from extreme acceleration caused by an explosion behind or under the vehicle.
Standard Mbombe has all-round protection against RPGs, special protection modules provide protection against IEDs.
The Mbombe machine was originally created with sufficient power, so it retains excellent all-terrain characteristics even in the AFV version, armed with a modern automatic cannon.
Homeland Security Vehicle Maverick - Peace Guarantee
In addition to the Matador and Marauder MPV, the Paramount Group has completed the development of the Maverick Internal Security Vehicle (ISV).
After extended factory tests, the Maverick ISV is ready for production and a number of export customers have already shown interest in this machine.
The machine has been shown to a number of potential overseas buyers and, like the well-established Matador and Marauder MPV, the Maverick ISV is designed for local assembly or production under a technology transfer agreement with the Paramount Group.
Like the Matador and Marauder MPVs, the Maverick ISV features a unique double monocoque welded steel hull that gives the crew standard small arms fire protection up to STANAG 4569 Level 3.
The cockpit and passengers are protected against 7, 62x54 mm RB-32 armor-piercing bullets from the Dragunov rifle, while the engine is protected as standard in accordance with STANAG 4569 Level 1 (7, 62 mm bullet).
The bottom of the Maverick ISV is protected from various ammunition fragments, such as the M26 hand grenade and Molotov cocktails.
The Maverick ISV can be fitted with a fire suppression system to combat fires caused by incendiary bombs.
Compared to other ISVs on the global market today, Maverick has a class of its own. It offers very high levels of protection against small arms fire and other threats encountered in urban operations.
It is also possible to equip with higher levels of ballistic protection to meet specific customer requirements.
The commander and gunner are seated in front and each has a side door. Quick landing in the troop compartment is carried out through wide doors on each side with a pneumatic drive; there is a smaller door in the stern.
The driver has a rear-view camera for observation along the rear arc and for assistance when reversing in confined spaces.
Ten crew members sit in individual seats with seat belts.
There is ample storage space for equipment such as shields and weapons, which are stowed away so that in the event of an attack they cannot injure passengers.
A high level of situational awareness for the crew and passengers of the Maverick ISV is provided by large bulletproof windows, usually with wire mesh screens. All windows are also STANAG Level 3 compliant.
The roof of the Maverick ISV can be fitted with a variety of weapon modules, including 5, 56 mm or 7, 62 mm turret-mounted machine guns or non-lethal weapons.
Groups of electrically-triggered grenade launchers are installed on the roof for firing all types of ammunition. They are controlled by the commander.
The Maverick has the same pre-engineered propulsion systems (chassis and power pack) as Paramount's Matador and Marauder MPV. This results in long-term cost savings as well as simplified customer service.
The power unit is installed at the front of the machine, which allows the internal volume and lifting capacity to be increased up to 5 tons. Like other machines from the Paramount Group, the Maverick ISV is offered with a variety of engine, transmission and suspension options to meet specific customer requirements. Since the bridges are close to the extreme points, the Maverick is a very manoeuvrable machine when working in confined spaces often found in urban environments. Power steering reduces driver fatigue and makes city driving easier.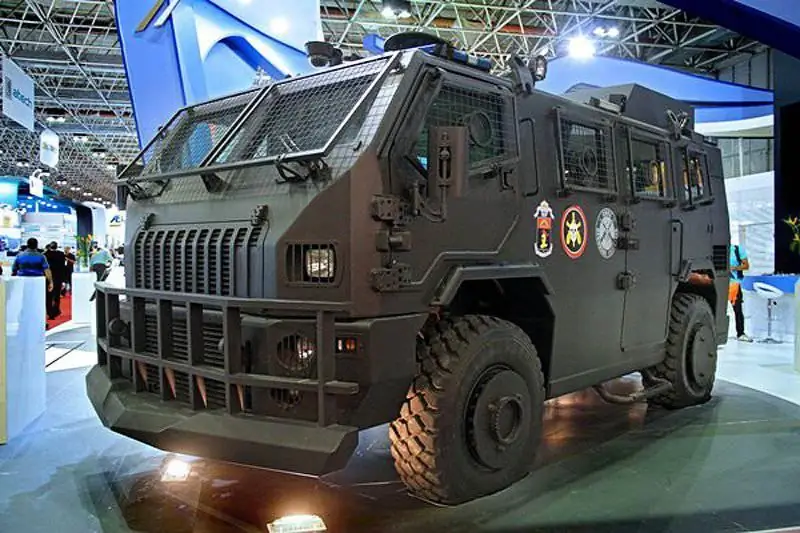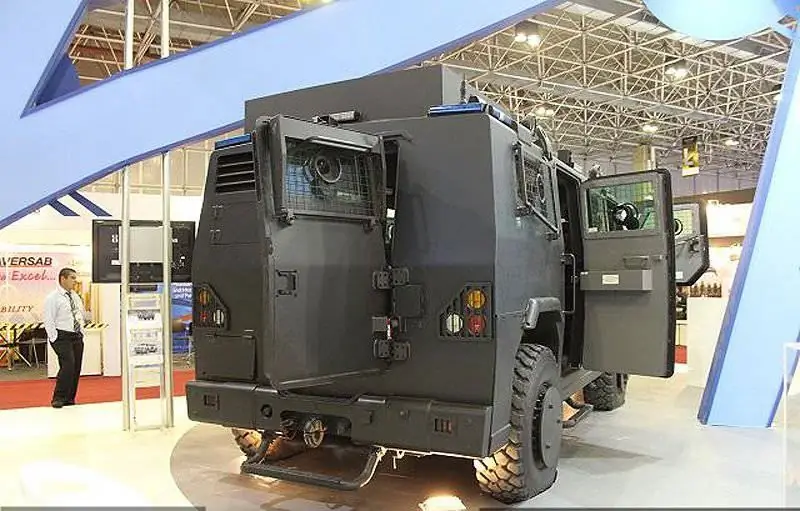 Maverick ISV has a crew of two, carries 10 police officers and has a very high level of ballistic protection.
Standard equipment includes a powerful air conditioner and a quiet 20 kW APU, which allows the main subsystems to operate with the main engine shut off.
An often very important characteristic when performing safety operations is that the Maverick can stand for a long time in full readiness for continuous movement.
As usual there are many options, including centralized wheel inflation, puncture-proof inserts, fire detection and extinguishing system for crew compartment and wheel arches, dozer blade and kangaroo, roof-mounted flashing lights and loudspeaker system.
Armaments and communications will depend on customer requirements and can also be supplied by Paramount Group if required.
With a large interior volume, flat platforms and a payload of up to 5 tonnes, the Maverick can be easily adapted to a wide range of specialized internal security applications.
Options for various missions include ambulance, command vehicle with additional communications equipment, surveillance vehicle with a set of sensors on the mast, unexploded ordnance disposal (EOD) vehicle, VIP transport vehicle and water cannon transporter.
The EOD, for example, can carry a wide variety of specialized equipment, including a remotely controlled robot moving down a stern ramp.
To participate in special operations, the Maverick ISV is equipped with a mobile ramp access system (MARS) for rapid police penetration into tall buildings and aircraft.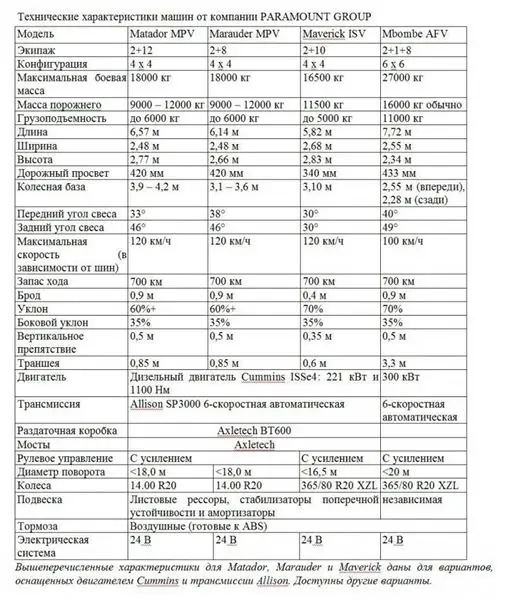 Technology transfer
One of the main driving forces behind the creation of all Paramount Group armored vehicles is the simplified set-up of production and the ability to create local production where possible.
The Paramount Group has established manufacturing facilities in South Africa, producing about 20 vehicles per month in one shift, but with the ability to increase production.
Some countries, however, require a complete technology package, which provides the end user with a number of significant and commercial benefits.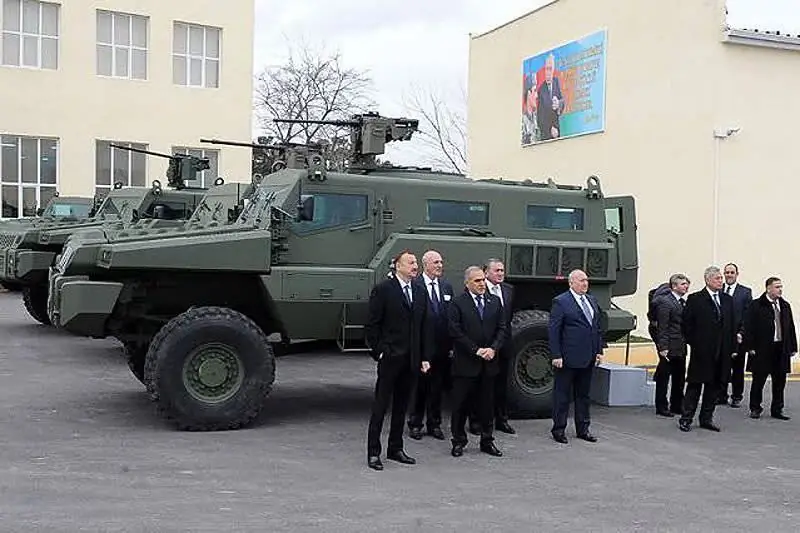 Marauder MPV is produced under license in Azerbaijan
This includes job creation, transfer of expertise, creation of new and secondary related industries and, finally, the potential increase in regional trade through sales to third countries, which leads to an increase in foreign exchange earnings.
The level of technology transfer is highly dependent on the end-user capabilities and the number of machines purchased, so a full transfer of technology makes sense with a production volume of over 130 machines.
A technology transfer program typically starts with fully finished products, followed by half-disassembled products and finally fully disassembled products.
In the latter case, the Paramount Group can supply a set of mild steel plates and armor alloys. A local manufacturer cuts and bends armor plates, welds the base of the hull, forms bays, manufactures covers, hatches and other elements, and installs the power unit and transmission. The machine is then equipped with special equipment and delivered to the customer.
Paramount Group will provide full technical and training support at every stage until the local contractor is ready to take full responsibility.
A good example is the production of Matador and Marauder MPVs underway in Azerbaijan under a contract awarded to Paramount Group in early 2009 from the Azerbaijani Ministry of Defense (MODIAR).
Under the terms of the contract, the initial batch of 50 MPV, 25 Matador and 25 Marauder machines is produced in Azerbaijan under a technology transfer contract, the first machines were manufactured at the end of 2009.
All of these MPVs represent an APC configuration, but more specialized options should follow in the future.
MODIAR is responsible for the final assembly, while the Paramount Group supplies the major subsystems such as the housing, power pack, suspension and drive shafts. It is expected that upon receipt of additional orders, the production of the case will also be transferred to Azerbaijan.
Other subsystems, such as communications and weapons, are supplied under separate contracts.
The cooperation agreement between Paramount Group and MODIAR not only includes the transfer of technology and know-how to the Department of Defense, but also the joint sale of Matador and Marauder machines to other potential customers in the region.