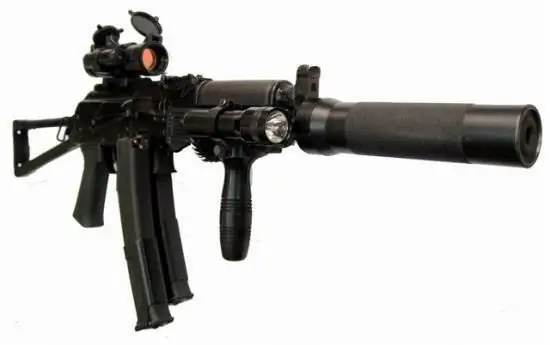 The submachine gun PP-19-01 "Vityaz" is used to arm the patrol and guard services, traffic police and internal security. The submachine gun was developed by the IZHMASH Concern OJSC arms enterprise in accordance with the requirements of the Vityaz detachment of the Ministry of Internal Affairs of Russia, according to which it got its name. To date, the PP-19-01 "Vityaz" submachine gun has been put into mass production and has already begun to enter service with the units of the Ministry of Internal Affairs of Russia.
Components and characteristics of the Vityaz submachine gun. The design of the PP-19-01 "Vityaz" is based on either the AKS-74U assault rifle or the more modern AK-104. The similarity in a single form and system of parts is about 70%. PP-19-01 "Vityaz" is presented in two models: basic PP-19-01 isp. ten; modified PP-19-01 isp.20 "Vityaz-SN". The latest model has improved ergonomics due to the location of the safety catch and bolt handle on the left side. There is an additional Picatinny rail on the receiver cover, which allows you to install a variety of additional sights.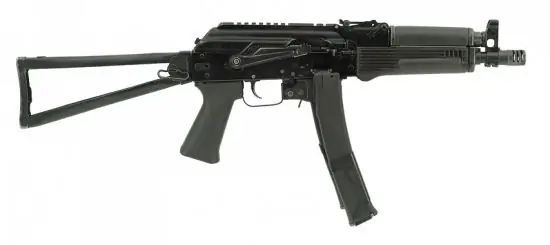 The PP-19-01 "Vityaz" configuration may include a shot silencer. This submachine gun applies to various commercial and military versions of the 9x19 cartridge, which are produced in the world, as well as domestic 9mm 7H21 cartridges with an armor-piercing bullet.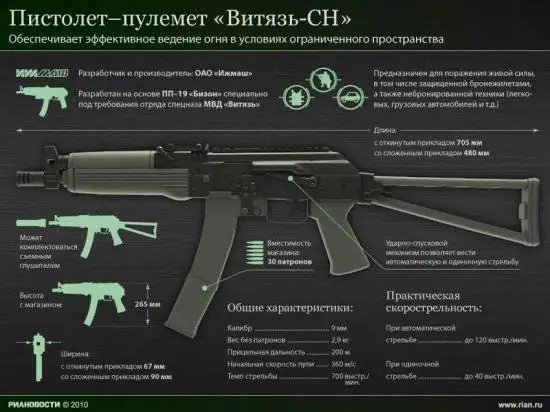 The "Vityaz" uses an automatic mechanism with a free shutter. The ability to fire from a closed breech. The PP-19-01 submachine gun completely borrowed the firing mechanism, the safety mechanism, and the receiver from the AKS-74U assault rifle. For PP-19-01, box-type double-row magazines have been specially developed, the shaft for which is attached to the receiver from the bottom. Together with the weapon, a bracket is also supplied, which allows you to fasten the magazines in pairs in case of need to ensure accelerated reloading of the weapon in battle. PP-19-01 "Vityaz" has a frame, metal, side-folding butt, in addition, a sector, open and range-adjustable sight, and, among other things, a bar for mounting brackets for optical sights for domestic weapons, made on the left side of the receiver …