The market for internally transported combat vehicles is growing as Special Operations Forces and traditional units seek greater range and better mobility on the modern battlefield. Let's see what it offers
As modern battlefields continue to be characterized by a mixture of low and high intensity conflicts, the international special operations community is developing tactics, methods and methods of warfare, theories of combat use and technologies appropriate for hybrid warfare.
In October 2016, delegates from more than 20 countries from the Special Operations Forces (MTR) community met at a Symposium in Vilnius, where representatives of the military, industry and academia discussed the primary role of MTR in what has come to be defined as "Next Generation Warfare". as well as justification of large investments in them.
The term "military action of a new generation", first voiced by the Potomac Foundation, includes a non-military asymmetric type of clashes with the aim of establishing favorable socio-economic and political conditions in the areas of operations where the MTR is tasked with destabilizing military opponents, conducting reconnaissance in order to facilitate the subsequent breakdown of the resistance of the armed formations and in some cases open intervention to occupy territory and suppress the remnants of resistance.
Addressing conference delegates, Assistant Secretary of Defense for Special Operations and Low-Intensity Conflicts, Teresa Veilen, said MTRs continue to "look for ways to solve problems in productive ways, even though there is a desire to take advantage of the technological advantage."
High-tech solutions continue to be at the fore, with the MTR community witnessing an intensive development of special operations vehicles capable of performing an ever-expanding range of missions. The number of companies engaged in the design, development and deployment of internally transported vehicles, which in the West are classified as ITV (internally transportable vehicle), is growing rapidly. Vehicles of this category can be transported in the cargo compartments of aircraft and helicopters, which leads to an increase in the range of the MTR groups, while significantly increasing their capabilities in terms of firepower, networking, mobility and protection.
Platforms in this category range from open-top (roof removed) MRAP (enhanced mine and improvised explosive device) variants, which were developed in the early 2000s to protect conventional and special forces against improvised explosive devices (IEDs) when counterinsurgency operations and up to more maneuverable and lighter options, still capable of meeting the requirements for protection and firepower.
GDOTS
According to the head of the direction of light tactical vehicles at General Dynamics Ordnance and Tactical Systems (GDOTS) Sean Ridley, volatile and mixed combat missions are difficult to accomplish with one machine, especially when operational requirements differ in the branches of the military and countries.
"It is not easy to fit into the profile of combat requirements, that is, to take one machine that can be reconfigured to suit other types of missions without any major rework."
"The market for light tactical vehicles will always have budgetary constraints, but there is still a disparity of opportunity across all branches of the armed forces in the form of a typical light vehicle," Ridley said, noting that MTR units need a balanced solution between the lighter ITVs, such as the family Polaris Defense's MRZR-2 and MRZR-4, and the larger Joint Light Tactical Vehicle (JLTV) light tactical vehicles.
"Light tactical vehicles can travel in restricted access areas and off-road with heavy loads, and this is where we and our vehicles are very suitable. They are lightweight, powerful, easily configurable, able to pull off the road and drive off-road without any problems."
GDOTS is in the middle of initial production of 92 GMV1.1 ITVs for the launch customer, US Special Operations Command (USSOCOM). By mid-October 2016, Ridley said a total of 60 vehicles had been delivered to Command and will be deployed across various units, including Special Forces Groups and Reconnaissance Regiments, Marine Special Forces Groups, Marine Reconnaissance Groups and Air Force Special Forces.
In 2013, GDOTS signed a $ 60 million contract with USSOCOM for approximately 1,300 GMV1.1 vehicles for 7 years' delivery. The contract provides for the supply of 170 GMV1.1 vehicles to the special forces of the US armed forces annually, starting in January 2017.
Sources at USSOCOM said that various advanced units are training drivers and familiarizing personnel with vehicles that are significantly different from existing HMMWV armored vehicles and other MRAP-type platforms that soldiers have ridden over the past decade.
"Seating the operator in a center drive vehicle provides higher levels of mobility and capability than previously available," Ridley said.
The basic configuration of the GMV1.1 platform includes armored and unarmored variants with the ability to mount a 30-mm Mk44 Bushmaster cannon from AlliantTechsystems, seats for three, four or seven people and a removable roof for weather protection. In addition, the air intake in the hood was changed for better engine cooling, protective arches to protect the crew, and the installation of weapons in terms of stowage of ammunition was also improved.
The GMV1.1 car is based on the Flyer 72 Advanced Light Strike platform, its width is such that it can be transported in the cargo compartments of the CH-47 Chinook helicopter and the C-130 Hercules transport aircraft.
According to GDOTS, "GMV1.1 is a highly mobile platform with a payload of over 2268 kg with the ability to 'arm' a minute after unloading from an aircraft and carry a wide variety of weapons. An adaptable communication kit (not yet named, defined by USSOCOM) provides increased coverage and real-time operator access to important information."
Industry sources have not been able to confirm when the GMV1.1 vehicles will be fully operational, although they are likely to be deployed in the Middle East and Southeast Asia in late 2017 and 2018 to support USSOCOM's military aid operations.
GDOTS is also in the process of obtaining permission from the US government under the Foreign Trade Act to supply an undisclosed number of GMV1.1 platforms to the Italian MTR command.
It is clear that the units of the special operations command of the army and the special forces of the Italian fleet have shown interest in these machines, which are going to be used in counterinsurgency operations. At the moment, the Italian MTR are involved in operations in the vicinity of the Libyan city of Sirte, where they conduct reconnaissance and information gathering.
In August 2016, the Italian government passed a law allowing MTR forces to deploy overseas without informing that country's parliament.
An industry source confirmed that the Italian MTR will receive the GMV1.1 base vehicle without USSOCOM specialized kits, which include information and control, communications and weapons systems.
Ridley said GDOTS is also positioning itself as a provider of its platforms to other allied countries. "There are many issues to be resolved. Right now, we are focused on fulfilling the order of our main client at USSOCOM in order to manufacture the platforms on time, deploy them and service them as needed. After that we will deal with other customers, including foreign ones".
Meanwhile, the US Air Force MTR is also evaluating a small number of GDOTS Flyer 60 ITVs, and Ridley said it is considering how to use ITV in a wider range of missions. "They are in the middle of the process, and we are supporting this work to expand the mission of ITV and use it in other areas, not just as a vehicle transported in the cabin of a V-22 tiltrotor. We evaluate them for other tasks and other purposes,"he said.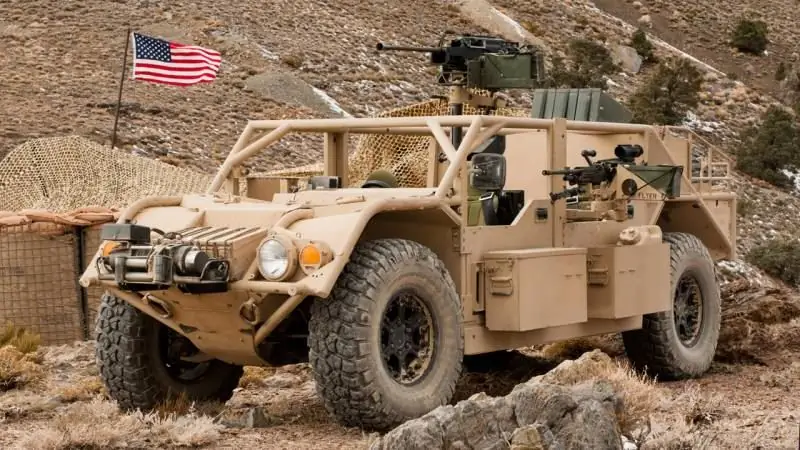 Polaris
Polaris Defense is also a supplier to USSOCOM, supplying the MRZR-2 and MRZR-4 vehicles for the second year under a five-year, unspecified contract. Polaris Managing Director Jed Leonard said Command recently signed a contract for additional diesel versions of the MRZR-D4 under an additional agreement included in the original contract for the MRZR family.
The MRZR-D4 vehicle, presented at the MTR and Industry Conference in May 2016, is designed to reduce the logistical burden on task forces operating without the support of forward and operational bases. At the same time, a generator is installed on it to power the increased number of on-board consumers.
"We have supplied MRZR-D vehicles to several customers including the Marine Corps and USSOCOM. The Canadian military will also receive these vehicles at the end of the year,"added Leonard.
In August 2016, it was announced that Canada had entered into a contract to purchase 36 MRZR-D4 ITV vehicles from Polaris Defense for its army, while the company is also considering an application from the Canadian MTR Command for the supply of an ultralight combat vehicle, published in October 2016.
Available in two-seat (MRZR-2) and four-seat (MRZR-4) configurations, Polaris platforms can carry up to 680 kg of cargo at a maximum speed of 96 km / h. The platforms can accept various installations of weapons and auxiliary means, depending on the requirements of the combat mission; they can be transported in the cargo hold of the V-22 Osprey tiltrotor thanks to the folding safety bars.
"Polaris Defense is also offering its DAGOR (Deployable Advanced Ground Off-Road) vehicle in the ITV category, which has completed desert testing in the United Arab Emirates," said Doug Malikowski, head of external economic relations. For example, formations within the Australian MTR Command, including a special aviation regiment and airborne reconnaissance regiments, continue to test the DAGOR vehicle while local planners develop tactics, methods and methods of warfare and principles of combat use.
DAGOR is designed to be transported internally, suspended or delivered non-stop from rotary-wing platforms, including CH-47 and CH-53. The vehicle with a total weight of 3515 kg, including a payload of 1474 kg, is capable of carrying up to five people and has a maximum cruising range of 805 km.
"Australia continues to test the DAGOR vehicle and is currently testing the MRZR-D," added Malikowski.
According to the vice president of Polaris Defense, the vehicle market for MTR has flourished along with the operational space. He said that "Our machines have been very popular with the MTR in the last decade. We are considering the possibility of optimizing the modular platforms MRZR and DAGOR for combat missions. Our machines with an open and scalable architecture, not to mention carrying capacity and power, can be adapted for medical tasks or evacuating the wounded, installing various weapons systems or equipped with reconnaissance, surveillance and information gathering systems."
SC Group
The British company SC Group presented at the Defense Vehicle Dynamics 2016 conference the latest platform in the ITV category: a 6x6 expansion kit for its Light Reconnaissancey Vehicle (LRV 400) 4x4, which allows to increase the payload, range and mobility for MTR units.
SC Group Chief Commercial Officer Jamie Clarke said that converting the LRV 400 variant to the LRV 600 variant adds an additional wheel axle and part of the hull, and all this takes several hours.
Such a modification increases the payload capacity from 1.5 tons of the LRV 400 to 2.35 tons in the LRV 600 configuration, while the width of the vehicle does not change and is 1.7 meters, which makes it possible to transport vehicles inside the CH-47 helicopter.
The technical characteristics of the LRV 600 are basically the same as those of the LRV 400, including a top speed of 160 km / h, a tank capacity of 80 liters, which allows for a range of 800 km; the machine is capable of overcoming water obstacles up to 0.75 meters deep.
The LRV display at the conference followed immediately after the selection of the SC Group's HMT Extenda for the SOV-Mobility Heavy (SOV-MH) program of New Zealand special forces. Deliveries of HMT 400 4x4 to New Zealand are expected to begin in late 2017.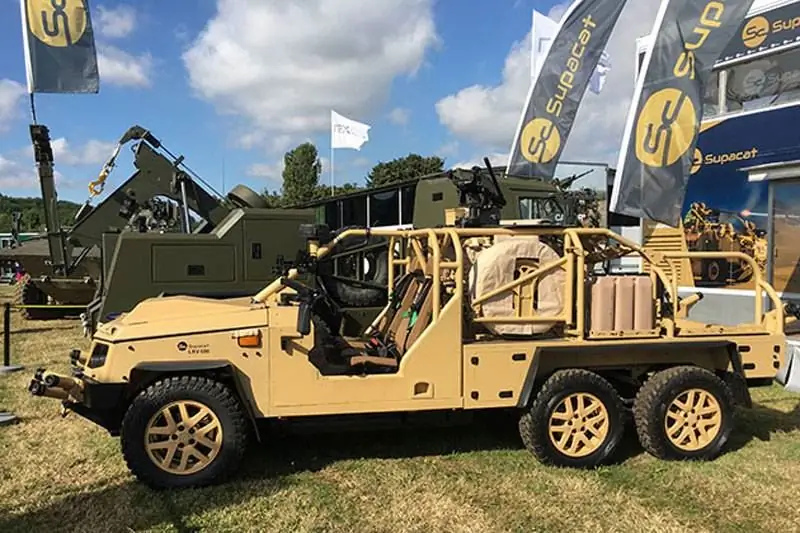 Renault Trucks Defense
As French special forces continue to operate in the Middle East and Africa, they are also expected to receive a new ITV vehicle, with a particular focus on increased mobility, weapon power and connectivity.
Renault Trucks Defense (RTD) sources said the company continues to design and develop a light Special Forces Vehicle. RTD has already signed a contract with the French Defense Procurement Authority to supply 203 Heavy Special Forces Vehicles to the MTR Command, which began deliveries in September 2016.
As part of a € 250 million contract with RTD, signed in January for 443 MTR vehicles, the company is developing an ITV variant that can be transported in the cargo cabins of aircraft and helicopters.
At Eurosatory in June 2016, RTD unveiled a scale model of an ITV vehicle in a 4x4 configuration, capable of transporting four soldiers and installing weapons. Few details are known at this stage of development, but industry sources report that special forces will receive a vehicle with a carrying capacity of two tons, a maximum range of 800 km and a maximum speed of 110 km / h. Cars according to the existing plans will be delivered starting in 2018.
Formations that will receive advanced technology in the form of a new vehicle include the 1st Marine Airborne Regiment and the 13th Airborne Regiment, which specialize in reconnaissance missions and rapid response missions; as well as special groups of the command of the Navy.
French special forces are actively involved in the fight against the Islamic State (prohibited in the Russian Federation) and at the same time provide military assistance to many African countries with a special emphasis on training, consultation and assistance to the Democratic Republic of Congo, Mali and Cameroon, where the capabilities of ITV machines will significantly improve their mobility, firepower. power and range.
Jankel Group
The British company Jankel Group, which maintains close ties with the King Abdullah II Design and Development Bureau (KADDB) of Jordan, has begun delivering the first batch of Fox Rapid Reaction Vehicles to the Belgian MTR since the contract was signed in 2016.
According to the company, the Fox (or Al Thalab - fox) car is based on the chassis of the widespread Toyota Land Cruiser, which gives operators a maximum payload of 1.4 tons. The vehicle can be transported inside CH-47 helicopters and A400M and C-130 military transport aircraft and used for long-range reconnaissance, as well as direct invasion tasks with the addition of heavy weapons systems.
The Jankel Group did not comment on the contract, but a company spokesman said the machine could "perform a variety of tasks to offer the best value for money."
According to the manufacturer, the Fox can be powered by either a 4.2-liter turbocharged diesel engine, a 4-liter V6 petrol engine, or a 4.5-liter V8 diesel engine; the maximum cruising range is 1200 km. The machines are manufactured in Jordan in close cooperation with KADDB. There are photos of Al Thalab vehicles from Syria, where they are used in operations against IS by NATO coalition partners.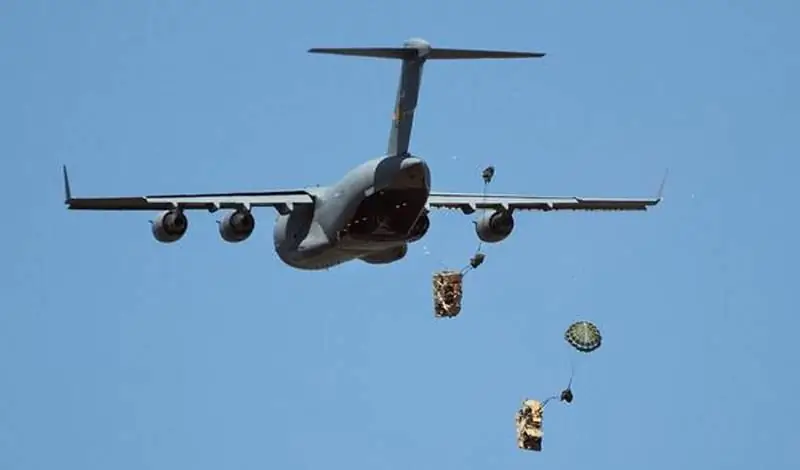 Battelle
Battelle, a subsidiary of Battel Memorial Institute, is preparing to supply USSOCOM with its ITV Non-Standard Commercial Vehicle (NSCV) under a $ 170 million contract issued in July 2016.
Under this program, it must supply an undisclosed number of ITV machines, which are designed to perform more secretive tasks, and which can also be transported inside various aircraft.
Battelle was unable to comment on the USSOCOM deal, but a source said that the Toyota Land Cruiser 76, 78, 79 and 200, Toyota Hilux trucks and Ford Ranger trucks are in the process of being upgraded to armored and unarmored configurations. The vehicles will have various, specially designed for the MTR "modifications, including increased ballistic protection; Optimized ride performance with improved suspension and brakes, and a reinforced frame and body; and the integration of a set of systems for operational control, reconnaissance, communications, target detection and tracking, including infrared lighting and blackout."
These covert operations vehicles can perform a wide range of combat missions, such as special reconnaissance and military assistance, as well as close protection and civilian evacuation operations.
In 2013, Battelle received a three-year contract from USSOCOM for 300 Toyota Land Cruisers and Hilux NSCVs.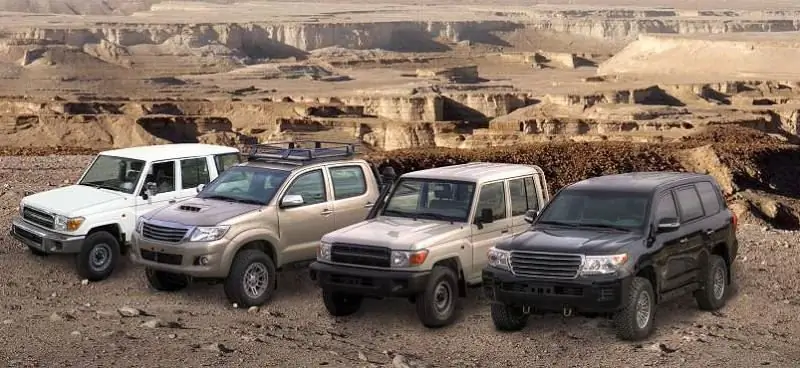 Traditional operators
The superior characteristics of the ITV category vehicles have been positively assessed outside the MTR community, these vehicles are now considered by conventional armed forces with significant needs, such as Canada and the United States.
A Polaris Defense spokesman said it recently "realized that the market for our family of ultralight vehicles is growing as more traditional forces place more emphasis on improved tactical mobility."
In the United States, options are still under consideration for the Army's Light Reconnaissance Vehicle (LRV) light reconnaissance vehicle program and it is therefore understandable that ITV technology companies including GDOTS, Polaris Defense, Oshkosh, AM General and SC Group are showing interest. to this project.
"There is tremendous interest in this project and everything related to it," said one of the interested companies, noting that the possibility of using JLTV machines as an intermediate solution to LRVs is currently being considered anew.
"We were thrilled to hear that," said GDOTS's Ridley, adding that the Army wants "a medium-sized truck that meets its in-and-out haulage requirements and builds on the existing program."
But some industry experts, however, suggest that an RFP for LRV should not be expected before 2020.
GDOTS's LRV offer includes a Flyer 72 with a 30mm cannon, ballistic protection kit in a six-seat configuration. This variant has already conducted several demonstration firefights at Fort Benning as part of the US Army's test and evaluation program.
Conventional armed forces' interest in ITV concepts was also highlighted by General David Perkins, head of the Doctrine Development and Training Authority (TRADOC), who attended the demonstration of Polaris Defense vehicles in October 2016.
"TRADOC was tasked with studying future conditions in order to identify inequalities of opportunity, analyze possible solutions and then identify needs. Our choice of Polaris is one of many that will help us better understand the paradigms of rapid technology advancement and end-to-end technical support, including a focus on innovation and deployment in missions appropriate for next-generation combat,"Perkins explained.
Platforms, including the Flyer 72 and DAGOR, are also being considered under the US Army's Ground Mobility Vehicle (GMV) vehicle program, formerly called the Ultra Light Combat Vehicle (not to be confused with the GMV1.1 project).
"We were at Industry Day and will continue to oversee the development of the GMV program. The final request for proposals has not yet been published and we do not yet have an exact time frame,"said the director of Polaris Defense. According to some sources, a request for proposals could be issued in the first half of 2017 with an application for a light nine-seater vehicle for infantry brigade tactical group squads.
According to the army, "the vehicle should be able to quickly maneuver on the battlefield as a tool for the advance deployment of infantry units to counter the strategy of denying access through the use of a variety of entry methods, including airborne, landing and / or non-landing methods, in order to deliver combat components ".
USSOCOM continues to expand its fleet of ITV vehicles. That said, NATO and non-NATO partners are likely to take an increasing interest in these capabilities, especially when operators seek to maintain engagement with coalition partners.
As the operational space continues to shift away from more traditional military campaigns towards a mixture of low and high intensity conflicts, these trends can be expected to intensify in the future.