Hello dear lovers of delicious food and delicious reading!
I confess, I was surprised by your attentive and gentle attitude to food, following the results of an article about dishes that our Generalissimo Suvorov loved. In the editorial office, they advised me: you know - come on, burn it, since the people are interested.
And so the first material for which I stood up with such pleasure (just got up, not sat down) in the new year, let it be the recipe for the very cabbage soup, without which the great commander could not imagine his life at all.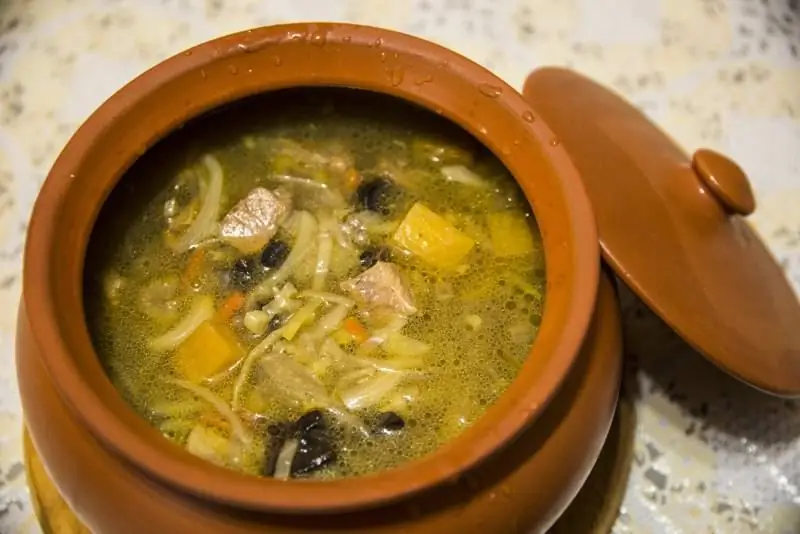 By the way - not in vain. This classic Russian dish is simply a culinary masterpiece. It is difficult to imagine a more balanced, tasty and healthy one than full Russian cabbage soup. And now we will have exactly full ones.
So, I invite you to take a ride in a time machine, let's say, in the year 1767. You and I will just imagine that we are servicemen of that army that literally after a while will take part in the Polish campaign, but so far everything is quiet, peace, winter …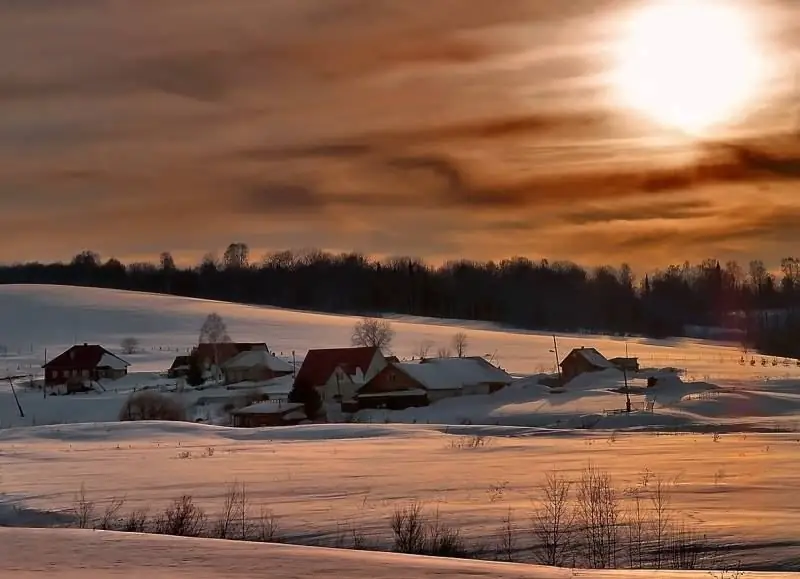 Yes, you and I are not hussars or dragoons, we are simpler people. For example, the soldiers of the 62nd Suzdal Infantry Regiment, which is stationed near Novaya Ladoga. Let's say, in the village of Krenitsy. Or in Dubno. To St. Petersburg - 148 miles, to Moscow - 752 miles, peace and grace, in short. Let gentlemen, the noble hussars hang around the cities there, they can't go without balls and other tinsel. You and I are sedate people, who know their own worth and understand a lot about life.
As you already know, field kitchens have not yet been invented, and therefore it is very important for a soldier to get to a good owner when assigning to winter apartments (that is, to stay). In order for the bathhouse to be good, the stove is correct, the stock was well, and so that a very touching and useful stock must gurgle under the eaves in the hay.
Yes, first of all we need an oven. Obviously, with a stove. Because we will have to not only cook, but even fry a little. But the main thing, of course, is the oven section, where we will prepare the highlight of our program.
It is clear that in modern conditions this role will be taken by an electric stove with an oven, but what the hell is not kidding, suddenly the topic will take root, then in the spring it will be possible to cook a couple of recipes of those times on such an oven.
We go to the train and there, at the quartermaster, we are trying to get everything we are supposed to. Indeed, even three centuries ago, the principle "It is supposed to - eat, it is not allowed - do not eat" existed easily. Since you and I are government people, that is, servicemen, we actually have a lot of things, but you and I are not in St. Petersburg, because what is not supposed to be out of the due, we, as experienced people, can easily get in the village ourselves. In exchange for chopping wood, for example.
We need broth first. Rich and tasty. It is clear that on January 4, when I started stirring, the shops had not yet woken up from the New Year's hibernation. But the business executives also had the same task to get something decent, by the way in all ages and times. In general, a piece of decent brisket is our everything. The perspective is drawn immediately.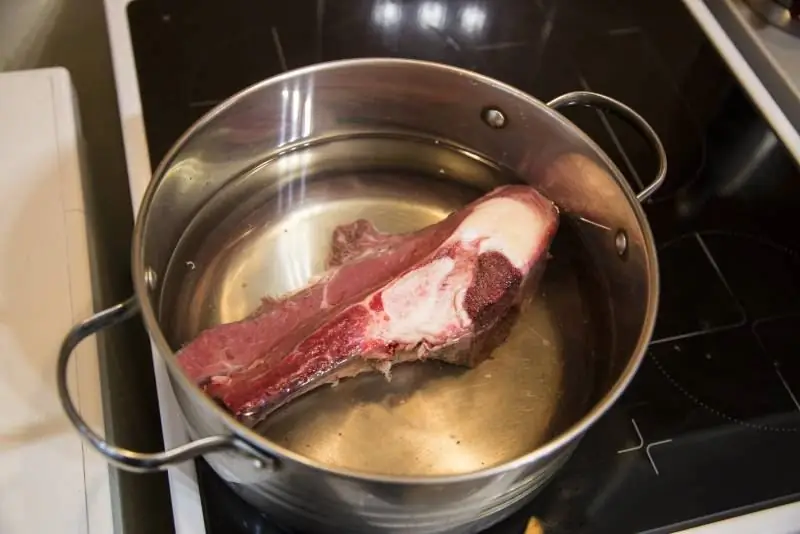 Further into the pan, which is already on the fire, comes this incomparable set, which will give the meat broth a unique and masterpiece taste:
- onion;
- a good piece of carrot;
- celery root, so mentally cut off;
- the lower part of the celery stalk;
- parsley root.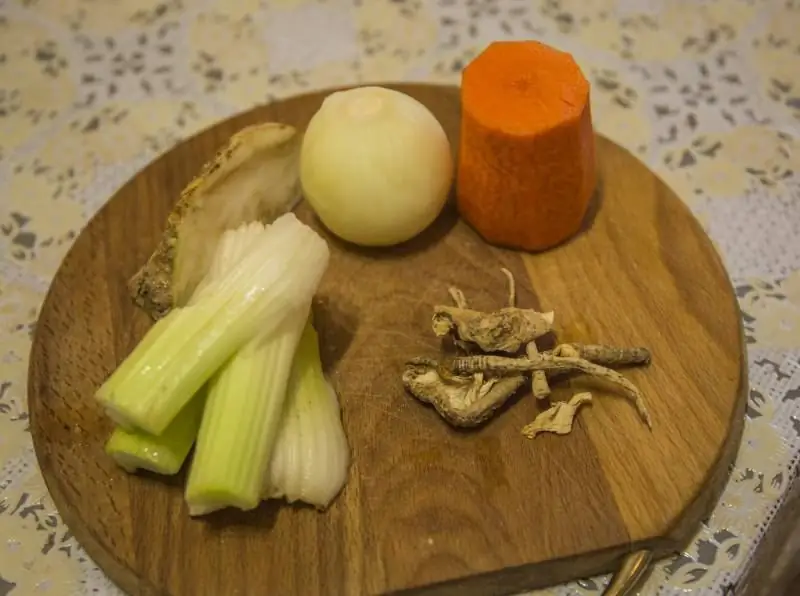 All this will be cooked along with the meat, after we remove the scale, of course, bay leaves and peppers will be used, then we will remove the roots, but without all this cabbage soup is not cabbage soup, but cabbage soup.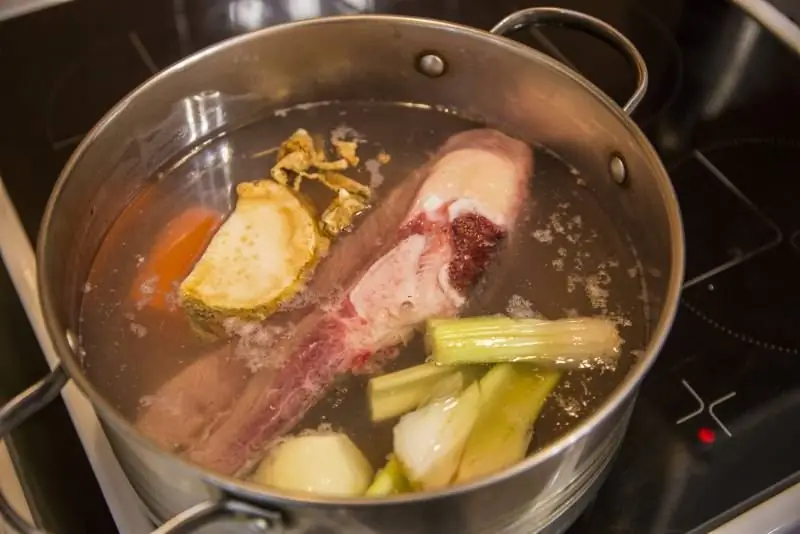 Cook. An hour and a half minimum. From time to time, skimming off the foam and humming approvingly. And do not forget, after descaling, add 2-3 leaves of lavrushka and a dozen peas of allspice.
In the meantime, the cooking is in progress, we will talk about what will happen in the brass department, since we have two equally important components of cabbage soup on our agenda.
Therefore, we throw firewood into the stove (we add power to the stove heaters) and talk about mushrooms.
For these cabbage soup, we need at least two types of mushrooms. The first is dried. In general, according to the classic recipe, it should be porcini mushrooms. But alas, in my area this is a rarity, so a mixture of boletus and boletus will be used. Not canonically, but I collected it myself and completely trust them.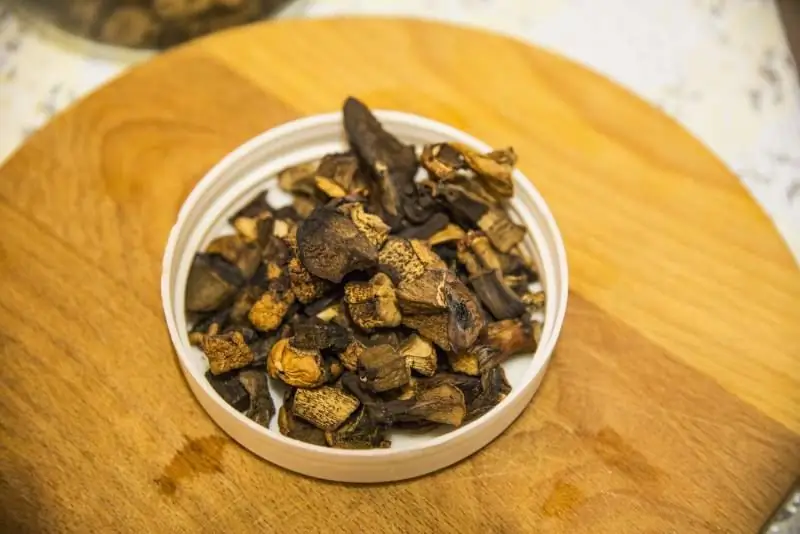 We take the mushrooms, place them in a clay pot, fill them with hot water and put them in the oven for 20-30 minutes at a temperature of 130 degrees. We will restore them.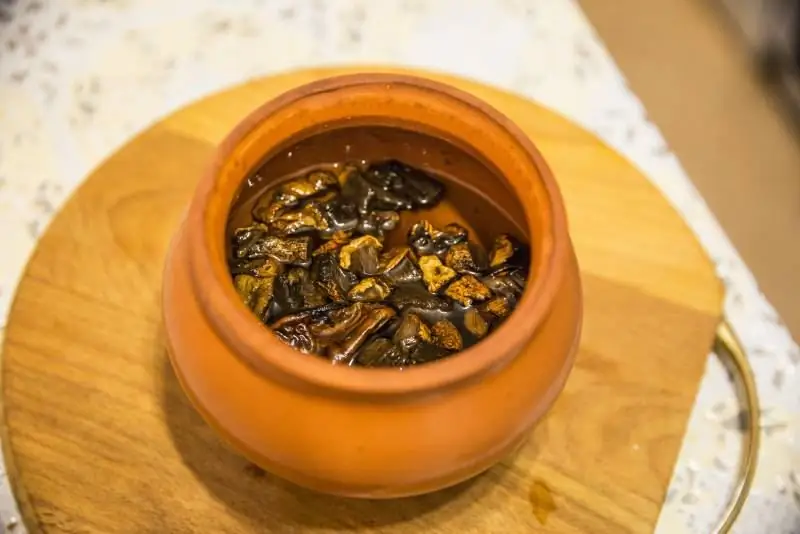 The second part of the mushrooms will be useful to us much later, so we will talk about them at the very end.
And we proceed to the cabbage.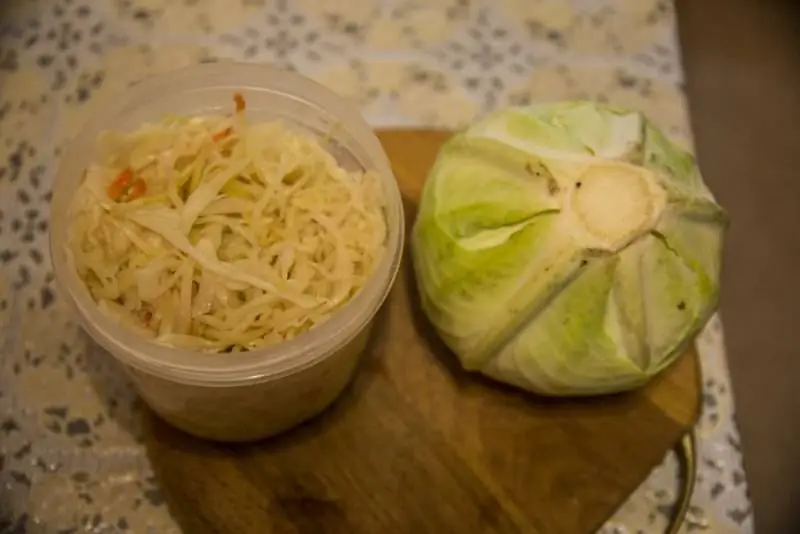 For these cabbage soup we will take half and half sauerkraut and fresh cabbage. This is a kind of compromise between completely sour cabbage soup from sauerkraut and rather bland from ordinary cabbage. Here is the truth in the middle.
In order for everything to be tasty and beautiful, a very interesting thing should be done: soften the cabbage. To do this, we mix fresh shredded and sauerkraut, put it in a large clay pot, add a good piece of butter (30-40 grams) and a glass of boiling water or broth (preferably) from the pan.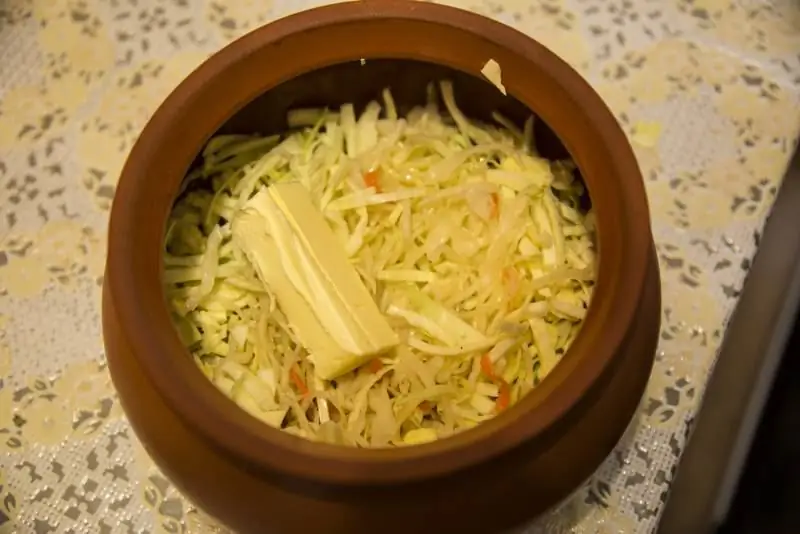 And we send the pot to the oven for an hour at a temperature of 130 degrees.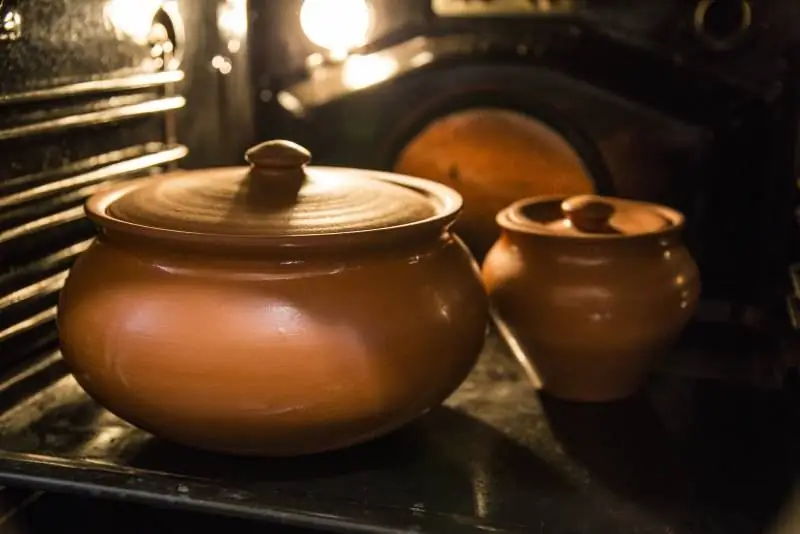 The broth gurgles, mushrooms and cabbage are steamed in the oven. We have very few participants in the show left, so let's move on to a very ancient participant.
Agree, as if even for the modern taste of one cabbage (even with mushrooms) in the soup really "will not be enough!". And potatoes, you know, had not yet received such recognition in those days.
Because - turnip!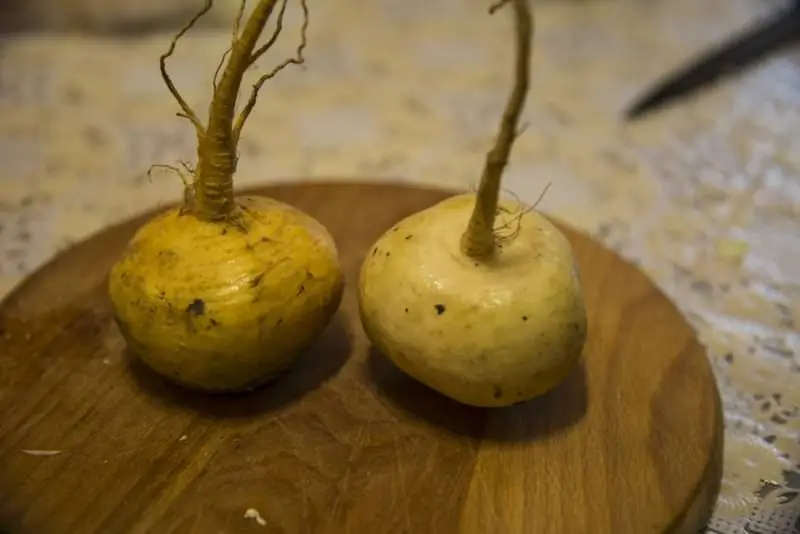 Yes, all that ancient turnip, from which you can make everything. Thank God, now you can find her calmly. So we take turnips, peel and cut like potatoes and send them to the pan after we take out all the roots in an hour and a half.
Turnips will cook in time for about the same as potatoes. But she will have her own taste, a little bit with bitterness, but together with the rest of the ingredients, it is simply wonderful.
And it remains for us to work a little on the gas station. To do this, take a small frying pan, clean the onion and cut it into small cubes, half of the carrots we have left and 2-3 celery stalks. We simply fry all this in vegetable oil.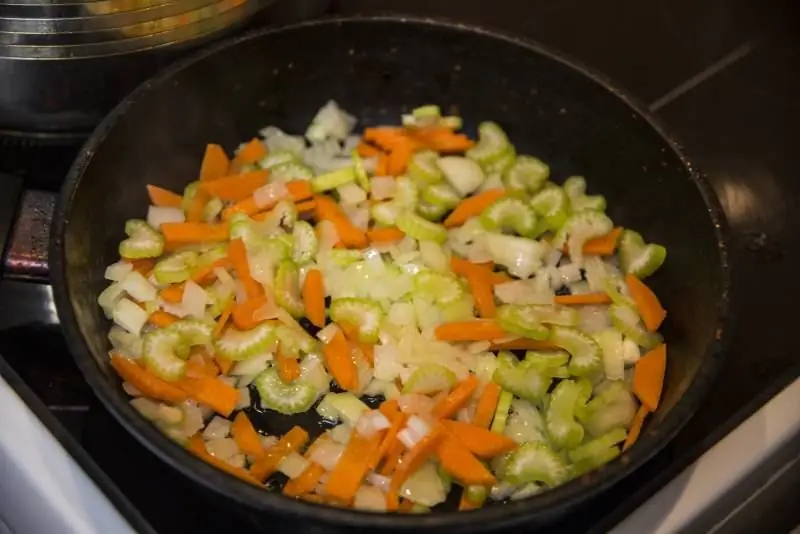 And now, finally, we begin to collect the cabbage soup into a single whole.
Take the turnip broth and pour it into a pot of cabbage. We also send the washed mushrooms from a small pot, meat, the contents of a frying pan and put the pot in the oven at 130 degrees for two hours. Add salt to taste.
And all this should be thoroughly heated so at a temperature that simulates an oven.
Actually, after two hours we begin to gradually prepare for dinner. For serving, we need sour cream (as without it), parsley, black bread, bacon and … well, yes. Salted mushrooms, which will need to be seasoned with cabbage soup immediately before serving. I now have some lumps, so everything is beautiful. And so - who have what, but always salty.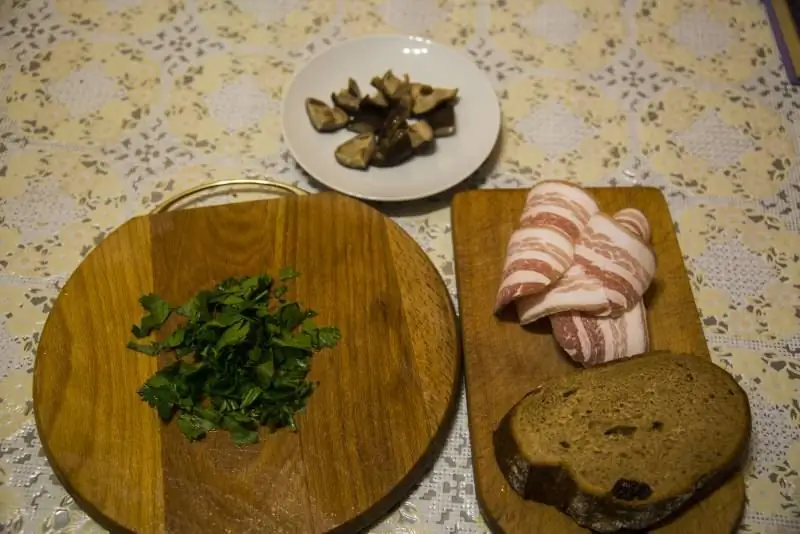 In the past, there were no problems with such a seasoning in any Russian province, today, thanks to all kinds of hypermarkets, there are no problems either.
And of course, dear ones, you can't drink to such a thing as Alexander Vasilyevich drank a glass - well, that's a sin. Maybe not caraway seeds, maybe on something else, but here there are no options. Must be consumed. Before. Or before. But if it is for the good, then it is not forbidden even after.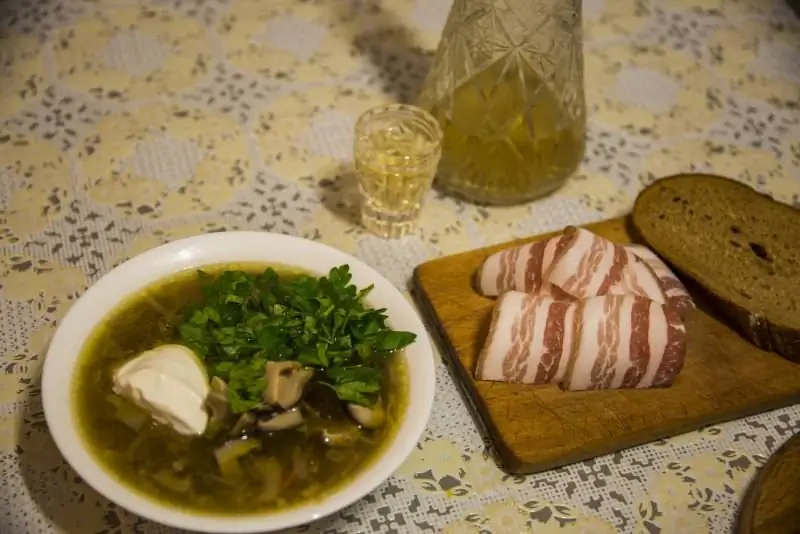 Enjoy your discoveries and historical experiments!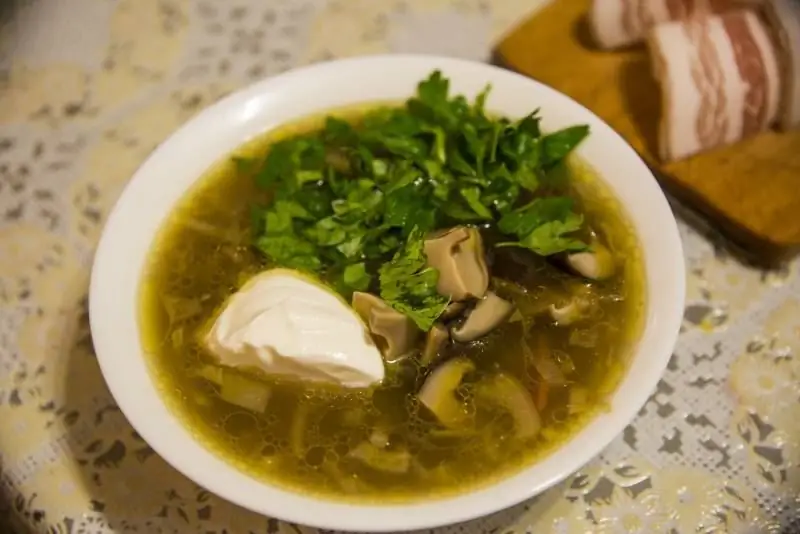 Well, and a list of what you need to enjoy Suvorov cabbage soup.
Beef brisket - 0.5-0.7 kg
Water - 2-3 l
Celery root - 70 g
Carrots - 0, 5 pieces
Celery stalk - 2 pcs
Dried parsley root - 5 g
Bay leaf - 2 pieces
Allspice peas - 10 pieces
Fresh cabbage - 200 g
Sauerkraut - 200 g
Butter - 40 g
Dried mushrooms - 50 g
Fresh turnips - 2 pcs.
Carrots - 0, 5 pieces
Celery stalk - 2 pcs
Onion - 1 piece
Vegetable oil - 30 g.
Salted mushrooms - 50-70 g
Sour cream - 20 g
Black bread - 200 g
Lard - 100 g
Parsley greens - 20 g.