Ethyl alcohol and war are practically inseparable things. In general, I dare to say that you cannot fight without ethyl alcohol, this is what this article is about. Ode to ethyl alcohol!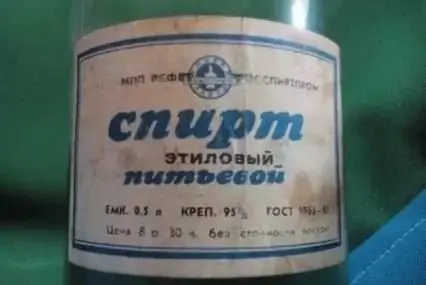 Ethyl alcohol gives a lot and can still give a lot, if you find the right approach to it. It's not just the People's Commissar's 100 grams, which are known to everyone and everyone. From ethyl alcohol, a whole list of chemical products is obtained, some of which are directly, and the other part is indirectly related to military affairs. For example, the use of most types of explosives, such as TNT or ammonal, is impossible or very difficult without detonators - intermediate charges of powerful and sufficiently sensitive explosives.
One type of such explosive, ethylene glycol dinitrate (EGDN), can be produced from ethyl alcohol. Alcohol is converted to ethylene, ethylene is then converted to ethylene oxide, which is hydrated to ethylene glycol, which in turn is nitrated. EHDN can detonate with a very small charge diameter, only 2 mm, which makes it very important for the production of detonators for a wide range of ammunition. Another type of explosive used to equip detonators, pentaerythritol tetranitrate (better known as PETN), also requires the use of one of the ethyl alcohol derivatives, acetaldehyde. So, two very common types of explosives to equip detonators in their production depend on ethyl alcohol. This is already enough to declare alcohol a "military material", because without detonators, shells, mines and grenades will not explode.
But first things first. Let us reject the covenant of Venichka Erofeev "and immediately drank" and see what else military-significant can be produced from ethyl alcohol.
Technological chains
There are quite a lot of chemical products that are made from ethyl alcohol, as well as using it itself or any substances derived from it. These products are very diverse, from combustible gases to rubber and hard plastics. If you make an overview of the chains of transformation of ethyl alcohol into various products, you get a tree with several main branches.
It should be emphasized here that we are talking about possible and ever used reactions, but in modern industry, not all of the products listed below are necessarily obtained from ethyl alcohol. It is considered an expensive raw material and is therefore often replaced by oil or natural gas. However, in view of the fact that it is quite possible to lose oil and gas in a war, it makes sense to consider alternatives, including options using ethyl alcohol.
I would single out four main technological branches of the processing of ethyl alcohol into military-significant materials.
First: direct processing of ethyl alcohol. In this branch there are such important products for the military economy: butadiene, ethyl nitrate and diethyl ether.
Butadiene is the most important intermediate for the production of synthetic rubber. This process was developed in the USSR by S. V. Lebedev in 1927, in conditions similar to the military, when the largest natural rubber producers Great Britain and France sharply reduced the supply of this important raw material to the Soviet Union. This circumstance raised the question of creating our own rubber production with an edge and Lebedev was able to solve this problem. Butadiene rubber has long become the main type of synthetic rubber used for the production of automobile tires, footwear, as well as industrial rubber products (such as conveyor belts) and cable insulation.
Ethyl nitrate is a liquid explosive similar to nitroglycerin. Explodes on impact, friction, fire, and contact with alkali metals (such as metallic sodium). It was mainly used as a nitrating agent, as well as an additive to diesel fuel, but it can be used as an explosive, especially in a mixture with ammonium nitrate.
Diethyl ether - it turns out very simply by distillation to sweep away ethyl alcohol and sulfuric acid. Its military application is in three areas: as a means of anesthesia in surgery, as a solvent for cellulose nitrates in the production of gunpowder, as well as a component of motor fuel and a means for starting a gasoline engine (starting fluid "Arktika" or its modern aerosol analogues).
Second: products of processing of ethylene obtained from ethyl alcohol. It is relatively easy to obtain ethylene from alcohol (but in modern industry ethylene is obtained by pyrolysis of petroleum or natural gas), it is possible by direct dehydration on a catalyst to obtain water and ethylene, or by heating a mixture of ethyl alcohol and concentrated sulfuric acid.
Ethylene - mixed with oxygen itself was used as an anesthetic in medicine. Further, the polymerization of ethylene gives such a widespread and important material as polyethylene, which has a very wide application. Polyethylene is also of military importance, in particular as a packaging material for food and ammunition.
Chloroethane is obtained with the participation of hydrochloric acid and is used as an anesthetic in medicine. It also serves as an intermediate for the production of ethylbenzene (also serves as a component of high-octane gasoline), which is processed into styrene.
Styrene - polymerization turns into one of the most important types of plastics, into polystyrene, and is also used as a component for the production of napalm. Fine, thick and sticky napalm can be obtained both by adding dissolved polystyrene to gasoline and styrene.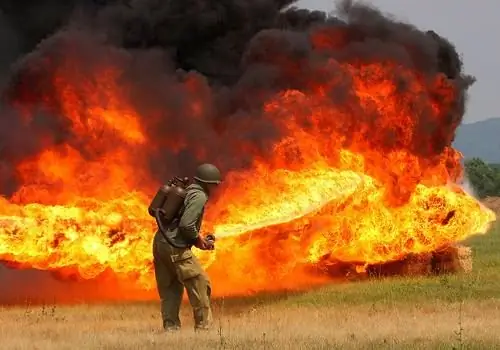 Also, since styrene is sometimes explosively polymerized, it is probably possible to create an explosive incendiary ammunition based on this effect. This would be interesting from a military-economic point of view, since in this case valuable nitric acid is not used.
In addition, all these substances in a gaseous state create explosive mixtures with air, which makes it possible to use them in ammunition for a volumetric explosion. For example, styrene vapors create an explosive concentration at 1.1% by volume of air, and besides, styrene is very toxic and causes severe irritation of the lungs.
Third: ethylene oxide, derived from ethylene. By itself, ethylene oxide is extremely flammable and explosive, especially when mixed with air, which is why it was used in ammunition for a volumetric explosion. Liquefied ethylene oxide was loaded into a CBU-55 aviation cluster bomb, with three BLU-73 bombs of 32.6 kg of ethylene oxide each. Such a bomb had a kill zone with a diameter of 100 meters and destroyed dense vegetation on an area with a diameter of 30 meters. In the USSR, there was a similar aerial bomb equipped with ethylene oxide - ODAB-500.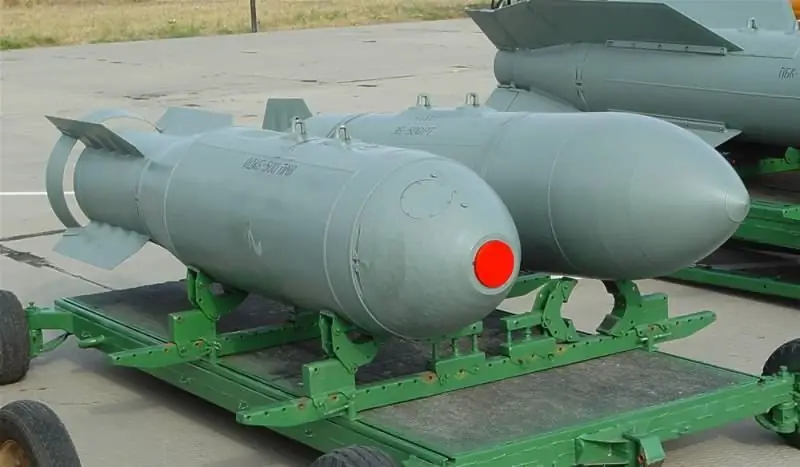 Acrylonitrile - with the participation of hydrocyanic acid from ethylene oxide, an intermediate product is formed for obtaining a polymer used in the production of synthetic rubber, as well as for obtaining an artificial fiber - nitron (aka acrylic), a widely used textile fiber. In addition, acrylonitrile itself (aka vinyl cyanide) can be used as an incendiary-poisonous substance: the spilled liquid forms flammable and explosive vapors. Acrylonitrile vapors are toxic, asphyxiating and irritating, and when burned, it releases hydrocyanic acid.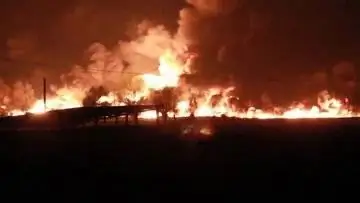 Fourth: ethylene glycol, obtained by hydration of ethylene oxide. By itself, it is used as a component of antifreeze, brake fluid, and there is also information about its use as a lubricating oil.
When nitrated, ethylene glycol gives the explosive EHDN already mentioned above. Even before World War II, it became a cheaper substitute for nitroglycerin (glycerin is produced from animal fats) in the production of dynamite and nitrocellulose gunpowders. Ethylene glycol nitration is carried out in the same way and on the same equipment as glycerin nitration.
There is also a polymeric form of ethylene glycol - polyethylene glycol, viscous liquid, gel or solid. It is widely used as a component of solid rocket fuels, lubricants, and perfumery products.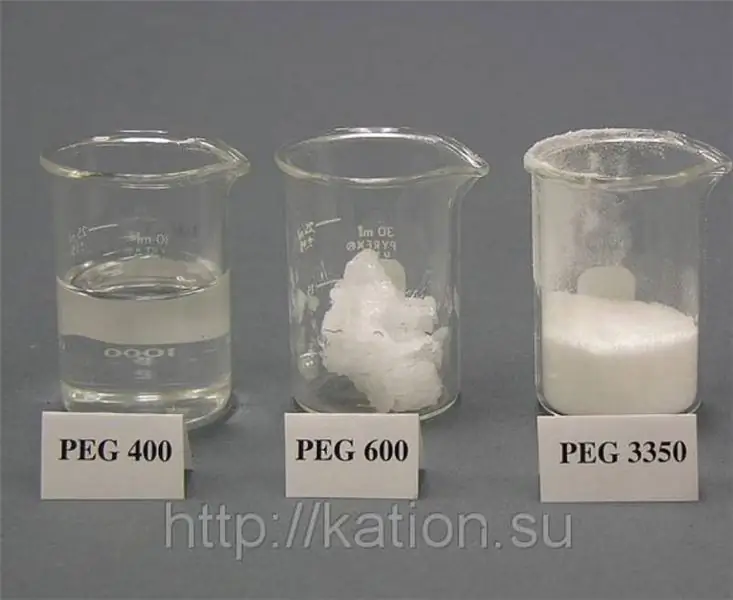 It is also interesting that polyethylene glycol is used as a binder in the manufacture of hard alloys (tungsten carbide, cobalt, titanium, tantalum) used in metal-cutting tools and for the manufacture of armor-piercing projectile cores.
Also from ethylene glycol can be obtained such an important and widespread plastic as polyethylene terephthalate, better known as PET, used to make plastic bottles, as well as to obtain polyester fibers that dominate the modern textile industry.
As you can see, there are a lot of products that can be obtained from ethyl alcohol, and they cover almost the entire range of non-metallic military-significant materials. But the value of ethyl alcohol is not limited to this.
Alcohol fuel
Already in its original form, ethyl alcohol is of great importance for the military economy as a motor and rocket fuel. As a motor fuel, ethanol can be used in its pure form (96% strength or absolute), and as an additive to gasoline. Without modification of the engine, it is possible to use ethyl alcohol additives up to 30% by volume of the fuel. Despite the fact that bioethanol as a fuel has become fashionable relatively recently, already in the 2000s, nevertheless, before the outbreak of World War II, Italy went down this road. The country, practically devoid of fuel reserves (very little coal, very little oil - the annual production is about 4-5 thousand tons; Italy is one of the most striking examples of the war economy, in which there was almost no oil), was forced to look for a replacement. Along with other options, wine alcohol, obtained from grapes, was used, which the peasants were forced to sell to the state.
In Germany, ethanol was used as a rocket fuel (B-Stoff is a 75% aqueous solution of ethyl alcohol) for the Aggregat-4 ballistic missile (better known as the V-2; however, it was not called that in German documents).
In this capacity, ethyl alcohol is an important substitute for fuel oil, both motor and jet fuel. In the face of loss of oil, switching to fuel ethyl alcohol is the most reasonable decision.
Forest - a source of defense
My interest in ethyl alcohol as a military material is also due to the fact that it can be produced in large quantities from wood. This is far from the only way, for the production of ethyl alcohol, grain or potatoes are also used - food raw materials, ethyl alcohol is also obtained from ethylene obtained by pyrolysis of oil or natural gas. But in a military environment, timber is the most accessible type of raw material.
In the USSR, in particular, for military-industrial needs, a technology was developed and perfected for the production of hydrolysis alcohol, in which wood waste was the initial raw material. Usually these were trimmings from breaking up logs for sawn timber, sometimes firewood. In principle, any plant material containing cellulose is suitable. For 10 liters of alcohol in hydrolysis production, 56 kg of dry (or about 80-85 kg of fresh) wood, 4.5 kg of sulfuric acid, 4.3 kg of quicklime, 3.6 cubic meters of water and 4.18 kWh of electricity were consumed. From a ton of dry wood pulp, 170 liters of alcohol could be obtained, but some factories received even more - 200-220 liters.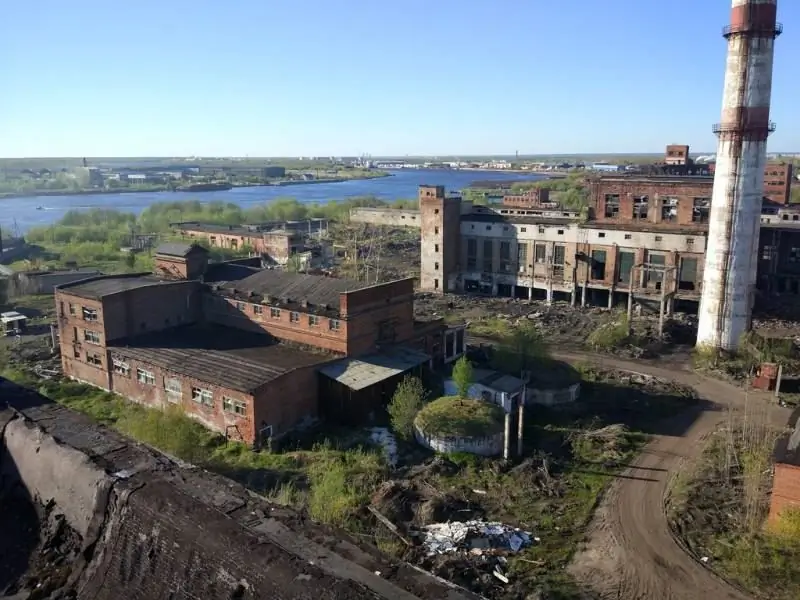 As you can see, the technology of hydrolysis alcohol is very economical and efficient, in addition, it has a number of valuable by-products (such as furfural, acetic acid, methyl alcohol, gypsum, wood residues suitable for fuel or pyrolysis, yeast protein suitable for animal feed).
The reserves of the forest, as well as, in general, all kinds of trees, shrubs and perennial grasses with a high cellulose content (such as flax, hemp, Sosnovsky's cow parsnip and others), make it possible to quickly establish the production of ethyl alcohol, even if it is produced by semi-handicraft methods. An important advantage of the hydrolysis production of alcohol is also the possibility of its dispersal over a vast territory, which will make the alcohol industry less vulnerable to enemy strikes.
The description of the products that can be obtained from ethyl alcohol is necessary for understanding an important military-economic moment - the forest almost completely meets the needs for military-significant materials. Wood can be used to obtain cellulose for the production of gunpowder, and the range of products from ethyl alcohol covers the needs of explosives, motor fuel, lubricants, synthetic rubber, and artificial fibers. That is, the forest allows you to dress, shoe, arm and equip the army, even if the oil and gas industry is completely lost.
Vodka
And, of course, vodka. It is difficult to cite at least one war that died down in the twentieth century, in which the opposing troops would have completely done without alcohol in one form or another. In World War II, it came to the mass dispensing of vodka.
For example, in the Red Army, the daily delivery of 100 grams of vodka to soldiers and officers of the active army was officially introduced on September 1, 1941. At this time, the army consumed from 43 to 46 tanks of vodka per month (each 25 cubic meters, that is, 1075-1150 cubic meters of vodka, that is, about 1.1 million liters). However, from May 15, 1942, the order of issuance changed, vodka began to be issued only to soldiers of the front line, in units conducting offensive operations. Issuance increased to 200 grams per day, but there is information that it was supposed to be issued not to everyone, but only to the most distinguished. The rest 100 grams of vodka was allocated only on holidays (10 public holidays and the day the unit was formed). From November 25, 1942, 100 grams of vodka began to be issued again to all the soldiers of the front line, and the rear units and the wounded were entitled to 50 grams a day. Due to the fact that the army has grown in numbers, the consumption of vodka has also increased. For example, the supply plan of the People's Commissariat of Defense for October 1942 provided for the supply of 2.2 million liters of vodka. On May 3, 1943, it was again decided that only soldiers and officers of units leading the offensive should be allowed to vodka, while the rest were again relied on vodka only on holidays.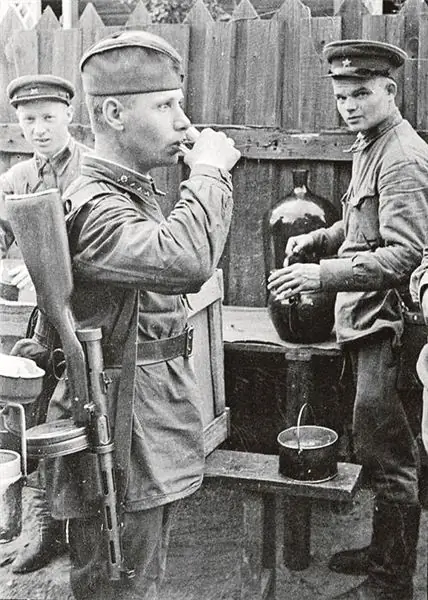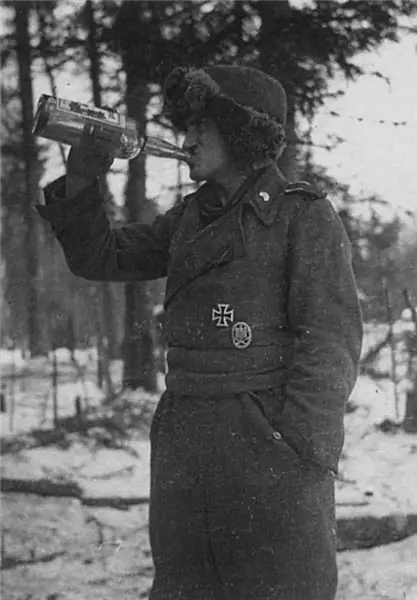 By the way, the army consumed relatively little vodka and only a small amount of alcohol produced in the country. In 1940, the USSR produced 85.7 million decaliters of raw alcohol (857 million liters), after the loss of part of the territory and production, the production of alcohol in 1942 decreased to 286 million liters, and by 1944 fell to 112 million. liters. Since raw alcohol has a strength close to vodka, the army in 1942 drank 0.7% of the total production of raw alcohol. The main part of the alcohol produced was used for technological needs.
The use of vodka at the front as a whole, according to the estimates of the fighters (both from the Soviet and the German side: the Wehrmacht also practiced the issue of schnapps, and the greatest was in 1941) had negative results. The dispensing of vodka before the attack invariably led to huge losses; in such "drunken" attacks, whole units were often killed. Experienced front-line soldiers usually abstained from vodka; so it was more likely to survive. However, it should be noted that such a massive dispensing of vodka had its own good reasons, which partly outweighed the negative effects. Vodka is the most widespread and available antidepressant, increasing the resistance of troops to the stressful conditions of war.
Here's an ode to alcohol. I hope that after that it is clear that you cannot fight without ethyl alcohol.