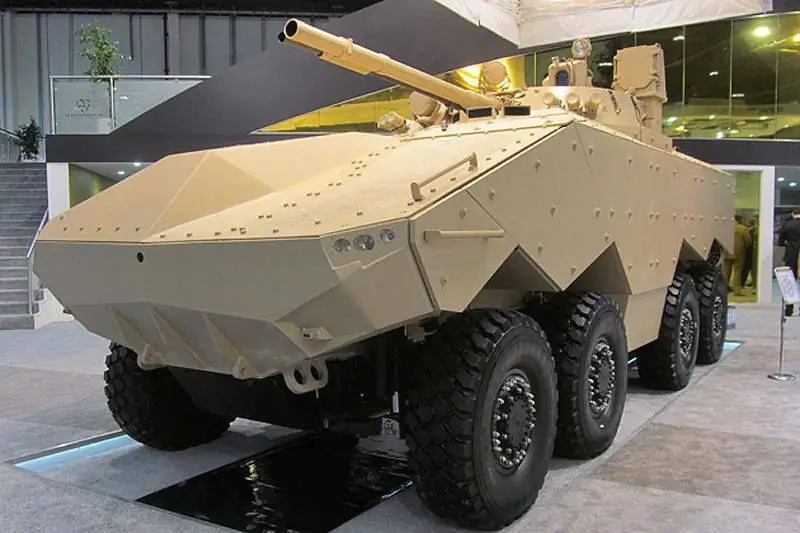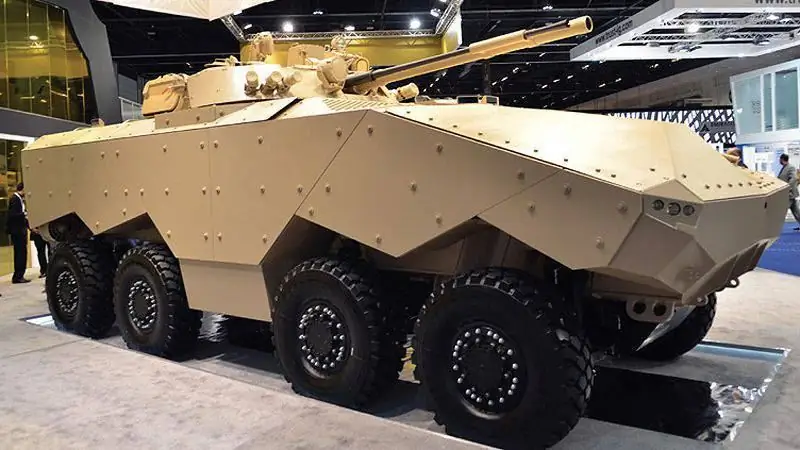 The first Enigma vehicle has a GVW of 28 tons, and its modular armor kit will simplify upgrades as threats change or new technologies emerge.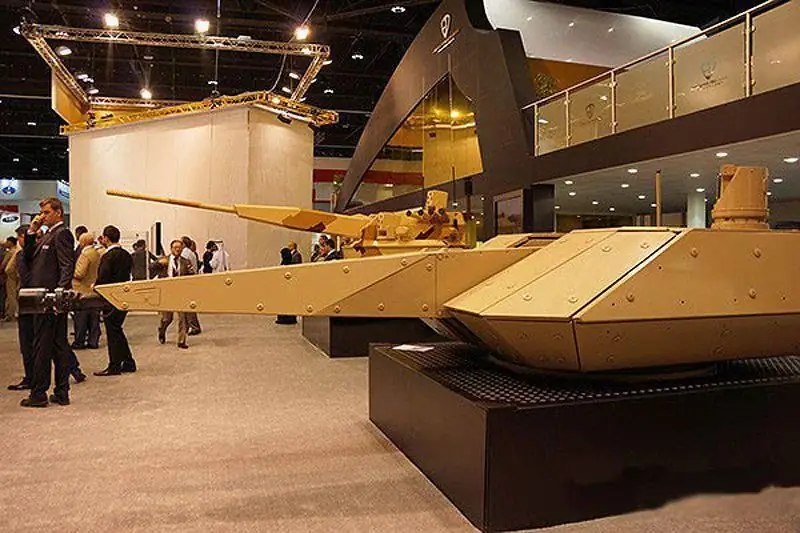 The Enigma AMFV armored vehicle is capable of accepting weapons systems weighing up to 5 tons, including the Russian AU220M turret with a 57-mm cannon (in the background) and the Rheinmetall Air Defense 35-mm Skyranger remotely controlled turret (in the foreground)
Emirates Defense Technology has unveiled the second sample of its Enigma 8x8 AMFV (Armored Modular Fighting Vehicle) modular armored vehicle, which was developed over three years in close cooperation with a number of foreign defense enterprises. The first Enigma (puzzle), built in February 2015, is currently being used for further development work. The second car is to undergo extended tests in the United Arab Emirates by the end of this year.
One of the Enigma AMFV developers said the machine was "designed specifically for the needs of the Middle East" (as opposed to most 8x8 machines in this market that have been modified to meet the region's natural conditions and industry standards) and has significant growth potential.
In order to simplify production, the hull is made of armored steel with a minimum number of complex welds; additional armor kits can be installed on it. The first vehicle has a set of passive modular armor, but its significant design flexibility means that protection can be increased by lattice screens, mesh screens or reactive armor units.
The body can withstand the detonation of an improvised explosive device (IED) weighing 50 kg at a distance of 5 meters from the vehicle. According to Emirates Defense Technology, Enigma guarantees ballistic protection according to STANAG 4569 level 4 and mine protection according to levels 4a and 4b.
Other survivability features include self-sealing diesel tanks, a fire detection and suppression system, and separate hydraulic systems for steering, brakes, and auxiliary systems.
The layout of the car is quite familiar, the power unit is located in front of the right, the driver is to the left of him, the rest of the armor volume is intended for the landing force, weapons and various systems. Caterpillar C13 711 hp engine (by adjusting it can be increased by 10%) mounted in a single unit with a seven-speed CAT CX31 transmission and a two-stage transfer case from Timoney Technology. The entire power pack can be removed in its entirety for quicker replacement and service in the field.
The gross vehicle weight is currently estimated at 28 tonnes, which gives a good power-to-weight ratio of 25 hp / t. The car accelerates in 16 seconds to 60 km / h and has a top speed of 130 km / h.
All axles have transverse locking differentials; Timoney Technology has also designed a new double wishbone independent suspension that, in combination with Horstman Hydrostrut hydraulic struts, allows ground clearance and ride control to be adjusted to the type of terrain.
Future vehicles could be equipped with active suspension to further improve cross-country ability and stability of the weapon platform.
Like almost all modern 8x8 armored vehicles, the Enigma project has a standard Michelin 395 / 85R20 centralized tire inflation system.
The suspension and chassis are mounted on three subframes attached to a one-piece body. Subframes allow suspension and differential blocks to be removed as separate assemblies, making repairs and maintenance easier and faster.
In the configuration of an infantry fighting vehicle, Enigma can be equipped with various towers and weapon systems weighing up to 5 tons. The first copy has the same two-man turret as on the BMP-3, armed with a 100-mm 2A70 rifled cannon, a 30-mm 2A42 automatic cannon with selective feed and a coaxial 7.62-mm machine gun.
This tower, installed on the Emirati BMP-3, is the most powerful in its category; its cannon, along with traditional ammunition, can fire laser-guided ammunition at a distance of more than 4 km.
Other weapons systems can be installed on the vehicle, for example, the AU220M turret with a 57-mm cannon, recently developed by Uralvagonzavod, or the Skyranger remote-controlled turret with a 35-mm cannon from Rheinmetall Air Defense, which fires the Advanced Hit Efficiency And Destruct programmable ammunition (AHEAD - improved hit efficiency and destruction).
As an alternative, the M777 155mm / 39 caliber light howitzer from BAE Systems, which is currently in towed configuration, is currently in service with Australia, Canada and the United States. In this case, the howitzer is installed at the rear of the platform and fires along the rear arc. Guidance, loading and firing from a howitzer with this arrangement is carried out by a dismounted crew.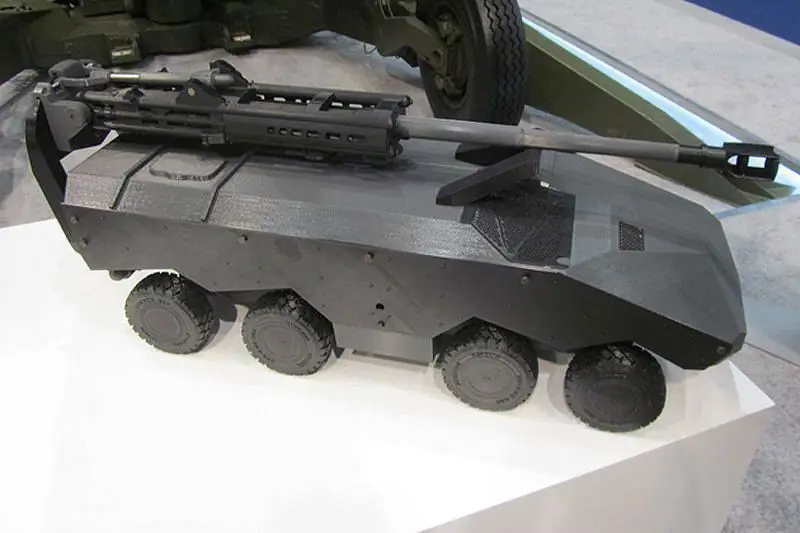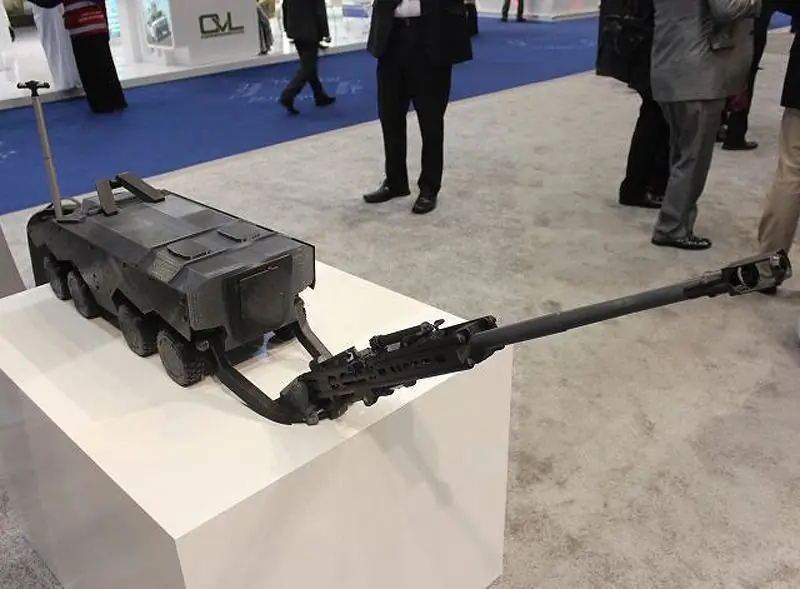 Enigma model with M777 light howitzer
In the BMP configuration, the vehicle crew consists of the commander, gunner and driver; they and eight paratroopers sit in energy-absorbing seats. However, when installed on the roof instead of a tower, a remotely controlled combat module armed with a 7, 62 or 12, 7-mm machine gun or a 40-mm automatic grenade launcher, space is freed up for two more paratroopers.
The aft compartment has two roof hatches that lock vertically and a large power ramp, although a power door can be fitted as an option.
The two front and rear axles are electro-hydraulic steering, which gives the Enigma a turning radius of 18 meters. When the vehicle reaches a speed of 20 km / h, rear axle steering is locked to improve stability and more predictable front wheel steering.
The first Enigma was equipped with all-round cameras. The video image is displayed on the displays of the commander, gunner and driver. An additional screen in the troop compartment allows you to increase the level of situational awareness of the assault force.
Standard equipment includes a life support unit, consisting of an air conditioning system and a system of protection against weapons of mass destruction. The electrical system has a voltage of 28 Volts, a 630 Ampere generator and a CANBUS communication bus are installed in the car. An auxiliary power unit can be installed to ensure the operation of specialized options with increased energy consumption, for example, a control center or an electronic warfare station.
The Enigma can overcome water obstacles up to 1.8 meters deep, but its design allows an optional fully floating machine despite the gross weight of 28 tons. On the first prototype, shown in February 2015, two water cannons were installed on each side in the stern. Preparation for the float consists in battening down hatches and doors, raising the wave deflector, turning on the bilge pumps and water cannons.
A comment
The UAE is planning to acquire a large number of 8x8 infantry fighting vehicles along with more specialized options, and local manufacturer Emirates Defense Technology hopes that Enigma can meet these needs.
The UAE strives to produce more and more military equipment and weapons in its country. An example is the Nimr 4x4 and 6x6 family of armored vehicles for domestic and foreign markets, as well as small arms, guided weapons and various types of ammunition.
Emirates Defense Technology is responsible for the design, development and production of the original Nimr 1 and Nimr 2 variants and is expected to produce 750 of these to date.