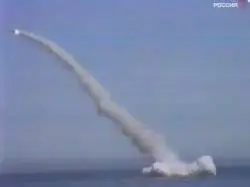 In 2011, the Bulava strategic naval missile will face the most difficult and crucial stage of testing. The missile cannot be put into service until a salvo launch from the submarine missile carrier is carried out.
"At the same time, the influence of a rocket launch on a neighboring mine is being investigated. I can say from personal experience that during missile testing this stage very often became a whole problem," a source in the rocket and space industry told Interfax.
In addition, of the 14 Bulava launches carried out, there has not yet been a single one at the maximum range.
"It is stated that the Bulava can hit targets at a maximum range of up to 8 thousand kilometers. But these are still unconfirmed characteristics. Because so far there have been launches in the area of the Kamchatka test site, and this is an intermediate range," the agency's interlocutor said.
According to him, the developers of Bulava did not keep any of the obligations they assumed. "In 1998, the Moscow Institute of Thermal Engineering said that it would make a new rocket, moreover, a unified rocket for land and sea launches, for 4 billion rubles. Now, I think, the figure has grown exponentially and we are talking about tens of billions," the agency's source said.
Bulava is the newest Russian three-stage solid-propellant missile designed to arm promising nuclear submarine strategic missile carriers of the Borei project.
The missile is capable of carrying up to ten hypersonic maneuvering nuclear units of individual guidance, capable of changing the flight trajectory in altitude and heading. "Bulava" will form the basis of a promising grouping of Russia's strategic nuclear forces until 2040 - 2045.