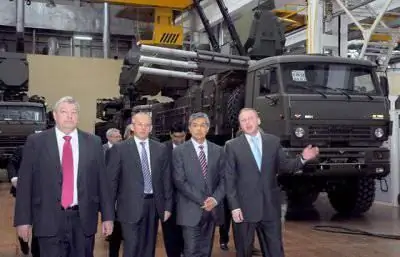 The urgent problem of building echeloned air defense of industrial and military facilities requires the implementation of such an important task as the protection and protection of the last line and the near zone, TsAMTO reports.
For example, in naval air defense, this problem is solved using anti-aircraft rapid-fire assault rifles. However, based on the actual development of air attack weapons (air-to-ground missiles, cruise missiles), it is only possible to form a truly effective air defense system in the near-field zone if we rely on combined missile and cannon systems that have a short reaction time and combined guidance. …
Prerequisites for the creation of a universal near-zone air defense in Southeast Asia
The use of such means in the theater of operations in Southeast Asia is relevant not only in the creation of an echeloned air defense system in the near zone, because all this also has an independent value, as a combination of technical characteristics and tactical capabilities, with a political and military balance of forces and geographic relief.
In small conflicts in which modern aircraft is used to a limited extent, it is often not its quantity that comes to the fore, but the versatility and quality of the machines themselves.
Mounting unification of firing modules, which allows the use of different types of chassis (wheeled, tracked), as well as types of basing (land shelter, ship, land mobile), greatly reduces the cost of operation, based on savings in maintenance and supply. That is why it is very convenient for military departments, which always rely on the "cost-effectiveness" criterion, to purchase and install the same weapons in different sectors.
The difficult terrain in the theater of operations in Southeast Asia undoubtedly requires a combination of sea, air and land operations. He, one might say, provokes and pushes for the creation of heterogeneous air defense groups (naval and land), which operate according to a single concept and plan.
It is worth noting that the main countries in this region have a long coastline, which is complicated by the deltas of large rivers, large-scale swampy areas, alpine relief, as well as numerous small islands.
This feature of the theater of operations, in combination with even a small number of military and technical means, will inevitably lead to a scattering of strike groups (in particular, in the implementation of combined operations), as well as to local isolation of some areas occupied by ground, sea or air forces.
Therefore, a side that has formed an effective and powerful air defense system gains a huge advantage in combat and even when the enemy is superior in strength. In particular, this may apply to tactical unexpected actions, such as the use of shelter or mobile air defense missile systems as part of anti-amphibious defense. In addition, they can also be used as forward radar detection posts.
By the way, if a country has a set of air defense systems (land mobile, ship and station for the protection of important infrastructure and military bases) on the entire spectrum of platforms, this greatly simplifies the functioning of air defense systems in various groups.In addition, service maintenance and procurement costs for air defense systems equipment will be significantly reduced. And, of course, the training of qualified personnel for them will also be facilitated.
The characteristics and composition of regional aviation groupings, which can be opposed by layered air defense systems with near-zone air defense systems, also condone the widespread use of these combat assets.
Some feature of the region's aviation groupings is considered to be the fact that they have a sufficient number of modern aviation equipment with excellent combat capabilities. Of course, they may well pose a sufficient threat, but there is one important circumstance that plays into the hands of an echeloned air defense system. This is not a very large number of the latest aviation, which will not allow the enemy to waste it thoughtlessly.
And this, in turn, will lead to the inevitable dispersion of forces and a decrease in the number and effectiveness of airstrikes on priority targets, which, by the way, will already be covered in advance. If the defending country possesses a sufficient number of mobile air defense systems, then it will not be difficult to create an effective countermeasure group on the basis of modern anti-aircraft weapons.
Combat combined capabilities provided by anti-aircraft missile and cannon systems make it possible to use them not only for air defense purposes. And, being placed on ship platforms (as an artillery unit), these means can be used in patrol operations in the fight against pirates, which are a huge problem in the Strait of Malacca and adjacent waters.
Russia offers on the world arms market its own systems of missile and cannon complexes of the near zone such as "Palma" and "Pantsir-S1".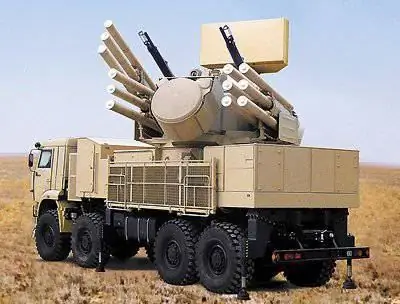 Complex "Pantsir-C1"
ZRPK, or anti-aircraft missile-gun complex of the Pantsir-S1 type, was created to supplement the long-range and medium-range anti-aircraft missile systems (or air defense missile systems), which should be deployed in the target areas, and constitute the last line of ground and air defense.
In addition, the Pantsir-S1 type air defense missile system serves as an air defense system for small objects in various conditions of both radar and weather and climatic conditions.
It is known that the missile part of the complex consists of 2 packages, including 8 or 12 launchers, used for the 57E6-E missile defense system, and is capable of operating against air targets at altitudes from 15 to 15 thousand meters and at ranges from 1, 2 thousand up to 20 thousand meters. The cannons of the complex are formed from 2 anti-aircraft machine guns of the 2A38M type (caliber 30 mm), whose rate of fire (total) is 5 thousand rounds per minute. The entire fire command and control system has a very short time response, and this in turn makes the assault rifles very effective, especially when firing at air targets in a narrow time frame and at the last defensive line.
The cannons can be used both against air targets, including low-flying targets, and against ground targets, including lightly armored vehicles and manpower. The altitude range is 0 - 3 thousand meters, and the range is 200 - 4 thousand meters. In addition, shelling with both rockets and cannons may well take place in motion, which, by the way, cannot be performed at any such complex in the world. The complex is capable of firing at four targets simultaneously, including the launch of two missiles at the same target. Note that the station is capable of tracking up to 20 targets simultaneously.
Today "Pantsir-C1" is in service with the armies of several countries. In 2010, it began to be supplied to the troops of the Russian Federation, both as a means of object and military air defense, and in the form of strengthening the air defense of the S-400 long-range air defense system.
The tasks that the Pantsir-C1 complex successfully solves:
1.Strengthening various groups of air defense systems due to their ability to operate at extremely low altitudes in difficult geographic terrain.
2. Ensuring the stability of groups of air defense weapons thanks to the coverage of areas where launchers of air defense systems, target designation and detection equipment, command posts, and other radio equipment and systems were deployed.
3. Short-range protection and defense against attacks of small-sized military objects (even pinpoint: 2-3 km within a radius), such as: military-industrial enterprises, infrastructure elements, key energy facilities, oil storage facilities or oil refineries, pipelines, warehouses, storage facilities, communication centers, port facilities, etc.
4. Support for battle formations and ground forces at the brigade-battalion level.
5. When the complex is installed on a shipborne platform, Pantsir-C1 is capable of solving a full range of assigned air defense missions in the near zone of the carrier ship or / and the objects that it covers.
6. In addition, it is possible to use the cannons of the complex in the coastal zone as an impromptu anti-missile and anti-amphibious defense in small water areas, combining it with the work of protecting designated targets from air attacks.
Among all the possibilities of combat use of the Pantsir-S1 air defense missile system, as its main capability, one can single out the ability to effectively counter almost all types of known air targets.
In the list of targets with which the complex is ready to work, it is necessary first of all to highlight the most dangerous for heavy air defense systems cruise missiles of the Tomahawk type and various anti-radar missiles. This is followed by tactical aircraft, air-to-ground missiles (for example AGM-114 Hellfire or AGM-65 Maverick), corrected bombs, UAVs and helicopters, including those capable of hovering at low altitudes.
When working with aerodynamic targets (subtle, having a minimum RCS of up to 0.1 - 0.2 m2, as well as the Tomahawk missile launcher), the speed of which varies within 500 m / s, this complex has a reach of 3UR at an altitude of 10 km, and at a distance of 20 km.
The use of a high-speed (1,300 m / s) highly maneuverable missile of the 57E6-E type as part of the complex contributes to the confident defeat of any targets, including those maneuvering and having an overload of 8-10G. In addition, the aforementioned high-speed rocket modes make it possible to use it for firing in pursuit, and this greatly increases the complex's ability to respond to changes in the air situation.
This complex, called "Pantsir-S1", can easily and effectively work with high-precision main air attack weapons, whose flight speed is up to 1 km / s (also for supersonic cruise missiles). And the probability of hitting such a target with one missile is at least 70%.
Anti-radar HARM missiles can be easily escorted from a distance of 13-15 km (defeat from 8 km), cruise missiles ALCM from a distance of 11-14 km (defeat from 12 km). Automatic tracking of an aerodynamic target (F-16 fighter) is carried out from 17 to 26 km.
The use of a radar optical multispectral control system and the noise immunity of the complex contribute to stable operation in conditions of an increased level of interference (from 4 to 10 times).
By combining target designation, detection and destruction means, the complex can be used autonomously. One single combat vehicle is capable of realizing a full cycle of work, which includes search, detection, identification and target selection, as well as target designation, capture and additional search, tracking and destruction of attacking targets.
It is worth noting the possibility of a fully automatic mode of operation in battle, which is carried out both by a separate unit and by an entire unit that is part of a certain number of combat vehicles.And if we are talking about the actions of a standard battery (for example, 6 air defense missile systems), then they are able to combine into a single target designation structure, while one of them will be designated as the leading one (battery control center). By the way, the leading vehicle does not lose its capabilities as an autonomous combat unit.
A fairly serious variability during the formation of the battery's combat assets is created by the principle of the modular construction of the complex. This facilitates the combination of different types of machines directly within the unit. For example, it is possible to easily form vehicles with exclusively rocket armament or with only an electro-optical guidance system.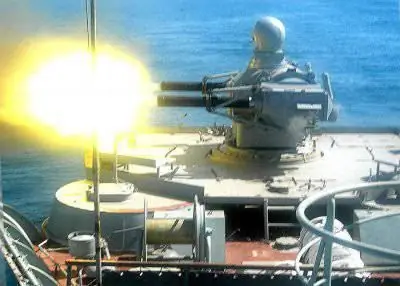 Complex "Palma"
As the combat assets of the fleets develop (in particular, guided missile anti-ship weapons), the artillery of ships acquires a larger role in the fight against targets in the air as an effective means of air defense of the last line.
The long list of conflicts that have occurred since the end of World War II demonstrates the sad experience that the neglect of air defense systems can very well lead to huge losses. And this is despite the conditions of the fire raid and the equipment of the enemy with anti-ship missiles.
In today's conditions of our time, one can observe the desire to move from the use of conventional artillery rapid-fire radar-guided, to anti-aircraft combined complexes (missile-artillery) of high channel, which are capable of firing at several air targets simultaneously.
Among the current air defense systems of the last frontier, it is necessary to pay attention to the anti-aircraft artillery complex of the Russian Federation (or ZAK) of the "Palma" type, with the "Sosna-R" missile. It is supplied abroad as part of the armament of the Cheetah 3.9-class frigates.
"Palma" includes a fairly compact artillery module, which consists of 2 six-barreled submachine guns (30 mm) of the AO-18KD (GSh-6-30KD) type, whose firing capacity is at least 10 thousand rounds per minute. The complex has a firing range from 200 to 4 thousand meters, and the affected area in height is up to 3 thousand meters.
Two types of ammunition are used here (projectiles with a high initial velocity): armor-piercing sabot with heavy cores "nickel-tungsten-iron" (initial velocity 1,100 m / s) and high-explosive fragmentation (initial velocity 940 m / s). In addition, tracer ammunition can also be used here.
The automatic weapon control system is a multichannel optical-electronic system with high accuracy and has round-the-clock and all-weather use. It is distinguished by the highest noise immunity due to the use of narrow diversity channels for tracking and detecting targets. In addition, external target designation from shipborne radar facilities is also possible here.
All this allows "Palma" to successfully and up to the exhaustion of ammunition (at least 1500 shells) to withstand a raid of 4-6 anti-ship missiles in automatic mode and sequentially passing from one angle (3-4 seconds interval). Particular attention was paid to reducing the reaction time of the complex, as well as the time of shelling from target to target.
The subsequent improvement of the capabilities of the "Palma" can be carried out by installing its own radar equipment (radar with a phased antenna array) and combining a firing artillery module with means of missile destruction of targets in the air, being within the same fire control system.
As such means can be proposed SAM 9M337 "Sosna-R" (two blocks with 4 transport launch containers), including a combined guidance system (the initial segment of the trajectory - radio command, the final segment - laser).
It is worth noting that the missile defense zone is: range - from 1,300 to 10 thousand meters, height - from 2 to 5 thousand meters.Aerodynamic typical targets (for example, the F-16 Figting Falcon fighter, as well as the A-10 Thunderbolt attack aircraft) are easily destroyed at an altitude of 4-5 km and from a distance of 8-9 km. Rocket speed to a maximum of 1200 m / s, and target firing speed to a maximum of 700 m / s. It is quite obvious that this contributes to confident work and, of course, on HARM anti-radar missiles, which, as you know, were a significant problem for complexes of earlier generations.