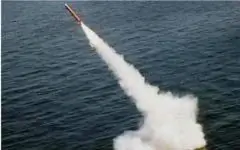 The next launch of the Bulava intercontinental ballistic missile was recognized as successful. The warheads of the rocket launched from the White Sea from the Dmitry Donskoy submarine hit the target at the Kura training ground in Kamchatka at the set time.
The rocket was launched from under the water, RIA Novosti reports. "The parameters of the trajectory of the missile have been worked out in the normal mode, the warheads have been delivered to the specified area of the Kura training ground in Kamchatka," said a spokesman for the Defense Ministry's press service.
This was the 14th Bulava launch, but it was only the seventh time that the launch was recognized as successful. It is planned that in the future the missile should become the basis of Russia's naval strategic nuclear forces. The First Deputy Minister of Defense of Russia Vladimir Popovkin said on Tuesday, October 26, that the Bulava will be adopted by the Navy upon reaching an almost 100% reliability factor.
The 13th launch of Bulava was also successful. It took place on October 7, after a big break. Prior to that, the rocket was launched on December 9, 2009. Then the launch was unsuccessful and subsequent launches were postponed several times. Of all the launches, three were considered partially successful and only four were fully successful.
After the 13th launch, Igor Korotchenko, a member of the public council under the RF Ministry of Defense, said after the 13th launch that the Bulava's distinctive feature is its ability to overcome both existing and future missile defense systems. It is planned that the rocket will ensure the security of Russia for 30-40 years.