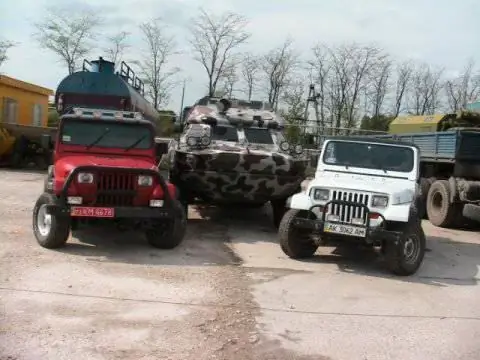 Dear Readers! This is the fourth part of the review devoted to the civilian versions of the BRDM-2.
The previous parts can be found here:
BRDM. Scouts in civilian life. Part one; BRDM. Scouts in civilian life. Part two; BRDM. Scouts in civilian life. Part three.
Tuning BRDM-a. Project "Armor". Author of "Tramp", extreme club "Bomb", Simferopol.
The idea came after long marches and breaks through the Crimean off-road - I wanted something more versatile than an SUV. Since our interests are not limited only to traveling by land, we are also fond of diving and fishing, and it is impossible to drive a jeep "on water like dry land", we decided to create "everywhere". Various options were considered: an air cushion boat was not a station wagon, a tracked infantry fighting vehicle was not allowed on asphalt, an armored personnel carrier was heavy. We stopped at the BRDM-e.
What attracted me was the relatively low weight, a full set of devices for autonomous movement over rough terrain, including water obstacles, a cruising range of 700 km, and adapted spare parts for almost GAZ-66.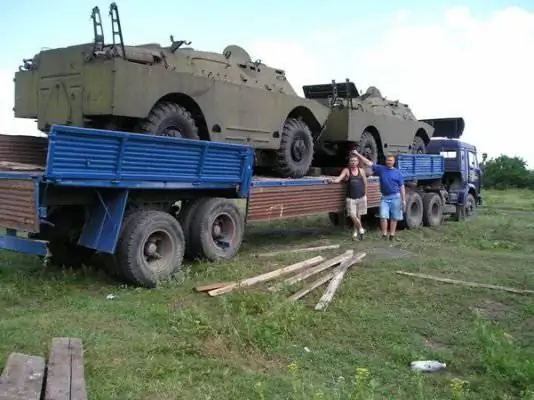 When we already bought it, looked closely, figured it out - of course, difficulties arose. The BRDM crew consists of 4 people (this is in the army), but we needed to "accommodate" at least 8 people, moreover, with comparative comfort.
It was around this task that everything was built. I must say right away: the power plant (GAZ-66), as well as the transmission, we did not touch: it was all too compact and interconnected.
But back to the external "tuning". An additional desire was to reduce the factory weight (7000 kg), which, roughly speaking, is a constantly loaded GAZ-53. Therefore, the task has become more complicated.
First of all, we decided to cut off the roof (armor thickness 10 mm). By the way, drilling of armor is impossible. We tried it in different ways: with "fashionable" drills - nothing, but a disc for a grinder "eats up" in 1 minute. Therefore, all cutting was done with "plasma". Autogenous cutting takes a long time, so only holes were cut out.
And there was a lot of cutting: the roof, pillars, windows, fenders, protection of additional wheels, and of course, openings for hatches and doors. Note that the wall thickness is different: frontal 12 mm, sides 7 mm, roof 10 mm.
When the skeleton began to "take shape", the construction of the superstructure began (as a result, the height of the roof rose by 60 cm) and it became possible to walk inside, and not crawl on your knees. The thickness of the metal for the new roof was limited to 4 mm, and in some places (hatches, doors) - 5 mm.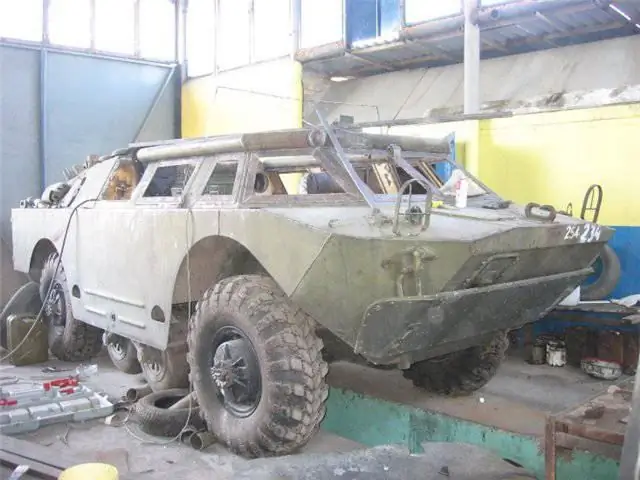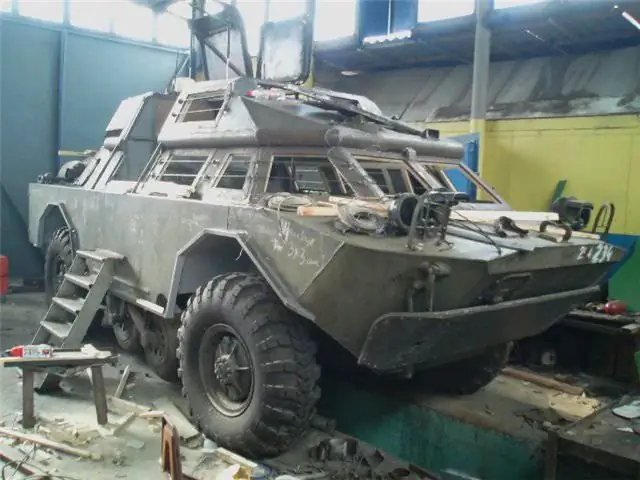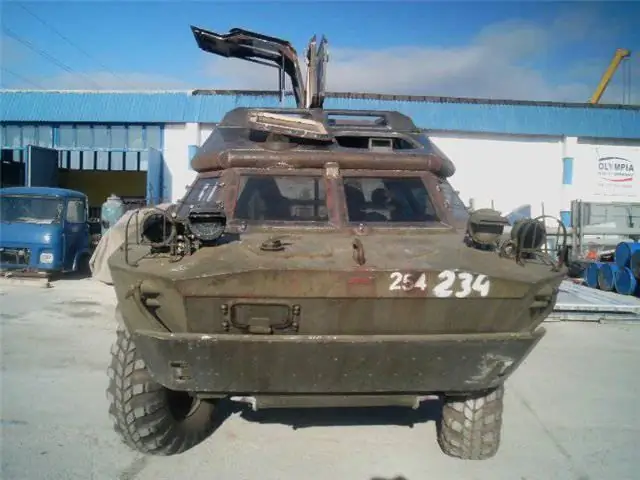 I would like to highlight the structure of the main door: with its upper edge it is hinged to the roof of the car according to the principle of a "gull wing", its weight together with glass was 42 kg and it is supported by two 2-position shock absorbers. It is hard to open the spacer locks, but it closes easily. The hatches are also on shock absorbers and open towards each other, which makes it possible for two shooters to shoot while standing. There is a separate hatch above the driver's seat.
Glass 3-layer, with film and tint, made on special order. An additional box was installed for passengers' belongings (in the rear under the engine).
The salon is a separate "song". Easily removable ottomans were installed on the sides and behind, and a separate chair for the navigator. The fenders have been converted into tables, the entire interior is sheathed with "protective material". The floor level in the cabin was adjusted with the help of platforms and it became even, and linoleum was laid on top.
A multifunctional pole was installed in the center of the cabin. While driving, you can hold on to it, and in parking lots you can dance or attach various objects (weapons, for example).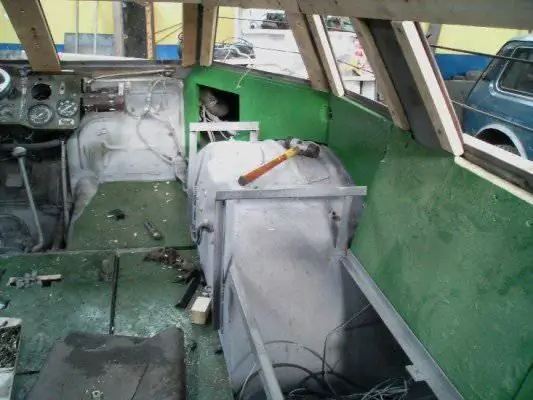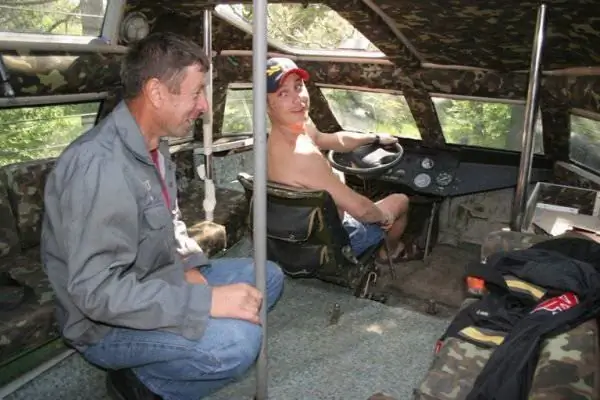 Additionally, we installed a stove, DVD, tape recorder, TV, rear-view camera in the salon. At the end we made an entrance-exit staircase.
Now I caught myself thinking that it was easy to write, but how hard and long it was to do. But this is the lyrics …
The tests began. The main tasks were completed: the weight of our machine was 4910 kg, and its maximum capacity was 10 people. Another good thing: the ride is just a bus, soft and comfortable.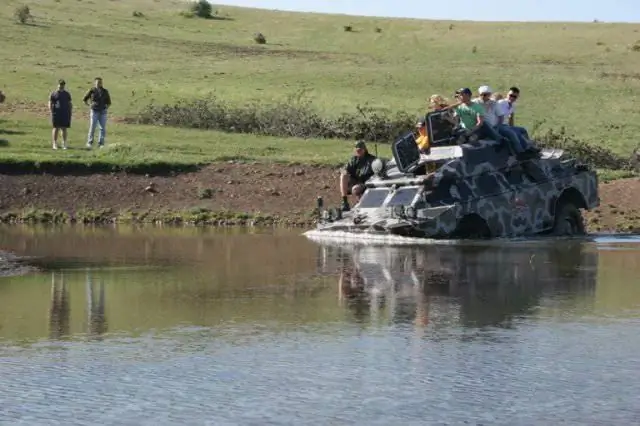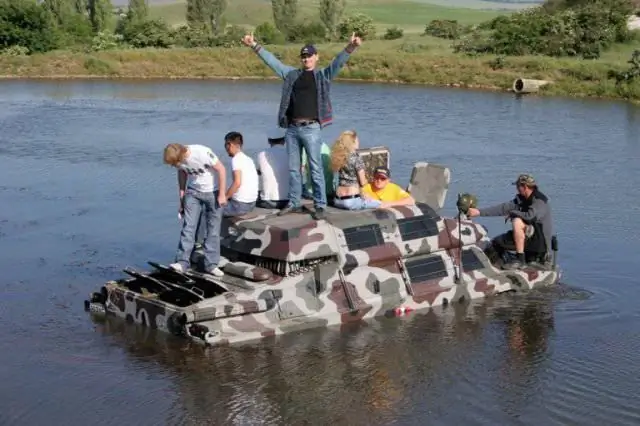 Floats - like a good boat: specially stood on the water "like we catch fish". Decent cross-country ability: bumps and pits are gorgeous.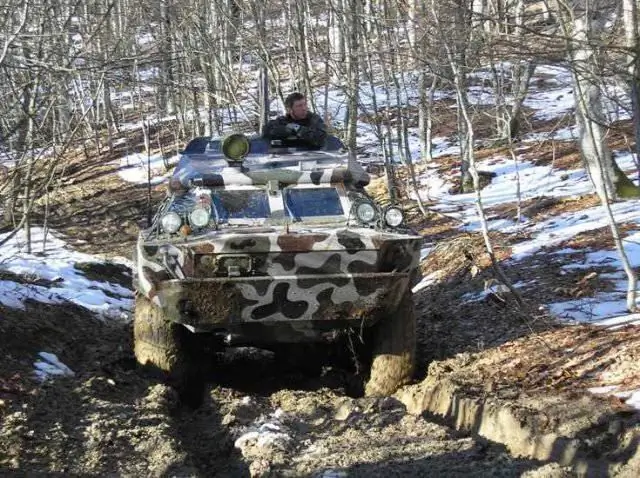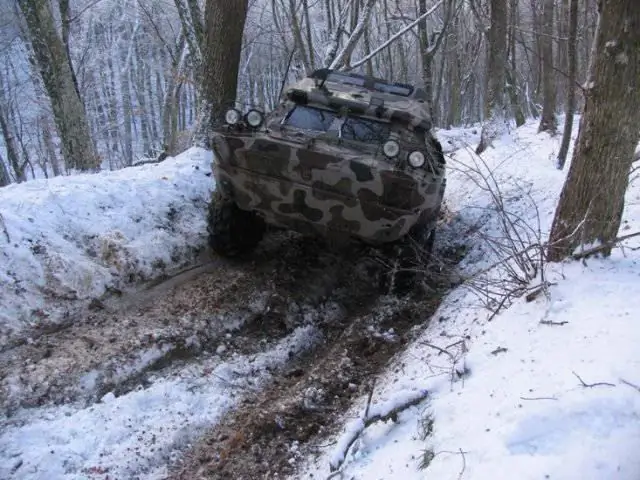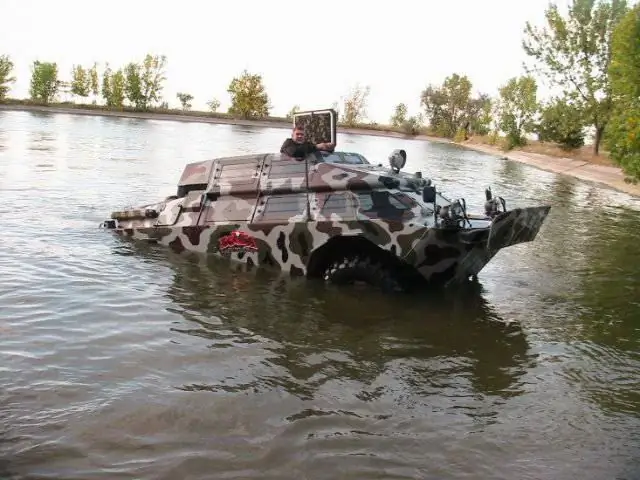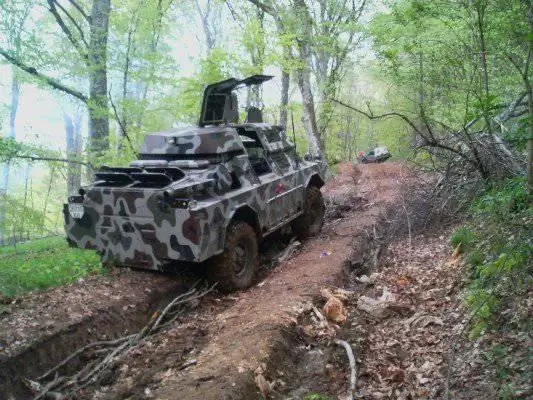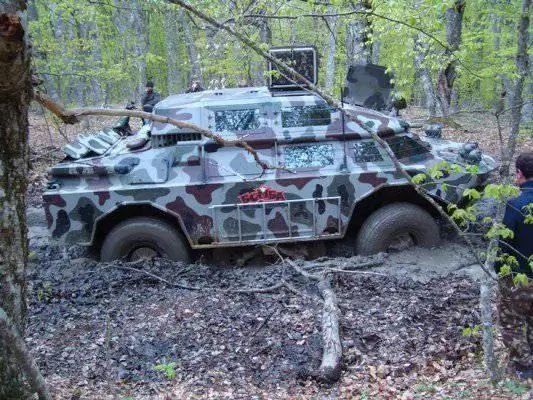 Surprised (it's hard to call it bad) the clumsiness of the car in the mud when lifting and side roll. The gearbox is hardly downshifted and, again, the front axle is hard to engage. Our BRDM turned out to have weak acceleration dynamics (perhaps, we compare it with a foreign car): the slightest rise - and you need to switch to a lower gear, and, of course, the noise in the cabin from the operation of all units (they are under your feet!).
But, nevertheless, on the march we put the speedometer needle beyond 120 km / h !!!
There was no limit to the surprise of the minibuses!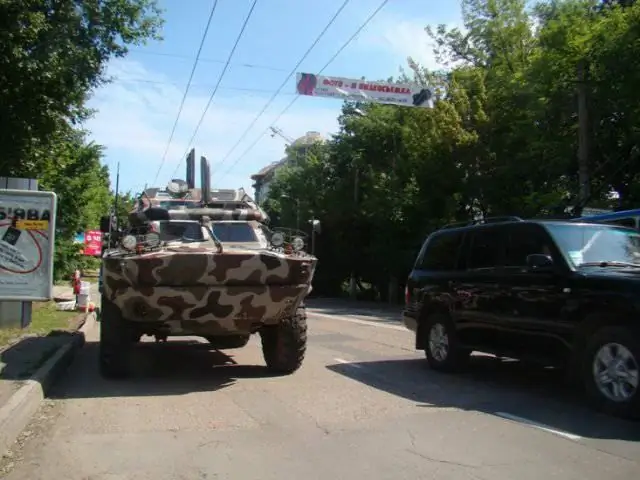 Conclusion: in general, the car (according to Soviet criteria) is not bad, after revision it became lighter and more comfortable, the engine is weak, the control is a little annoying, but its capabilities compensate for its shortcomings.
You can also add about fuel consumption: on the highway 30 liters (A76), off-road - 50 liters per 100 km, but this is approximately, since it is objectively difficult to "calculate" the consumption.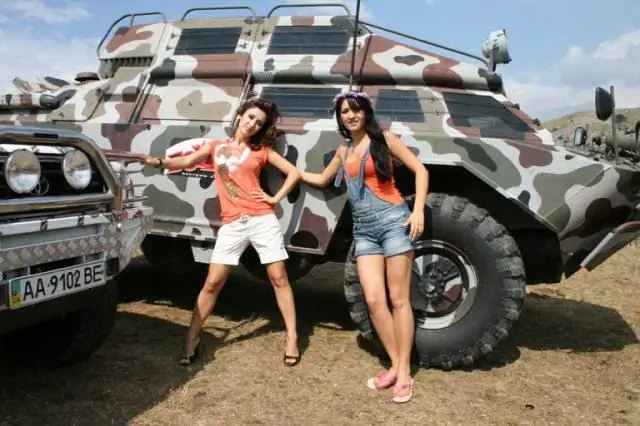 In conclusion, I will say that the BRDM is very popular with foreigners and film studios.
This "artist" has already appeared in 3 films and, as a "sample of Soviet military equipment", has transported many "foreign spies". And although in this version it is the only one in the whole world, among tourists it causes complete confidence that such BRDM-s are in service with the active army. Well, we do not dispel their illusions …
The second sample has already been made more similar to the original: with a turret and armament, but this is the next story …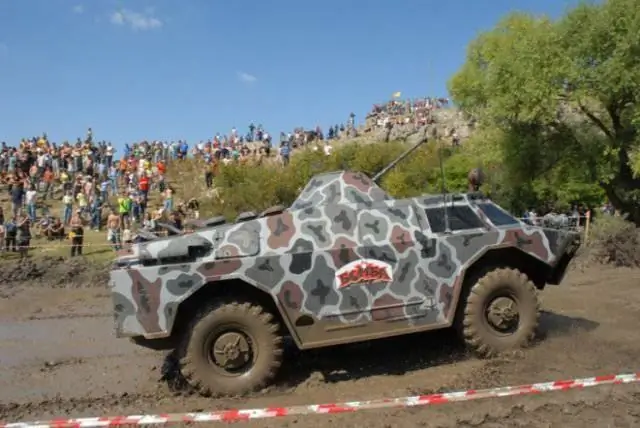 Second vehicle (project "Voyaka"): with a turret and weapons
Editor's note. At the time of collecting material for this review in the extreme club "Bomba", there were 4 tuned BRDM-a: projects "Bronya", "Voyaka", "Viking" and "Tourist".
Video of the tests of the BRDM project "Viking". Crimea, autodrome "Bomb"
And at the end of the review of the cars of the "Bomba" club, I will add a little positive from the everyday life of this wonderful community. In 2012, it was decided to attract girls as active participants. This is how it started.
Who would argue that a healthy lifestyle, respect for nature and intellectual development are bad? No one. These are the goals of the Miss Prowess 2012 contest.
* "Interception" - active driving. (Slang club "Bomb").
There will be no losers in our competition. The reasons are simple: we will not choose beautiful dolls, but interesting and advanced girls. We will not just hold a competition, we will try to help the participants unleash their potential with recommendations to employers from among our partners and friends. Finalists will be eligible to participate in the Pickups as VIP guests.
1st stage: collecting questionnaires of applicants. 2nd stage: determination of the final participants of the competition. I qualifying round. 3rd stage: sports events at the Krymteplitsa stadium: relay races, tennis, swimming, fan support. 4th stage: II qualifying round. Departure by off-road vehicles: jeeps, ATVs, BRDM to the mountain-forest area. Competitions: driving skills, overcoming obstacles; tourism skills (lighting a fire, setting up a tent, culinary skills); ecological cleaning of the forest area. 5th stage: qualifying round 3. Departure by off-road vehicles near the sandy beach (Saki, Evpatoria). Competitions: Beach Volleyball, Diving, Swimming, Scooter Driving Skills, Environmental Beach Cleanup.
6th stage: final. Bomba autodrome, Tubai gully. Contests: escorting racers to the start, pit stop, driving sports cars, intellectual competition, awarding prizes to athletes.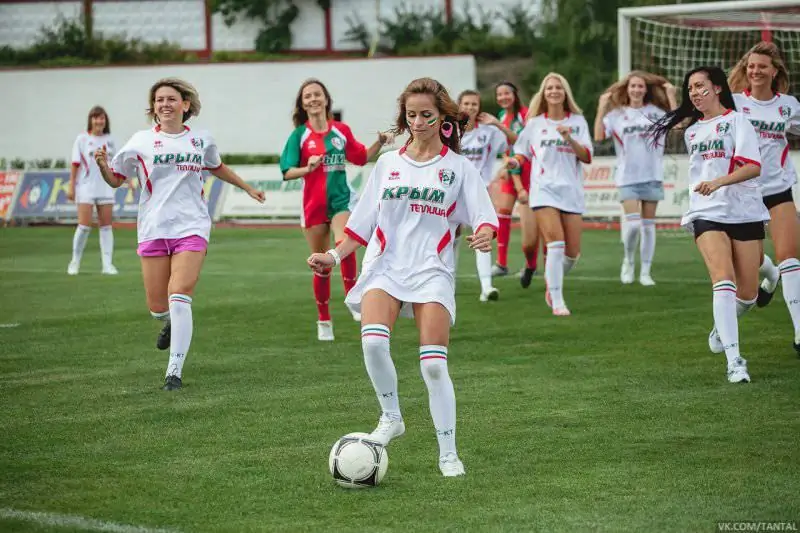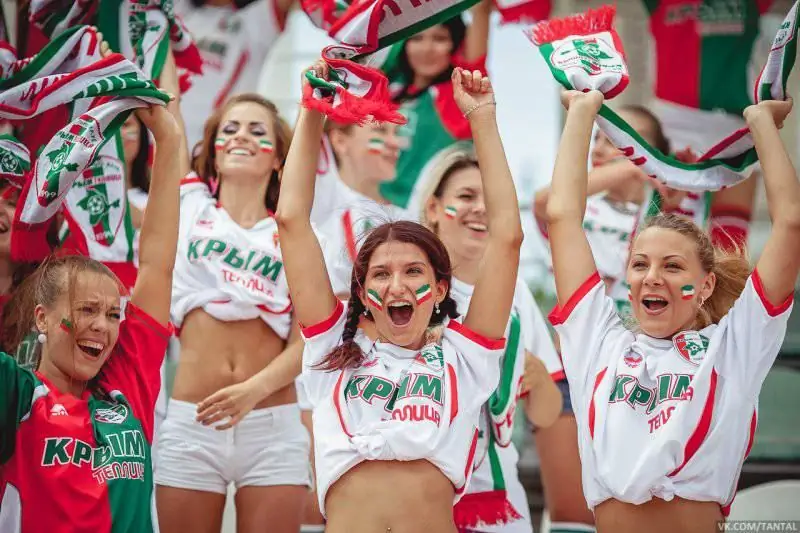 Video from "Miss Prowess 2012".